Last Minute Christmas Shopping To Rock Star Bingo Rocks Our FUN10!
It's Sunday, and QuadCities.com proudly presents FUN10, a list of the top 10 things to do in the Quad Cities this week, and every week!
Every Sunday, we drop a new Fun10, to give you a head start on your week and a heads up on what's going on over the coming seven days. Check out FUN10 every Sunday for the details on ten awesome events happening around town. It's a cool read, and a great way to get started planning your entertainment for the week.
FUN10 — ten ways for you to have fun in the Quad-Cities, this week and every week, running every Sunday, only on your site for fun, free, local entertainment, QuadCities.com!
So what's on the FUN10 for this week? Read on …
Shop Local At The Holiday Pop Up Market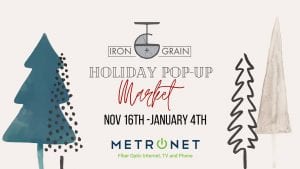 Forget Amazon and Walmart this holiday season, let's rally around our small businesses! Join us for a new take on pop-up markets as we feature 30+ Midwest Makers and the Iron + Grain Boutiques in
East Moline
this season. Join us Monday, November 16th – Monday, January 4th for local small business shopping.
Per the state of IL, masks are required at Iron + Grain and no more than 25 people will be allowed in at a time.
Thank you to our sponsor, MetroNet. MetroNet is a customer-focused company providing cutting-edge fiber optic telecommunication services, including high-speed Fiber Internet, full-featured Fiber Phone, Fiber IPTV with a wide variety of programming and products.
Curry Out Celebrating Its Opening In Rock Island
One of the coolest new restaurants in
Rock Island
, and the Quad-Cities, is celebrating its opening with a ribbon cutting.
The City of Rock Island will celebrate Curry-Out (1407 30th Street, Rock Island) at a ribbon cutting Tuesday, December 22nd at 2:00 p.m. The ceremony will be conducted by Mayor Mike Thoms.
Curry-Out is a newly established family owned and operated business, serving authentic Indian cuisine with fresh, healthy and local ingredients, cooked together with love. In addition to their menu items, they can prepare numerous other dishes upon request. They can even arrange for pickups outside of their regular business hours. To find out more about Curry-Out and to see their menu please visit
http://www.curryoutqc.com/index.pdf
.
Please Note: A personal face covering is required to attend. We will also adhere to social distancing guidelines.
Rock Out With Rock Star Bingo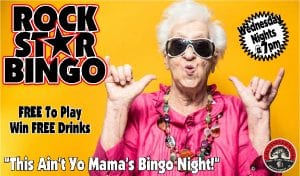 It's time to rock out with rock star bingo!
Think you know your music trivia? Time to test your skills!
Think you know your music?
If you know what song contains these lyrics, you would probably love Rock Star Bingo!
"And she's watching him with those eyes,
And she's loving him with that body, I just know it,
Yeah 'n' he's holding her in his arms late, late at night."
What is Rock Star Bingo?
Just like "regular" bingo, but we replaced bingo numbers, like "B16", with parts of songs. If you know the song title (no phones, devices or apps – basically no cheating), then place a bingo chip on that square. Get 5 squares in a row and you're a winner!!
It's the most fun you will ever have playing bingo!
According to the folks involved, here are the deets:
**NEW Start Time of 7pm**
Rock Star Bingo
EVERY Wednesday @ 7pm
The Tangled Wood (
Bettendorf
, IA)
B-I-N-G-O +
Name That Tune +
Sing-a-longs
Rock Star Bingo
FREE To Play
Win FREE drinks!

Music changes EVERY week!
Music from the 50's through music that came out in the last month!
#ThisAintYourGrandmothersBingoNight
Want To Give For The Holidays?
It's time for the Season of Giving blood drive at
Quad City
Botanical Center in Rock Island.
It is time for our annual Season of Giving blood drive in Illinois! We'll be at the Quad Cities Botanical Center on December 22 from 2pm – 6pm. Each donor will receive their choice of gift card OR long-sleeved t-shirt.
Get Baked With Some Cookies At Baked
Hey Weirdoughs! The Wednesday before Christmas Baked, 1113 Mound St., Davenport, is going to have a cookie decorating party at 4:20 on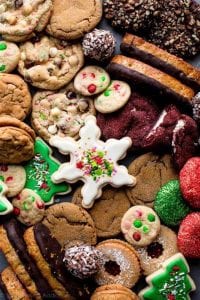 Wednesday. 
(Gee, that time sounds familiar for some reason… can't remember why… can't remember why…)
Anyway, $25 gets you 12 Christmas shaped Sugar Cookies & all of your colored frosting & sprinkle fixings to decorate at your table! Bring them to your holiday party, gift wrap them, or eat them here! Reservations are encouraged & can be made by calling 563.232.1251 during regular business hours.
See The Holiday Lights At Fejervary
Join us for seasonal holiday lights display at Fejervary Learning Center! We were so 'Happy' with last year's display that we simply 'Can't
Stop the Feeling' and will be bringing it back with even more lights this year! Shows last approximately 15 minutes with a new show starting every 30 minutes beginning at 5 PM; the last show starts at 9:30 PM.
Stop by for Throw-back Thursday when we rewind to our 2019 show (occurring every Thursday through the duration of the show). This is a park and watch event, not a drive or walk-through event.
Location: Fejervary Learning Center, 1800 W. 12th St, Davenport, IA
Dates: 11/28/20–1/3/21
Times: 5-9:30 PM (last show begins at 9:30 PM)
Directions: Enter on W. 12th St and follow the directional signs. Attendees may park at the listed locations. Accessible parking is labeled and located directly across from the learning center. Exit by following the loop around the west side of the learning center.
Radio broadcast: Turn your radio to FM 107.5 to sync with the holiday lights music broadcast.
Warning: This show may potentially trigger seizures for people with photosensitive epilepsy. Viewer discretion is advised.
Winter Nights, Winter Lights Lights Up The Botanical Center
Winter Nights Winter Lights is lighting up the Quad City Botanical Center, 2525 4th Ave., Rock Island!
From now to Jan. 10, every night from 4 to 9 p.m. the outdoor gardens will be in winter bloom with over 130,000 glowing lights. Showcasing our largest light display yet, new areas of our outdoor gardens will be lit, including the Children's Garden.
Explore the lawns, pond and pocket gardens of our outdoor light exhibit.
Open Christmas Eve, New Year's Eve and the night of New Year's Day. Closed Thanksgiving and Christmas.
A small processing fee will be added to all tickets.
All events have limited capacity and are subject to change based on state mandates governing public health.
$8 ADULTS $4 YOUTH 2-15
FREE UNDER 2
MEMBERS
$6 ADULTS $2 YOUTH 2-15 FREE UNDER 2
TICKETS MUST BE PURCHASED ONLINE FOR TIMED ENTRANCE EVERY 30 MINUTES 4 PM – 8 PM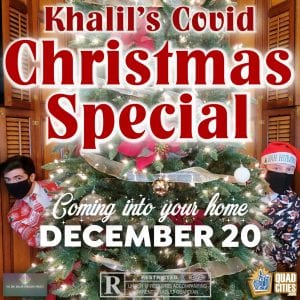 No Fruitcake Is Safe.
It's been a rough year, honchos.
So, damn it, you OWE IT to yourself to check out Khalil's Christmas Special, sponsored by QuadCities.com.
Yes. You OWE it to yourself.
Khalil's Covid Christmas Special premieres December 20, and will be a Christmas Special for the ages!
Join your hosts, Khalil Hacker and Tristan Tapscott as they wrap up this dumpster fire year the only way they know how… with a Christmas special! Filled with surprise guest stars, a fruit cake eating contest and many laughs! Shot safely in the beautiful Renwick Mansion of Davenport Iowa! Sit back, poor some Bailey's in that cocoa and enjoy the ride. (Hey, that's MY line!)
Visit ShowTix4u.com and search Khalil's Covid Christmas or $1 Dollar Producer Project.
Here's the link:
https://www.showtix4u.com/event-details/43981
Presented by $1 Dollar Producer Project, Renwick Mansion and QuadCities.com!
Valor & Victory Gardens: WWII in the Hawkeye State
When: Now and through Jan 17
Where: German American Heritage Center & Museum (712 W 2nd St. Davenport)
https://gahc.org/
WWII was a global conflict that forever altered society and touched the lives of people around the world, including right here in Iowa. The year 2020 marks the 75th anniversary of the end of WWII. With this exhibit we remember and commemorate that momentous occasion. Through local headlines, personal letters, and historic artifacts, we will tell the Quad Cities' WWII story.
This exhibit is supported by the Jewish Federation of the Quad Cities and was co-curated by GAHC Staff and Arthur Pitz, Ph.D.
The exhibit will be open from September 13 – January 17 and is included with general admission: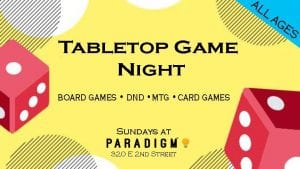 Adult: $5 | Senior: $4 | Child: $3 | Member: Free.
Tabletop Games Coming To Virtual Gaming Spot
They're just not there for virtual games, they're also there for games of a more tangible sort as well.
Sundays are all tabletop at Paradigm Gaming Center, 320 E 2nd Street in Davenport.
All Day play old school and new school Tabletop Games in our lounge. Bring in your own games or play from our collection. We'll provide the snacke, drinks, and cleanup, you just come in and enjoy! This weekly event is free to participate and welcome to all!