Find Fun Events In Illinois And Iowa With FUN10!
If you're seeking fun in Illinois and Iowa this week, you want to check out the Fun10!
Fun10 — ten ways for you to have fun in the Quad-Cities, this week and every week, only on your site for fun, free, local entertainment, QuadCities.com!
Every week, we drop a new Fun10, to give you a head start on your week and a heads up on what's going on over the coming seven days. Check out Fun10 every Sunday for the details on ten awesome events happening around town. It's a cool read, and a great way to get started planning your entertainment for the week.
So what's on the Fun10 for this week? Read on…
Antique Spectacular Runs Through Today
Have you been trying to find that perfect addition to your home décor? Or maybe you just can't get enough antiques for your vintage collection. Then this is the show for you!
The annual Spring Antique Spectacular Vintage Market will be taking place Friday through Sunday at the QCCA Expo Center in Rock Island. There will be 70 exhibitors with antiques and vintage items for purchase or for your viewing pleasure. These items will include great furniture, art pottery, country, stoneware, books, prints, primitives, jewelry, silver, antique glassware, American Indian items, china, postcards, coins, quilts, dolls, toys, advertising, marbles, rugs, vintage textiles and period pieces. And so much more! Come enjoy this opportunity to find your hidden treasure.
Shopping hours are Friday from 4-9pm, Saturday 10am-6pm and Sunday 10am-4pm. Parking is free. Go to www.AntiqueSpectacular.com to print off a $1 off coupon for the admission cost.This includes great furniture, art pottery, country, stoneware, books, prints, primitives, jewelry, silver, antique glassware, American Indian items, china, postcards, coins, quilts, dolls, toys, advertising, marbles, rugs, vintage textiles and period pieces.
View Of History Through BlackHawk This Week
Black Hawk's View of American History will be presented Wednesday, November 8 from 6pm to 7:30pm, at Rock Island's Watts-Midtown Branch
Special presentation for our 150th Year and Native American Heritage Month!
Noted historical actor / storyteller Brian "Fox" Ellis portrays the reporter who published Black Hawk's life story. Listen to tales from Black Hawk's autobiography, along with traditional chants and drumming songs.
Ellis is part Cherokee and has studied with elders from several tribes. Free, suitable for all ages.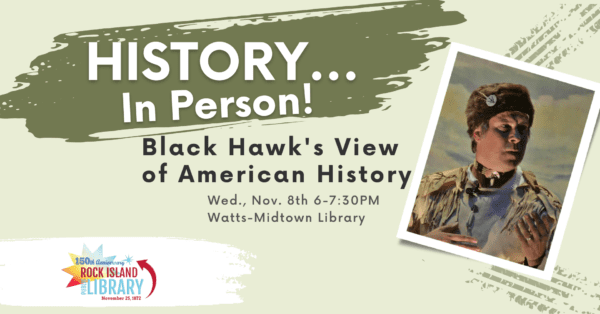 Holiday Garden Party This Week
The Green Thumbers will be kicking off the Holiday season on November 9th with their annual Holiday Garden Party!
The store will be fully transformed into a beautiful "Christmas Winter Wonderland" filled with twinkling lights, beautiful color, the wonderful scents of fresh pine & evergreen, and chocolate, coffee & peppermint from Aroma!
Make sure to save the date so you don't miss out on their amazing hourly sales! Some of your favorite Holiday foods & drinks will be served to you on platters as you browse the store, while enjoying the best LIVE Holiday Jazz music by a locally loved musician!
Food will be served from 9:00am – 5:00pm
Music will be playing from 1:00pm – 6:00pm
Learn more here: HOLIDAY PARTY
WIU Hosting Art Program
The Western Illinois University Art Department will offer a free Community Art Program for students in grades 1-8 over three Sundays in October and November.
Classes will be held Oct. 29 and Nov. 5 and 13. Classes for grades 1-2 will be held from 1-2:30 p.m. in Garwood Hall, room 24; grades 3-4 will be held from 1-2:30 p.m. in Garwood Hall, room 25; and grades 5-8 will be held from 3-4:30 p.m. in Garwood Hall, room 24 each Sunday.
This program is designed for students in grades 1-8 interested in exploring various art topics. Students in grades 1-2 will have the opportunity to create art pieces related to nature, such as a tree, a spider web dream catcher and a corn cob with texture. They will work with colors in both two and three-dimensional art to develop their artistic skills. Students in grades 3-4 will learn 2D design and 3D creation techniques. They will create woven owls, a stained glass fixture and a layered cutout using paper landscape scenes. Students in grades 5-8 will design and construct their own haunted house by creating a patterned fabric by carving stamps and transferring the design with fabric paint.
To register for the program, email Abigail Ehrenberger at am-ehrenberger@wiu.edu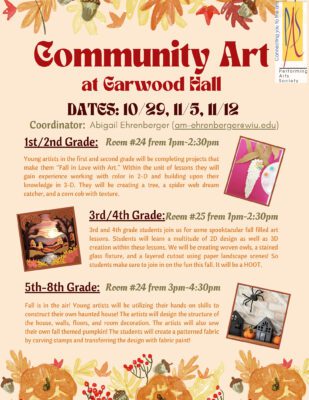 Get Fit On The Skybridge
Get Fit on the Davenport Sky Bridge!
Free fitness every Sunday at 9am. Beat those winter blues, keep those cold muscles active and share a smile or a high 5 with some great people! There is about 50 mins tonwalk, jog run, climb stairs, shake your hips with Zumba and so much more! Positive quotes are hung throughout the course that you go at your own pace at. At the end we draw for prizes thanks to local businesses donating ever week! Wear layers it gets warm inside, water available, and a great playlist!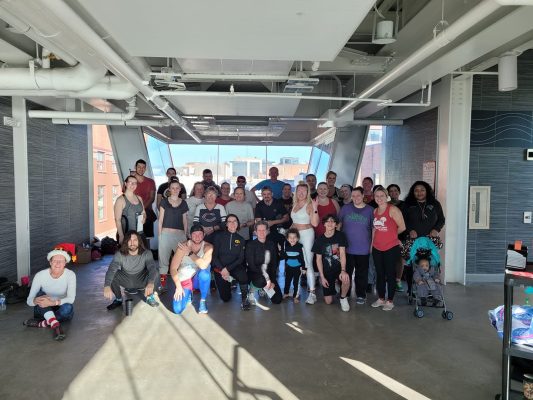 Bootleg Hill Open Mic Showcases Local Talent
Looking for a spot to showcase your talents?
How about the Bootleg Hill open mic night?
The musical open mic night is back. Happening weekly at Bootleg Hill Honey Meads in downtown Davenport. All are welcome. Hosted by Dan Fennesy and starts at 8 p.m.
Rock Out With Bingo!
It's time to rock out with rock star bingo!
Think you know your music trivia? Time to test your skills!
Think you know your music?
If you know what song contains these lyrics, you would probably love Rock Star Bingo!
"And she's watching him with those eyes,
And she's loving him with that body, I just know it,
Yeah 'n' he's holding her in his arms late, late at night."
What is Rock Star Bingo?
Just like "regular" bingo, but we replaced bingo numbers, like "B16", with parts of songs. If you know the song title (no phones, devices or apps – basically no cheating), then place a bingo chip on that square. Get 5 squares in a row and you're a winner!!
It's the most fun you will ever have playing bingo!
According to the folks involved, here are the deets:
**NEW Start Time of 7pm**
Rock Star Bingo
EVERY Wednesday @ 7pm
The Tangled Wood (
Bettendorf
, IA)
B-I-N-G-O +
Name That Tune +
Sing-a-longs
Rock Star Bingo
FREE To Play
Win FREE drinks!
Music changes EVERY week!
Music from the 50's through music that came out in the last month!
#ThisAintYourGrandmothersBingoNight
Trivia Night Hits Bettendorf
Trivia Night Live is rolling into The Tangled Wood in Bettendorf every Tuesday at 7 p.m.!
It's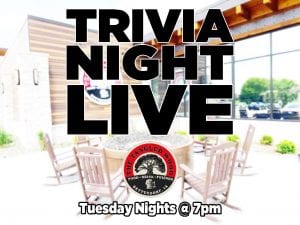 Free To Play, with up to eight people per team playing in various categories.
What is Trivia Night Live?
Trivia Night Live is a live interactive team trivia game played at your favorite restaurants and bars. The game consists of four rounds of questions of increasing difficulty and point values. Categories range from current events, history, geography, science, sports, and more….
Trivia Night Live is free to play, and you can have up to 8 members on a team.
Prizes are awarded for the winner of the 1st half and the overall winners win a $25 gift card for 1st Place, $10 for 2nd Place (cannot be used the same night).
We ask a question, and then play a song. Your team has the duration of that song to turn in your answer. No cell phones. web devices or smart watches can be used, just the useless trivial knowledge contained between your ears.
#LiveFromDavenportItsTriviaNight
Get The Blues Every Wednesday At Kavanaugh's
The Hilltop is THE neighborhood bar and grill of the Quad Cities. Featuring the best local draft beer selection and great food. It's at 1228 38th St., Rock Island.
And every Wednesday night at 8 p.m. at the Hilltop you can check out some awesome local musicians at the open mic blues jam.
So if you like the blues, head to the Hilltop on Wednesdays!