Find Fun Events In Illinois And Iowa This Week With The FUN10
Looking for some fun things to do in Illinois and Iowa this week?
In the Quad-Cities?
Check out our Fun10!
Fun10 — ten ways for you to have fun in the Quad-Cities, this week and every week, running every Sunday, only on your site for fun, free, local entertainment, QuadCities.com!
Every Sunday, we drop a new Fun10, to give you a head start on your week and a heads up on what's going on over the coming seven days. Check out Fun10 every Sunday for the details on ten awesome events happening around town. It's a cool read, and a great way to get started planning your entertainment for the week.
So what's on the Fun10 for this week? Read on…
Monkee Mickey Dolenz Coming To Quad-Cities
Mickey Dolenz will bring his dynamic stage show to the Rhythm City Casino May 20th at 8pm!
Micky Dolenz IS the voice of The Monkees, the unmistakable performer that moved a generation and led this pop culture phenomena to a dozen Top 20 singles, four #1 albums and two Emmy Awards. Having entertained audiences his entire life, Micky brings a one-of-a-kind presence to the stage, drawing on his background in television, film broadcasting and Broadway.
Tickets will be available online at Rhythm City Casino  or at The Market at Rhythm City for $25, $30, $35, $45, and $50 plus applicable online/phone ticketing fee (this fee is waived when tickets are purchased at The Market Gift Shop inside Rhythm City Casino Resort).
'Mamma Mia' Returns To Circa
Circa '21 Dinner Playhouse's latest production is a massive hit musical that's currently the ninth-longest-running Broadway musical of all time, a five-time Tony Award nominee and internationally beloved! Enjoying a Quad Cities run through July 8, Mamma Mia's collection of timeless ABBA tunes inspired the New York Post to call the experience "one of those nights when you sit back and let a nutty kind of joy just sweep over you," and the pop/rock revue is being brought to stage life by a spectacular team of professional actors.
 MAMMA MIA! will be presented at Circa '21 with performances on Wednesday, Friday, and Saturday evenings at 7:30 p.m., Sundays at 5:30 p.m., and Wednesday matinées at 1:15 p.m. Pre-show entertainment featuring the theatre's wait staff, the Bootleggers, also will precede all performances. Ticket prices are $60.55 for the evening performances and $53.73 for the Wednesday matinées. The prices include dinner, show and tax.
Reservations are available through the Circa '21 ticket office. For reservations, contact the theatre at 1828 3rd Ave., Rock Island or by calling 309-786-7733 ext. 2.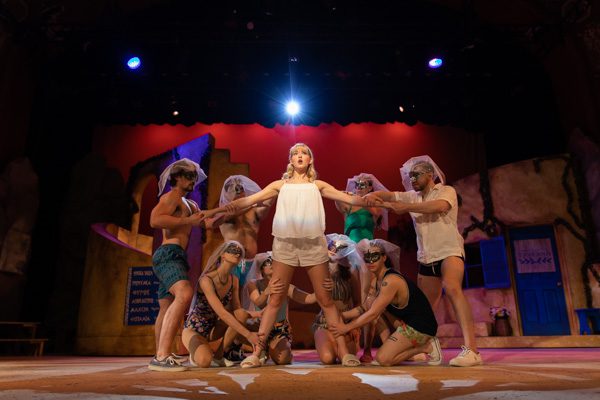 Teen Anime Club Returns To Library This Week
Teen Anime Club will draw attention tonight 6:30pm – 7:30pm at Fairmount
Davenport
Library, 3000 N Fairmount St.
The club takes place the second and fourth Wednesdays of each month, including:
May 24
June 14 & 28
July 12 & 26
August 9 & 23
Teens (ages 11-19) are invited to join us as we watch Japanese animation, eat snacks, and socialize with others interested in Anime! This program is for teens ages 11-19 only. Content will be rated PG13/TV14 (or international equivalent). Content provided courtesy of CrunchyRoll.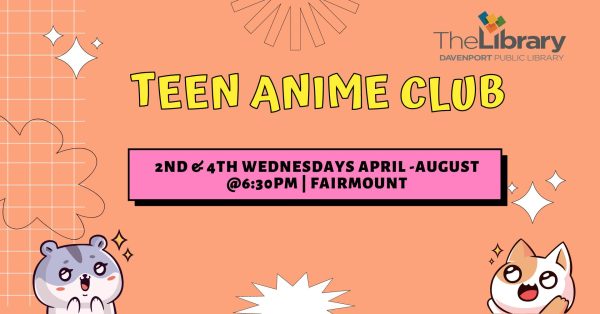 ToyCon Returns To Quad-Cities
We will have all of the TOY'S, COMIC'S, CARD'S, GAME'S, COLLECTIBLE'S & SO MUCH MORE!! All the stuff you've come to expect to see at our shows and then some! Everything pop culture
Where we will have 2 BUILDING'S again filled full of toy's, art, card's (all sorts of cards) collectible's, comic's, & game's (all sorts) & so much more!!! Stay for lunch, we will have a couple food trucks for all your hunger needs and wants!
The doors will open for Early bird / VIP entry is at 9:00 AM until 10:00 AM for $10.00 OR wait for General entry starting at 10:00 AM until 4:00 PM for only $3.00
We are always looking for new and awesome vendors to come set up at our shows if your interested in setting up please email qctoyshow@gmail.com.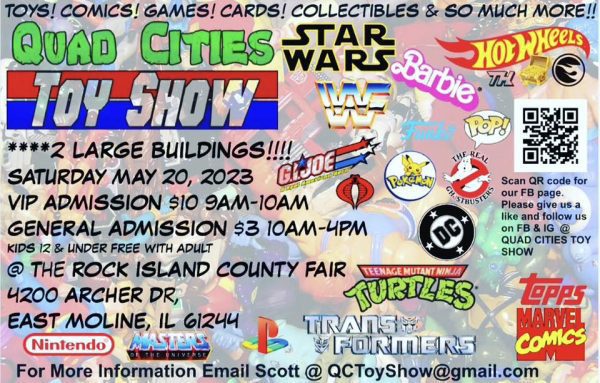 Rosalee Jewelry Holding Grand Opening
Rosalee Jewelry is holding their grand opening from noon to 4 Saturday!
The event will be held at the Rosalee Jewelry design studio located at 221 E Second St. on the second floor in
Davenport
, IA. Meet the designer, check out the one-of-a-kind collection, and try on samples made to help you create your own unique engagement ring or wedding band. Light refreshments will be provided as well as fine jewelry giveaway items. Follow @rosaleejewelry on Facebook or Instagram for additional giveaways.
Grand Opening Special: Schedule a design appointment now through June 25th to receive $200 off your finished custom jewelry!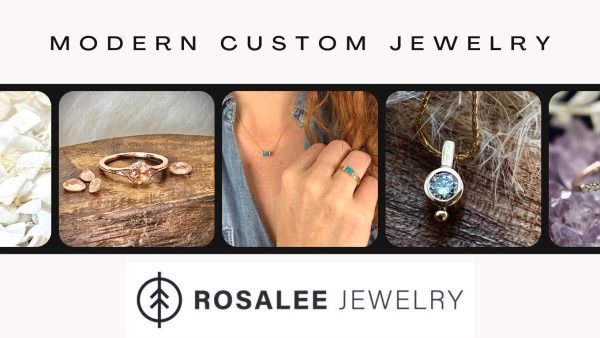 Narwhal's Still Swimming At Putnam
The Putnam Museum and Science Center is thrilled to host the Smithsonian traveling exhibition Narwhals: Revealing an Arctic Legend. From their depiction in the 1500s as angry sea monsters to their status as icons of pop culture today, the narwhal, with its unique spiral tusk, has inspired legend in Inuit and European society and fascinated people across cultures for centuries. This mysterious animal and its changing ecosystem are highlighted in this Smithsonian traveling exhibition.
Developed by the Smithsonian's National Museum of Natural History and its Arctic Studies Center and organized for travel by the Smithsonian Institution Traveling Exhibition Service (SITES), the exhibition explores interdisciplinary research conducted about the narwhal by Smithsonian scientists, in collaboration with Arctic researchers and members of Inuit communities, about the narwhal in their rapidly changing Arctic environment. The exhibition uses firsthand accounts from these scientists and Inuit community members to reveal how traditional knowledge and experience, coupled with scientific research, heighten the understanding of narwhals and the changing global climate.
Featuring an 18-foot, life-size model of a male narwhal, the exhibition examines "the unicorn of the sea." Visitors will learn what the narwhal tusk is for, test their tooth knowledge, examine a cast of a skull from a prehistoric narwhal relative, and compare the different ways that narwhals and their whale relatives have adapted to the Arctic environment. Panoramic images of landscapes and a soundscape of narwhal vocalizations, ice and water flows and other Arctic wildlife will immerse visitors in the Arctic environment of the narwhal. The exhibition highlights how the narwhal and its tusk have inspired medieval European unicorn imagery and legend. Visitors can read the Inuit legend of the narwhal, illustrated by artwork from Inuit community members. Audiences will learn what the Inuit have learned and how environmental changes are affecting the way of life for both narwhal and Inuit.
Exhibit admission is included in the price of general admission—$9 for adults, $8 for youth (ages 3-18), seniors, college students and military.
Narwhals: Revealing an Arctic Legend plays the Putnam now through April!
Learn more: NARWHAL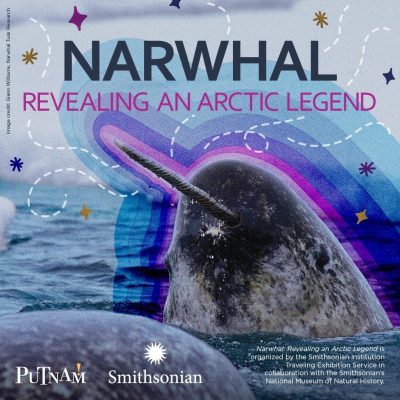 Get Fit On The Skybridge
Get Fit on the Davenport Sky Bridge!
Free fitness every Sunday at 9am. Beat those winter blues, keep those cold muscles active and share a smile or a high 5 with some great people! There is about 50 mins tonwalk, jog run, climb stairs, shake your hips with Zumba and so much more! Positive quotes are hung throughout the course that you go at your own pace at. At the end we draw for prizes thanks to local businesses donating ever week! Wear layers it gets warm inside, water available, and a great playlist!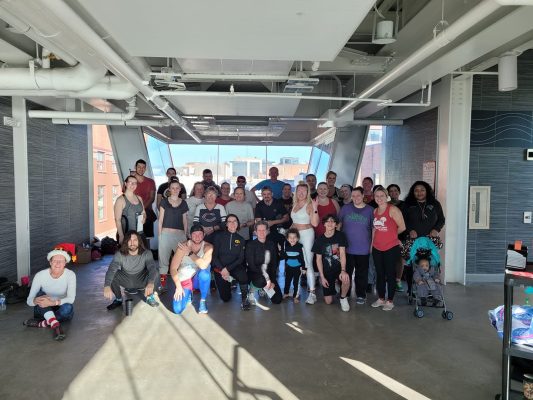 Bootleg Hill Open Mic Showcases Local Talent
Looking for a spot to showcase your talents?
How about the Bootleg Hill open mic night?
The musical open mic night is back. Happening weekly at Bootleg Hill Honey Meads in downtown Davenport. All are welcome. Hosted by Dan Fennesy and starts at 8 p.m.
Rock Out With Bingo!
It's time to rock out with rock star bingo!
Think you know your music trivia? Time to test your skills!
Think you know your music?
If you know what song contains these lyrics, you would probably love Rock Star Bingo!
"And she's watching him with those eyes,
And she's loving him with that body, I just know it,
Yeah 'n' he's holding her in his arms late, late at night."
What is Rock Star Bingo?
Just like "regular" bingo, but we replaced bingo numbers, like "B16", with parts of songs. If you know the song title (no phones, devices or apps – basically no cheating), then place a bingo chip on that square. Get 5 squares in a row and you're a winner!!
It's the most fun you will ever have playing bingo!
According to the folks involved, here are the deets:
**NEW Start Time of 7pm**
Rock Star Bingo
EVERY Wednesday @ 7pm
The Tangled Wood (
Bettendorf
, IA)
B-I-N-G-O +
Name That Tune +
Sing-a-longs
Rock Star Bingo
FREE To Play
Win FREE drinks!
Music changes EVERY week!
Music from the 50's through music that came out in the last month!
#ThisAintYourGrandmothersBingoNight
Trivia Night Hits Bettendorf
Trivia Night Live is rolling into The Tangled Wood in Bettendorf every Tuesday at 7 p.m.!
It's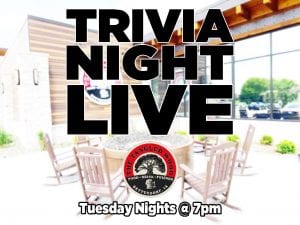 Free To Play, with up to eight people per team playing in various categories.
What is Trivia Night Live?
Trivia Night Live is a live interactive team trivia game played at your favorite restaurants and bars. The game consists of four rounds of questions of increasing difficulty and point values. Categories range from current events, history, geography, science, sports, and more….
Trivia Night Live is free to play, and you can have up to 8 members on a team.
Prizes are awarded for the winner of the 1st half and the overall winners win a $25 gift card for 1st Place, $10 for 2nd Place (cannot be used the same night).
We ask a question, and then play a song. Your team has the duration of that song to turn in your answer. No cell phones. web devices or smart watches can be used, just the useless trivial knowledge contained between your ears.
#LiveFromDavenportItsTriviaNight