Local Musician Lewis Knudsen Performing 12-Hour Live Concert Now!
As we all continue to Shelter in Place and practice safe Social Distancing, we are finding that turning away from the news and focusing on uplifting and hopeful messages provided by artists and musicians and the treasures they create, are quite beneficial.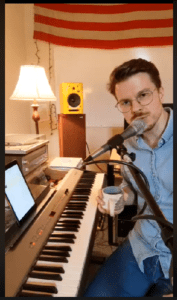 Local musician Lewis Knudsen is one of the many Quad Citians dedicated to bringing the community positive entertainment through these times. Lewis, however, may be taking local live concerts to the next level for other artists.
Lewis Knudsen is currently (right now!) performing a 12-hour live concert on Facebook! You can find his live stream at https://www.facebook.com/lewisknudsenmusic/. The concert began this morning, Friday Mar 27, at 9 a.m. and will continue all day until tonight at 9 p.m. Stop by and check out the magnificent Lewis Knudsen!
Bio:
Lewis Knudsen is a mixed-genre, multi-instrumentalist songwriter based in Rock Island, IL (Quad Cities). In the past few years Lewis has toured coast to coast in the US, as well as South Korea, Germany, Netherlands, Denmark, and the U.K. Lewis has opened for bands such as Amy Helm, Jesicca Hernandez, Nicholas David, and Davina and the Vagabonds.
Influences include James Taylor, Randy Newman, Ben Folds, Hozier, Rufus Wainwright, Leonard Cohen, Tom Waits, and Jack White.
Lewis' most recent album "Philip" is enjoying airplay on Iowa Public Radio. In January of 2018, "All My Sins" was featured on FOX's "UFC Road to the Octagon" and more TV/film placements are in the works.
Lewis' live repertoire includes over 500 songs, including covers from the '50s – '90s, as well as many original songs.
Tips:
Venmo LewisKnudsen
PayPal lewisknudsen@gmail.com
Websites:
https://lewisknudsen.com/
https://www.facebook.com/lewisknudsenmusic/