Discover Fun Events In Illinois And Iowa This Week
Looking for some fun things to do in Illinois and Iowa this week?
In the Quad-Cities?
Check out our Fun10!
Fun10 — ten ways for you to have fun in the Quad-Cities, this week and every week, only on your site for fun, free, local entertainment, QuadCities.com!
Every week, we drop a new Fun10, to give you a head start on your week and a heads up on what's going on over the coming seven days. Check out Fun10 every Sunday for the details on ten awesome events happening around town. It's a cool read, and a great way to get started planning your entertainment for the week.
So what's on the Fun10 for this week? Read on…
Fall Houseplant Sale Blooms This Week
Shop a variety of houseplants, plants from the Quad City Botanical Center's greenhouse, and items from featured plant consignors.
Most plants will sell between $8-$25, with some plants at lower or higher price points. Over 130 varieties of houseplants will be available.
Once again, the center is offering a plant adoption service! Drop off your houseplants that need rehoming during general admission hours, September 9-15 in our lobby. They will help find a new home for your houseplants during the sale on September 16.
Purchasing a plant helps support the Botanical Center's education department and future exhibits.
There is no cost to visit the plant sale, but they hope you'll consider paying for general admission to stroll through our gardens.
Shop houseplants year-round at the Botanical Center!
Visit The Quad City Botanical Center's plant wall in the lobby and our plant display in the gift shop, with grow lights donated by HTG Supply in Rock Island, IL.
For more events and to learn about current exhibits, visit qcgardens.com.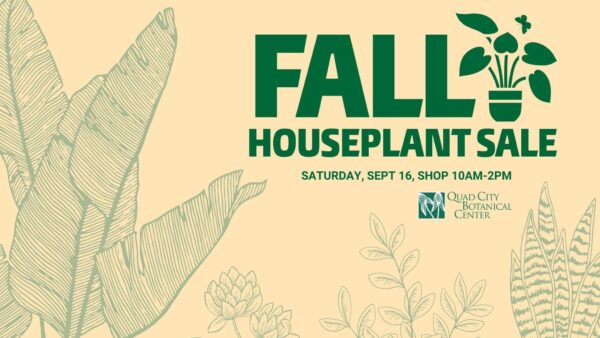 Big Fat Greek Festival Returns To Rock Island
YOU ARE INVITED to THE BIG FAT GREEK FESTIVAL!
Join in on the fun Friday, September 15th from 4 PM – 11 PM and Saturday, September 16th from 11 AM – 11 PM!
Admission is $2.00 for adults and children 12 and under are free. Please join us for a weekend of fine Greek cuisine, culture, music, dance and fun for the entire family! Opa!
The festival will be held at 2930 31st Avenue, Rock Island, IL. on Saint George Greek Orthodox Church grounds.
Learn more: BIG FAT GREEK FESTIVAL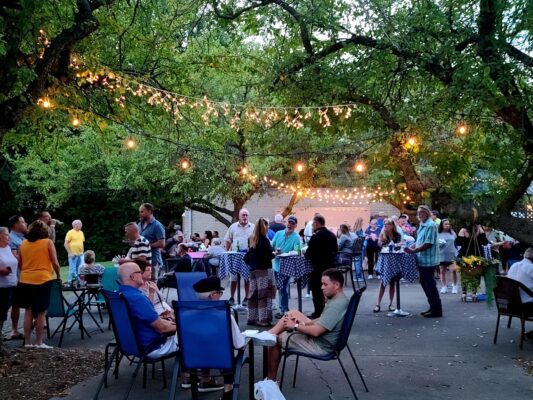 Kick It At The Crib
Corn Crib's CribFest Kicks Off September 8th in Coal Valley!
CribFest operates on weekends from September 8th – October 29th
CribFest Season Hours:
Fridays, Saturdays, Sundays 10am-6pm
*these hours are not the same as our store/nursery/greenhouse hours*
FALL FUN FOR ALL AGES!
You can expect all of the general admission activities we've had in previous years, like:
• Zip-line
• Human Hamster Wheel
• Giant Bounce Pad
• Hayrack Rides
• Cow Train
• Farm Animals
• Pedal Cars
• Straw Mountain Maze
• Grain Bin Basketball
• Giant Tire Swings
• And much, much more!!
General Admission
Ages 0-3 Free
Ages 4-61 $13
Ages 62+ $6
*Pay-to-Play activities are not included in General Admission*
Pay-to-Play includes:
• Paintball
• Hayrack Paintball
• Pumpkin Slingshot
• Pumpkin Cannon
Learn more: CORN CRIB NURSERY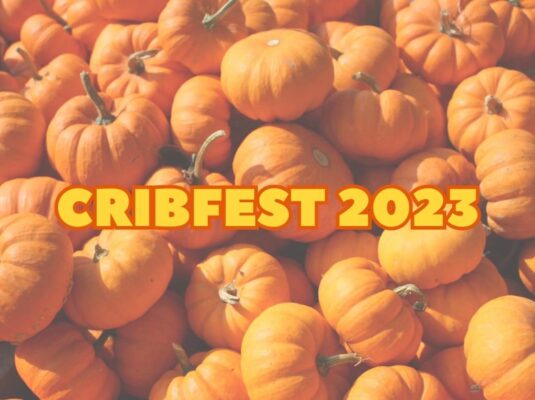 Moline Township Concert Series Rising Again
Summer Concerts take place in Stephens Square Park outside the East end of the Moline Township Activity Center.  The bands play from 6:30 pm to 8:30 pm and you can get something to eat in the M.A.C. dining room from 5:00 pm until the food is gone. We will be serving brats, hot dogs, sloppy joe's, chips, dessert, and non-alcoholic beverages. Once the music begins, we will be selling popcorn, soda, and bottled water outside in the park. Parking is available across 18th Street in the Moline Township parking lot (next to Amerifile), Bethany's parking lot, the old Dispatch parking lot located at 1720 5th Ave, and any on street parking.
Mercado Brings Fun To Downtown Moline
Moline's Mercado On Fifth is back!
Bringing Back Mexican Cuisine, Culture And More Fridays through Sept. 10 from 5 to 10 p.m. at 432 12th Street in Moline, everyone can get the weekend started right with Mercado! There will be a variety of children's activities, delicious Mexican cuisine, and unique retail stands selling everything from jewelry to hand-sewn blouses and imported ceramics. 
Mercado on Fifth is not just a market; it serves as a resource and catalyst for aspiring entrepreneurs. The weekly events bring Quad Citizens together to celebrate culture and community in an inclusive way. Educational programming at Mercado provides enrichment hours for children, and free nonprofit booth space gets helpful information to adults.
By addressing the specific needs of small businesses in the area, Mercado on Fifth and its partners have helped create and/or provide a platform for 30 new minority-owned businesses in the Quad Cities region. Most vendors have taken advantage of our free small business workshops (in Spanish and English) in partnership with the Illinois Small Business Development Center at Western Illinois University (SBDC). Through the management of the SBDC, we also started a micro-grant program for minority entrepreneurs to purchase equipment for their businesses. Over the past two years, Mercado founder Bob Ontiveros has given away over $62,000 to over 40 minority-owned businesses to purchase anything from food warmers to an industrial sewing machine.
Black Hawk College, another valued partner, also began offering the Food Sanitation Management class in Spanish at the request of Mercado leadership. Previously, Spanish speakers interested in becoming a kitchen manager or starting a food business had to drive to Chicago to take the class. Finally, Mercado on Fifth supported the creation of a commercial kitchen located within St. John's Lutheran Church just blocks away from the Moline event space, thus completing the entrepreneurial eco-system. Mercado vendors and other small businesses now rent the kitchen for a small hourly fee.
Go ahead and block out your Fridays because Mercado On Fifth is where you are going to want to be this summer.
Bettendorf Summer Concert Series Every Week
Summer is on our doorstep and the Bettendorf Public Library is set to celebrate with the return of its wildly popular Summer Concert Series. The eleven-week series starts on June 1st and takes place each Thursday night at 6:30 PM at Faye's Field located at 2850 Learning Campus Dr. in Bettendorf. Attendees are encouraged to bring along food and drink to this program. In the case of inclement weather, concerts will be
held inside the Bettendorf Public Library which is next to Faye's Field.
The Summer Concert Series is funded by the Bettendorf Public Library Foundation and
supported by Title Sponsors: TBK Bank, Abbey Carpet Gallery, Build to Suit, and Focus Real
Estate Development; Autographed Edition Sponsors: Bettendorf Rotary Club and Duck Creek
Tire & Service; Limited Edition Sponsor: Mel Foster Co.; and First Edition Sponsor: BankORION.
More information about the Summer Concert Series series and other library events can be
found at www.bettendorflibrary.com or by calling 563-344-4175.
ABOUT the Bettendorf Public Library Information Center: Located at 2950 Learning Campus
Drive, Bettendorf, Iowa 52722, the library's mission is "Committed to providing access to
information and ideas for all." For more information, visit www.bettendorflibrary.com or call
563-344-4175.
Get Into Thursday Night Groove At Schwiebert Park
Come listen to live music along the Rock Island riverfront at Schwiebert Park, 1st Ave. and 18th St.  Sponsored by Rock Island Parks and Recreation and sponsored in part by: Rock Island Happy Joes, Alternating Currents, Friendship Manor, Bent River Brewing Company, and Mississippi Valley Blues Society.
Thursday Night Groove
9/14/2023 Class of '82
9/21/2023 Soul Storm
9/28/2023 For Those About to Yacht
10/5/2023 Far Out 283
10/12/2023 Fair Warning
10/19/2023 RAIN DATE IF NEEDED
7:00pm-9:00pm Concert
*No outside alcohol allowed in Park.
**Bring a lawn chair or blanket to enjoy the concert on the Great Lawn!
Tunes In Town Tunes Up In DeWitt
The 2023 Tunes in Town Summer Concert Series is back on June 6-August 29 from 6:00-8:30 pm. Come to Lincoln Park each week in DeWitt, IA, to enjoy live music, food vendors, and fun for the whole family all summer long. Bring your own cooler, seating and check out the local food trucks & stands available for each event.
You can't download LIVE music, 🎧 so mark your calendars and join us for a great concert series in Lincoln Park this summer!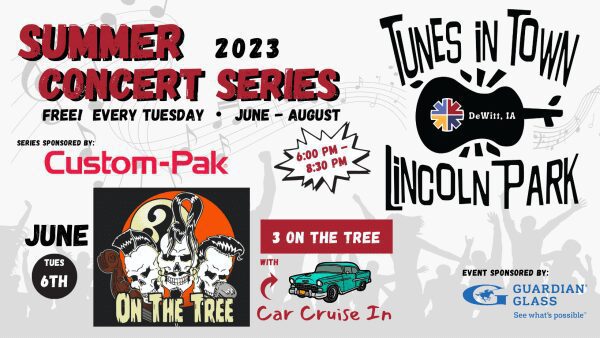 Kewanee Summer Concert Series Revs Up
Kewanee is revving up their 27th Season of Concerts in the Park at Veterans Park, 400 E. 2nd St., Kewanee. Food stand opens at 5:00 p.m. with music starting at 6:30 p.m. No admission. Bring a lawn chair and enjoy live music outdoors! Click the link to see the full 2023 line up.
Bring your lawn chairs or blankets

Live at Five Returns This Week
Live At 5 – Free Summer Concert Series is back with some brand new additions!
Live music will happen every Friday from 5pm – 7pm in the Skybridge Courtyard at Common Chord! Sound is rocking, boots are stomping & tasty cold beverages are poured for a weekend kick-off celebration in Downtown Davenport, IA.
The party does not stop there… with the new "AFTERPARTY" addition at Zeke's Island Cafe, with each week's featured intermission artist performing from 7pm – 8pm!
Series Line Up:
Sept. 15th: The Velies | Sponsored by: The Planning Center
Sept. 22nd: Wicked Liz & The Bellyswirls | Sponsored by: Grace Technologies
Sept. 29th: Michael Moncada & Whiskey High | Sponsored by: Lobo's Salsa
Learn more: LIVE AT 5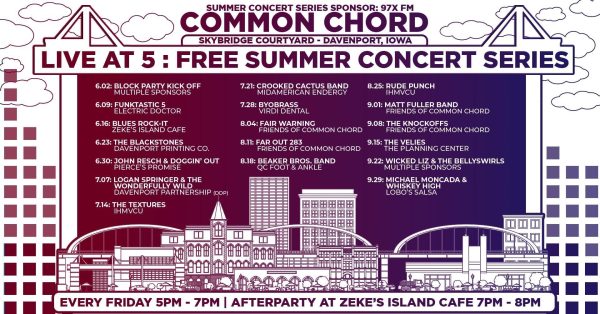 E