'Impractical Jokers,' Foot Rubs, Fish Swaps And More In This Week's FUN10!
It's Sunday, and QuadCities.com proudly presents Fun10, a list of the top 10 things to do in the Quad Cities this week, and every week!
Every Sunday, we drop a new Fun10, to give you a head start on your week and a heads up on what's going on over the coming seven days. Check out Fun10 every Sunday for the details on ten awesome events happening around town. It's a cool read, and a great way to get started planning your entertainment for the week.
FUN10 — ten ways for you to have fun in the Quad-Cities, this week and every week, running every Sunday, only on your site for fun, free, local entertainment, QuadCities.com!
So what's on the Fun10 for this week? Read on …
Snowstar Appreciation Days Begin TODAY!
Snowstar is proud to honor and support all the members in the community who work tirelessly to protect us, educate us and keep us healthy.
As a small thank-you for their service and dedication, we're hosting Appreciation Days every Sunday throughout January. All law enforcement, firefighter/EMS teams, medical professionals and teachers with a valid I.D. will receive 20% off ski or tube tickets. The discount extends to their families, and any current military and veterans will also receive a matched discount.
January 9 – Law Enforcement Appreciation Day
January 16 – Firefighter/EMS Appreciation Day
January 23 – Medical Professional Appreciation Day
January 30 – Teacher Appreciation Day
To receive applicable discounts, visitors must purchase tickets on-site at the Snowstar ticket counter.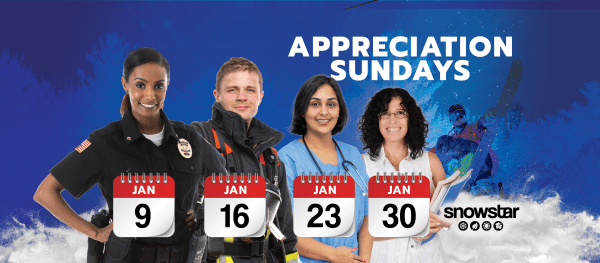 For all the latest information on Snowstar's hours and offerings, follow @SnowstarPark on Facebook.
About Snowstar
Snowstar's family-friendly facility delivers all the fun of the Colorado slopes right in your backyard! With 15 skiing and snowboarding lanes, a 28-acre terrain park with 40+ features, 11 snow tubing lanes, four unique food and drink options, a state-of-the-art tune shop, gear rental and more, there's something for everyone.
Get A Drink, Or A Foot Rub, Tonight!
That's right, according to the event's facebook page, you could get a free drink OR  a free foot rub if you go to check out the Big Room Open Mic Night 6-9 p.m. Sunday at the Village Theatre, in the Village of East Davenport.
So, bring your talents, your guitars, your fresh voice, and your tired feet and welcoming liver out to this fun event!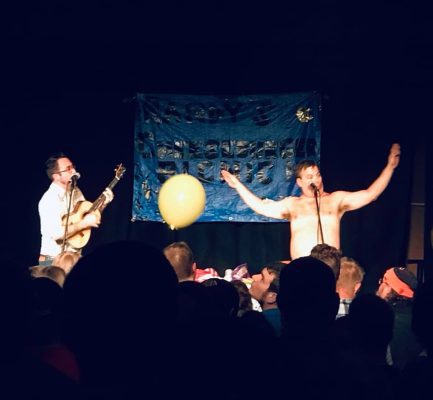 'Impractical Jokers' Gatto Coming To Rhythm City
Joe Gatto comes to Rhythm City Casino Thursday January 13, 2022 at 8:00pm!
Joe Gatto is known for the hit TV shows "Impractical Jokers" and "The Misery Index." He founded The Tenderloins Comedy Troupe with his co-stars in 1999. The troupe has toured with a live comedy show to sold-out crowds across the world, including legendary arenas, such as Madison Square Garden in New York and the O2 Arena in London. Joe is passionate about supporting anti-bullying organizations and animal rescue initiatives. Joe happily supports the "Adopt, don't shop" movement and published his book, "The Dogfather: My Love of Dogs, Desserts and Growing Up Italian," in 2020. A proud family man, Joe loves spending time with his wife, two children and his pack of 15 dogs affectionately known as the "Gatto Pups."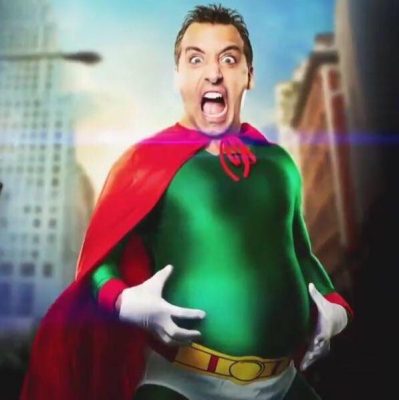 Tickets are $25, 35 or 45 plus tax and an online/phone ticketing fee (this fee is waived when tickets are purchased at The Market inside Rhythm City Casino Resort®). Tickets in the ADA section are for patrons with mobility disabilities and up to three companions. If companion seating is not available because the ADA section is sold out, Rhythm City will offer other seats as close as possible to the accessible seat, if available, at the purchase price of the original section.
Doors open at 7 PM for the 8 PM show. All ages are welcome to attend.
Learn more here:
https://rhythmcitycasino.showare.com/eventperformances.asp?evt=111
Drop Your Line At The Quad Cities Fish Swap TODAY!
The Quad City Fish Swap is TODAY!
100 tables of ALL THINGS AQUATIC!
FREE ADMISSION!
Learn more: http://www.qcfishswap.com/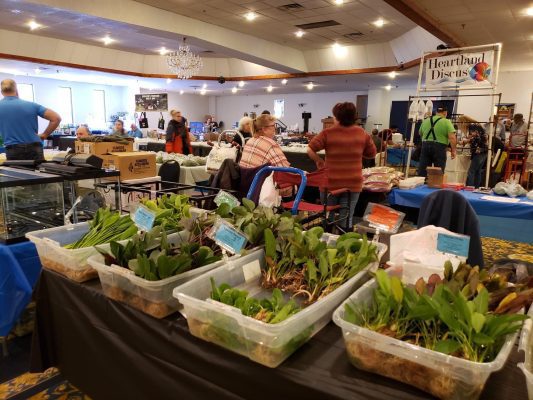 Opera Quad Cities Returning TODAY!
Davenport – Opera Quad Cities will celebrate its return from a two year hiatus with a recital featuring Davenport native Nicholas Fahrenkrug, baritone, and Greek pianist Eleonora Apostolidi.
The event, which begins at 7:00 PM Sunday, January 9 in the Great Hall at Davenport's Trinity Cathedral, is sponsored by Opera Quad Cities and features Mr. Fahrenkrug and Ms. Apostolidi, members of the Apollo Duo. The duo will present the complete song cycle Die Schöne Müllerin by Franz Schubert.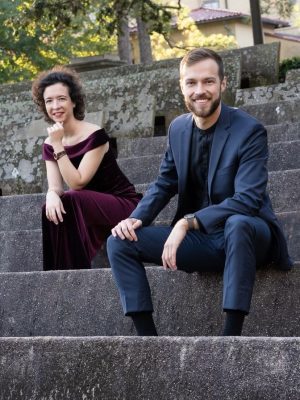 Composed in 1823, the set of twenty songs is based on the poetry of Wilhelm Müller. The main character is a young wanderer who falls in love with the beautiful daughter of the local miller. Throughout the song cycle, he keeps all his thoughts to himself. There is no interaction between characters other than the conversations that the wanderer has with the brook. Eventually the wanderer realizes the miller's daughter might be in love with a hunter, and not him. In his despair, the song cycle concludes with a dramatic and tragic final aria.
If you go:
What: Die Schöne Müllerin, performed by the Apollo Duo
When: Sunday, January 9 at 7:00 PM
Where: Great Hall, Trinity Episcopal Cathedral, 121 W. 12th Street, Davenport, Iowa
Who: Open to the public
Cost: Free to attend but donations will be accepted
All guests are required to wear masks per Covid-19 protocol.
For more information, please contact Kristin Bruchmann at 563-940-9015, or Ron May at rmay2000@aol.com
Get Your Quilting On Throughout January At Davenport Library
Do you love sewing and your Library? Then you have the perfect combination for adding to our community quilt project! Love your Library, but don't sew at all? You're still perfect for adding to our quilt!  Using books, reading, or community as the theme, create your own one-of-a-kind 10″ quilt block to donate to our project. The finished quilt will be displayed at one of our Library locations throughout the spring. Register to pick up a 10″ square to design, or bring your finished block to the service desk at any Library location between January 3rd, 2022 and January 28th, 2022.
For more information, visit https://bit.ly/dpl-communityquiltproject.
This event is FREE and open to the public. For more information, visit www.davenportlibrary.com or call the Library at (563) 326-7832.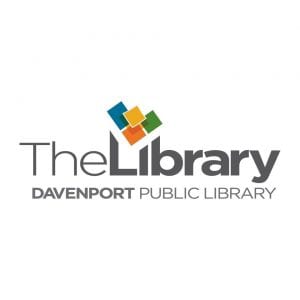 Haus Of Ruckus Returning To The Mockingbird On Main TODAY!
The Haus Of Ruckus, the company of artists behind the critically acclaimed "Jacques"alope is back with another unique endeavor.
This time,The Haus will present a wholly original play written three different times by three different writers. We Wrote This In A Day (don't yell at us) is A unique and exciting 24 hour theatre experience put on by a wonderful group of incredibly sleep deprived performers.
The finished product will be presented January 9th at 7:34pm at The Mockingbird On Main in Downtown Davenport, Iowa. Tickets only $10 and and the presentation is rated PG 13 for some content they don't know about yet.
Details and tickets can be found here: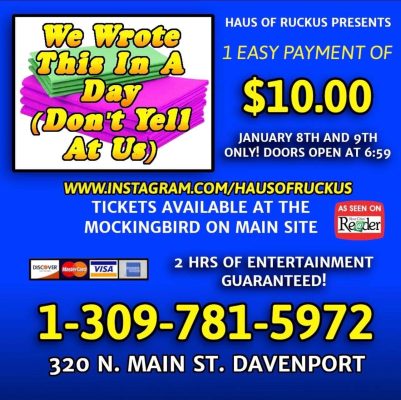 Get Fit Every Sunday On The Skybridge
Get Fit on the Davenport Sky Bridge!
Free fitness every Sunday at 9am. Beat those winter blues, keep those cold muscles active and share a smile or a high 5 with some great people! There is about 50 mins tonwalk, jog run, climb stairs, shake your hips with Zumba and so much more! Positive quotes are hung throughout the course that you go at your own pace at. At the end we draw for prizes thanks to local businesses donating ever week! Wear layers it gets warm inside, water available, and a great playlist!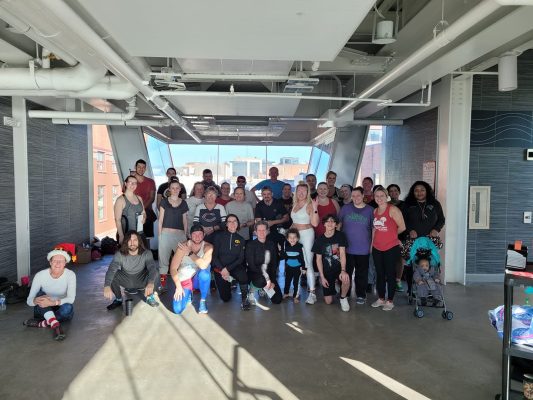 Rock With Rock Star Bingo
Rock Star Bingo
EVERY Wednesday Night @ 7pm
The Tangled Wood (
Bettendorf
, IA)
B-I-N-G-O +
Name That Tune +
Sing-a-longsRock Star Bingo
FREE To Play
Win FREE drinks!
ALL AGES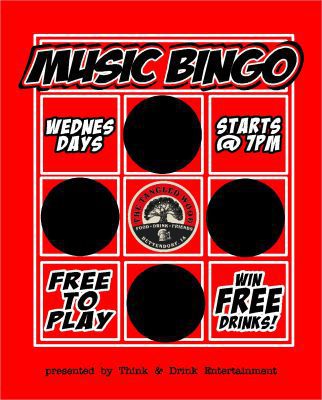 Think you know your music?
If you know what song contains these lyrics, you would probably love Rock Star Bingo!
"And she's watching him with those eyes,
And she's loving him with that body, I just know it,
Yeah 'n' he's holding her in his arms late, late at night."
What is Rock Star Bingo?
Just like "regular" bingo, but we replaced bingo numbers, like "B16", with parts of songs. If you know the song title (no phones, devices or apps – basically no cheating), then place a bingo chip on that square. Get 5 squares in a row and you're a winner!!
It's the most fun you will ever have playing bingo!
Live On Tuesday Night, It's Trivia Night Live!
Trivia Night Live is rolling into The Tangled Wood in Bettendorf every Tuesday at 7 p.m.!
It's Free To Play, with up to eight people per team playing in various categories.
What is Trivia Night Live?
Trivia Night Live is a live interactive team trivia game played at your favorite restaurants and bars. The game consists of four rounds of questions of increasing difficulty and point values. Categories range from current events, history, geography, science, sports, and more….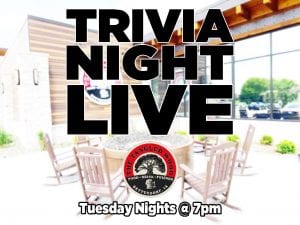 Trivia Night Live is free to play, and you can have up to 8 members on a team.
Prizes are awarded for the winner of the 1st half and the overall winners win a $25 gift card for 1st Place, $10 for 2nd Place (cannot be used the same night).
We ask a question, and then play a song. Your team has the duration of that song to turn in your answer. No cell phones. web devices or smart watches can be used, just the useless trivial knowledge contained between your ears.
#LiveFromDavenportItsTriviaNight