Aurora Beard Shines Bright As An Inspiration To Quad-Cities
Aurora Beard was named for the Disney princess Aurora in the Sleeping Beauty story. It fits. She is a beauty.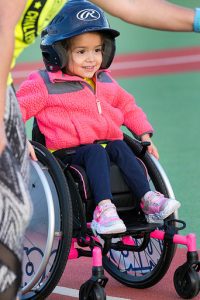 There is another meaning for the name Aurora, which also fits. Aurora Beard is a natural light display, in spite of her physical challenges.
Aurora is an active 5-year-old who wheels herself around, plays Challenger League baseball and is gaining independence with the therapies available from Genesis Outpatient Pediatric Therapy (GOPEDS).
Aurora was born at 7 pounds, a healthy weight, but soon it became apparent she was not developing on schedule and was not growing as expected.
"From the beginning she didn't grow or progress physically,'' explained Angela Beard, Aurora's mother. "The diagnosis was 'a failure to thrive.'''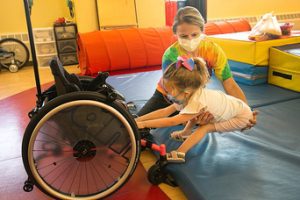 According to Johns Hopkins Hospital, Children are diagnosed with failure to thrive when their weight or rate of weight gain is significantly below that of other children of similar age and sex. Infants or children who fail to thrive may be dramatically smaller than other children the same age.
Angela Beard was also told Aurora was hypotonic, which is a condition of abnormal muscle tone, stalling physical development.
"But why? We didn't know. She could sit independently. She was losing skills she already had because she had no strength. She wasn't progressing or growing,'' Angela Beard explained. "Something else was happening.''
Spinal Muscular Atrophy
The "something else'' was diagnosed as spinal muscular atrophy (SMA), a group of inherited conditions that damage nerve cells in the spinal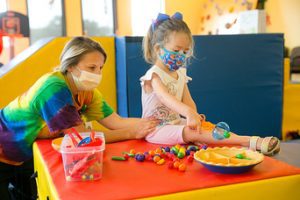 cord. Over time the damage progresses and can affect swallowing, breathing, sitting and walking.
The Beards didn't know they carried the gene that placed Aurora at higher risk for SMA.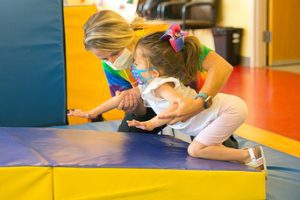 There is typing of SMA. Angela Beard said Aurora is Type 2. Aurora may always need a wheelchair and over time could develop other physical challenges.
Making Progress at GOPEDS
At GOPEDS with her therapists, Aurora is that shining natural light. On a recent day she was totally engaged with physical activities and games directed by occupational therapist Ashley Devaney. Aurora crawled, rolled, sat up, scooted around to work on balance and worked on fine motor skills by playing games. She can pull herself into her wheelchair.
Aurora will have a year of pre-K, then will start kindergarten. In addition to gym workouts, she has sessions in the pool available at GOPEDS.
"She loves therapy and it has helped tremendously,'' Angela Beard said. "She can sit up again. Her core strength is improving. She is back to where she was prior to the diagnosis."
The Quad Cities River Bandits recognize Genesis therapy success stories with their Home Runs for Life celebrations. Aurora and her family will have their night at the ballpark on Aug. 27.
For more information about GOPEDS programs, go to www.genesishealth.com/gopeds. To schedule an appointment, call (563) 421-3497.