This Week's QuadCities Artists In Conversation: 'Haunt' Actor Justin Marxen
Artists in Conversation is a weekly column running Wednesdays on QuadCities.com.
It features a conversation with a local creator or creators going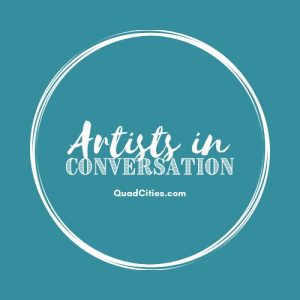 into their artistic process, projects and more. Get to know your local arts scene and local creators better on QuadCities.com with Artists In Conversation!
If you're a local creator and would like to be featured, please email us at Sean@QuadCities.com or Tristan@QuadCities.com!
This week our Artists in Conversation from QuadCities.com features Justin Marxen.
Justin Marxen – actor, filmmaker, husband, father, all around goodfella – makes his home in the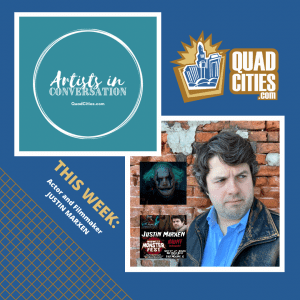 Quad-Cities and is known worldwide for his performance in the Beck/Woods horror flick Haunt is this week's feature in Artists in Conversation.
What was the first performance to have a lasting effect on you?
Good God there are so many!! My dad and I would see all of Clint Eastwood's movies and one night we saw In The Line Of Fire. And we saw it a few times in the movie theater and loved Clint's performance. He was awesome in that and he is awesome in everything!
What made you want to be an actor?
I have have always loved movies. Growing up I would watch movies over and over and over again. I loved Die Hard and Commando and all those big action movies. My family and I loved watching movies and talking about them all the time so it was always on my mind. My dad showed me all of Al Pacino's movies – Serpico, The Godfather series, Heat… all of them… And after watching all of his films, I knew I wanted to be an actor.
Was there an actor you admired growing up?
Oh man, I love so many. I would definitely say Al Pacino. He just puts his heart and soul into his performances.
While we are on the topic of favorites, who would be on your Top 5 Actors list?
This is tough. I would say Al Pacino, Tom Hanks, Gene Hackman, Denzel Washington and Robert DeNiro. And for actress I would say Kate Winslet, Emma Stone, Margo Robbie, Julianne Moore, and growing up l loved Whoopie Goldberg. Ghost, The Color Purple and Fatal Beauty. She was great in all of those.
And your Top 5 Films?
Oh man there are so many. This is tough buddy. I would say The Godfather, Forrest Gump, The French Connection, Heat, Dirty Harry.
You've been lucky to have some high profile experiences in a variety of films. Which of those projects have made a big impact on you professionally or personally?
I would say Haunt was the biggest one and good God it was an awesome experience. I got to work with great actors and a great crew, especially the make up crew — they were awesome, man. And to work with Scott Back and Bryan Woods on that level was a blast. After that I was very fortunate to get an agent and that has helped out a lot.
Do you find some of those characters stay with you or is it easy to let them go at the end of the day?
I always loved watching my favorite actors in interviews talk about how they prepared for a part. I was fortunate to learn early on to do research on your character and a backstory. I love learning what the character does. If the character is a police officer I would love to find out what it is like to be a police
officer. I really love living in that world until the movie is done filming. That is what is fun about acting is that everyone works differently and it's a blast.
Can you describe a time when you looked around on a set and said to yourself, "Damn! This is amazing! I've made it!"
Haunt. It was crazy!! Scott and Bryan did not make it easy, though. They had me audition a lot before I got the part and once I got it, I had to go in for costume and make-up tests. When we were all on set filming, though, it was awesome and unreal.
You've worked with Scott Beck and Bryan Woods a lot over the years. When did the relationship begin?
It was crazy. I was acting and making movies with my friends and one day at school, I saw a stack of newspapers and one article was sticking out of all the papers and it was about Bryan and Scott. It had their information in the article and so I called them up and we exchanged films.
When I saw the movies that they were making I was blown away. After that I was very fortunate to get to act in a lot of their films and they became great friends.
How crazy is their success?
It is crazy man. I think we all knew they were going to make it big. They are very talented. They love movies and they are very nice and great guys. I recall Denzel Washington said that when you are directing a movie you have a hundred people asking you a hundred different questions and you have to have a hundred answers. When you watch Bryan and Scott they are very calm and cool and can answer any question from an actor or a crew member. They are pros.
It's proving you can be from the Midwest and "make it?" Do you think the pandemic has really changed how everything will work?
Oh man… I don't think I'm smart enough to answer that! I think… in my opinion… because of what some agencies have said… actors can film their auditions and send them out on email and because of zoom actors can take meetings on zoom and hopefully book projects. l saw an
interview with Richard Jenkins – who is awesome – and he said that he has never lived in LA but has always been able to book good work and now he is big time!
What's next for you? What project(s) on you working on?
I am always auditioning for projects that agents send my way or submitting for other projects I see but I have a lot of stuff I'm doing on my own. My great friends Kurt Oberhaus, Tristan Tapscott and Khalil Hacker are going to be filming a web series very soon. Kurt Oberhaus and myself also filmed a short that we have sent to film festivals. We are excited for both projects and I hope to God audiences enjoy them!
What is your advice for anyone trying to make it in this crazy business?
I am definitely not a movie star and definitely not big time but I would say if you can get an agent or a manager that can help you find good work that would be awesome and while they are finding you projects to work on I would say get together with your friends and write characters you really want to play and then go out and make a short film or a feature film and play the characters you and your friends want to play and try to get it out there and God willing audiences will enjoy it. And – most importantly – watch movies and get inspired.