10 Fun Things To Do Week of October 11th: Creepy Tales, Spooky Spectaculars, Painted Pumpkins and MORE!
QuadCities.com proudly presents Fun10, a list of the top 10 things to do in the Quad Cities this week, and every week!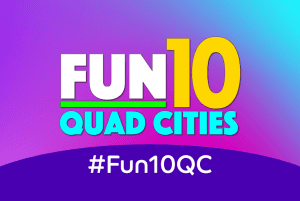 It's no secret that the entertainment industry has gone through quite the transformation over the past seven months. When we began this column at the beginning of March 2020, we foresaw sharing ten (of the numerous) exciting events going on in the Quad Cities area throughout the week. Just a few weeks after launching this new feature, we were all presented with a reality we never saw coming. One thing never changed, however. While the look and feel significantly altered, amazing and entertaining events continued to flow. And FUN10 has been there through it all! A huge thanks to musicians, artists, organizers and event planners for keeping the awesome entertainment industry alive in the Quad Cities!
Every Sunday, we drop a new FUN10, to give you a head start on your week and a heads up on what's going on over the coming seven days. Check out FUN10 every Sunday for the details on ten awesome events happening around town. It's a cool read, and a great way to get started planning your entertainment for the week.
FUN10 — ten ways for you to have fun in the Quad-Cities, this week and every week, running every Sunday, only on your site for fun, free, local entertainment, QuadCities.com!
So what's on the FUN10 for this week? Read on …
Creepy Tales with Edgar Allan Poe on Facebook
Every Tuesday in October the Davenport Public Library brings Creepy Tales with Edgar Allan Poe to Facebook Live.
From 4 – 4:30 p.m. you can visit https://www.facebook.com/davenportlibrary/live_videos/ for a live reading of a classic story or poem by Edgar Allan Poe. Learn more about his history and his life, while enjoying a creepy tale.
Performing Arts Signature Series Goes Virtual
Become a subscriber and enjoy a virtual dinner party safely from your own home!
Join the Quad City Arts this Thursday Oct 15 for their Performing Arts Signature Series: Virtual Season. This week will feature John Patti, Steel Pan Drummer.
John takes jazz and blues to a new level by adding the unique island flare of the steel drum to provide an intriguing and memorable performance guaranteed to get any audience dancing in their seats! John is well versed in various genres of music, from jazz to the reggae sounds of the steel pan, and the addition of R&B, Motown, and blues gives his performance some groove and soul.
Your ticket includes a digital link of the performance along with curbside take-out service from either Crust in Bettendorf or The Combine in East Moline using a prix-fixe menu created for this event. A link to the menus with instructions for placing orders will be provided in advance. Access to the performance will be provided by 4 p.m. the day of the event and all orders placed in advance will be available at 5:30 p.m. for pickup.
Get your digital pass today! https://www.quadcityarts.com/pass
Spooky Spotlight Spectacular: A Halloween Cabaret!
Join The Spotlight Theatre (1800 7th Ave Moline) this Friday Oct 16 and Saturday Oct 17 at 7 p.m. and Sunday Oct 18 at 2 p.m. for a Spooky Spotlight Spectacular: A Halloween Cabaret! Doors open one hour prior to showtime.
Featuring performances by local singers, this fun filled night of Spooky Songs will be the perfect night to get you into the mood of Halloween! Come in costume to be entered to win various prizes!
Cost is $20 in advance, and tickets can be purchased at https://www.thespotlighttheatreqc.com/cabarets. Tickets are $25 at the door. Seating is limited to 50 people per show, and masks must be work upon entrance.
Garden Cinema: Tim Burton Night
Rozz-Tox (2108 3rd Ave Rock Island) will be hosting their covid-era outdoor double-feature film series, Garden Cinema, this Friday Oct 16 from 1 p.m. – 12 a.m.
This week's Garden Cinema theme is 'Tim Burton Night.' Movies will include Edward Scissorhands at 7 p.m. and Beetlejuice at 9 p.m.
This is a free event, but seating is limited. Feel free to bring a blanket or lawn chair! Food and drink will be available from the walk-up window. Masks are required to use the restrooms – only 2 people inside at a time. For more information, please visit https://www.facebook.com/events/764852727420560.
Edward Scissorhands (1990) 1h 45m
A scientist (Vincent Price) builds an animated human being — the gentle Edward (Johnny Depp). The scientist dies before he can finish assembling Edward, though, leaving the young man with a freakish appearance accentuated by the scissor blades he has instead of hands. Loving suburban saleswoman Peg (Dianne Wiest) discovers Edward and takes him home, where he falls for Peg's teen daughter (Winona Ryder). However, despite his kindness and artistic talent, Edward's hands make him an outcast.
Beetlejuice (1988) 1h 33m
After Barbara (Geena Davis) and Adam Maitland (Alec Baldwin) die in a car accident, they find themselves stuck haunting their country residence, unable to leave the house. When the unbearable Deetzes (Catherine O'Hara, Jeffrey Jones) and teen daughter Lydia (Winona Ryder) buy the home, the Maitlands attempt to scare them away without success. Their efforts attract Beetlejuice (Michael Keaton), a rambunctious spirit whose "help" quickly becomes dangerous for the Maitlands and innocent Lydia.
Bring the Heat Chili Cook Off
All Quad Cities Chili Masters are invited to show off their skills while raising money for the RWK Foundation at the Big Swing's (113 18th Street Rock Island) Bring the Heat Chili Cook Off this Saturday Oct 17 from 12 – 6 p.m.
A small participation fee earns you a spot and all sorts of freebies! Your donation to the RWK Foundation includes the opportunity to be a Taster, A Chili Connoisseur if you may. This role also earns all sorts of freebies! Enjoy grilled hot dogs for the perfect chili dog, live music, vendors, door prizes, a raffle and treats for all ages.
For more information, please visit https://www.facebook.com/events/620608338599983.
Virtual Mad Scientist Ball
Join the Putnam Museum virtually, for an electrifying night to raise awareness and funds for the Putnam Museum and Science Center!
Experience a Virtual Mad Scientist Ball this Saturday Oct 17 from 6 – 7:30 p.m.
Mad Scientist Ball is back this year at the Putnam to raise the necessary funds for the support of their programs, services and collections such as summer camps, rotating and permanent exhibits, and virtual learning. This VIRTUAL event includes an interactive science experiment, instruction from a mixologist on crafting a delicious signature cocktail, as well as a Q&A session from MIT Aerospace Engineer, and Emmy-Nominated TV host, Emily Calandrelli!
Throw on your lab coat or dress as your favorite scientist to enjoy this event from the comfort of home! This unique celebration of one of our communities' treasured cultural amenities takes place right from the comfort of your own home—or anywhere you choose! With technology right at our fingertips, we want to connect with our network of museum lovers. By eliminating thousands of dollars of event costs needed to host a physical event, more of your donation goes directly to impacting education of guests and the preservation of the Putnam's collection.
Purchase your event ticket here: http://bit.ly/madscientistball2020
Participate in the LIVE RAFFLE through Oct 14 by
1. Purchasing raffle tickets at https://bit.ly/MadScientistBallRaffle
2. "Dropping" your tickets into the basket(s) of your choice at http://bit.ly/MadScientistBallRaffleBaskets
Instructions for using the Zoom platform and login information will be provided after purchasing a ticket.
Paws in the Parking Lot
Looking for somewhere fun to show off your four-legged friend's Halloween costume this year?
Join QC Paws for Paws in the Parking Lot this Saturday Oct 17 from 12 – 3 p.m. in the Rock Island County Animal Shelter parking lot (4001 78th Avenue Moline).
Come enjoy a vendor fair, food trucks, trunk or treat for kids, and a pet costume contest (at 2 p.m.) Check QC Paws' Facebook Page for up-to-date information regarding vendors and food trucks for the day.
If you are interested in becoming a vendor, please contact qcpaws@yahoo.com.
Drive-In Move Event in Bettendorf
Enjoy the family-friendly movie Hotel Transylvania from the comfort of your own car!
A Drive-In Movie Event presented by Bettendorf Parks and Recreation and the Family Museum (2900 Learning Campus Drive Bettendorf) is happening this Saturday Oct 17. Doors open at 6 p.m. and the movie starts at 7:30 p.m.
Each car will receive three parking spots: one to park your car, one to set up chairs and blankets (if you want), and one for social distancing. Cost is $20 per car for pre-registered cars; $35 for day-of admission if spots are available. Spots can be purchased now at https://apm.activecommunities.com/bettendorf/Activity_Search/a-drive-in-movie-event/7882.
Guests are welcome to bring their own food and drinks (no alcohol). The movie, Hotel Transylvania, will be displayed on a large screen. The sound will be played through speakers and broadcast over the radio so everyone can hear! There will be a Halloween-themed backdrop photo op to capture the memory of the evening. Pets are not allowed. Spots are first come, first served.
Sunday Funday: Painted Pumpkins
Celebrate Halloween and the fall harvest by painting a pumpkin at the Botanical Center!
Sunday Funday: Painted Pumpkins happens this Sunday Oct 18 from 1 – 4 p.m. at the Quad City Botanical Center (2525 4th Ave Rock Island).
Pick up your pumpkin and painting supplies at distanced tables in the outdoor canopy tent and pick out a spot on the lawn to work on your masterpiece. Guests are welcome to bring their own blanket and chairs. Listen to kid-friendly fall stories like "It's the Great Pumpkin, Charlie Brown" and complete a Pumpkin Extravaganza activity guide. Please read mask and distancing guidelines before your visit. https://bit.ly/2RNQ8uF
General admission, free for members. RSVP required for a time slot and to receive pumpkin. One pumpkin provided per youth ticket and youth member ticket while supplies last. https://bit.ly/35Tt9X8
Tomfoolery on Tremont Features Ryan O'Flanagan
Need a few laughs this weekend?
Check out Tomfoolery On Tremont, featuring Ryan O'Flanagan, this Sunday Oct 18 at 7 p.m.
Tomfoolery on Tremont is going to try to have another outdoor show but it's dependent on the weather. If the weather is bad then they will have two shows, if needed, in order to encourage social distancing. The first 30 tickets sold will be guaranteed the 7 p.m. show, and if you purchase tickets and are not one of the first 30 then they will let you know.
Tickets can be purchased now at https://www.eventbrite.com/e/tomfoolery-on-tremont-ryan-oflanagan-tickets-123336732487.
_________________________
RYAN O'FLANAGAN is a comedian, actor, and writer who can be seen in the Netflix Original Series "American Vandal" as well as in Comedy Central's "Corporate."
Dead Kevin has been featured on Tosh.O, Comedy Central Digital and was an LA Weekly Top Comedy Act to Watch in 2013. He has appeared on New Girl, Adam Devine's House Party, Last Call with Carson Daly, and voiced for American Dad and Disney's Owl House.
In 2017, Ryan partnered with Funny or Die to produce his popular 'Overly Excited Tourist' web series and in 2019 partnered with Chuckler to release his 'Two Different Guys on a Bench' series. Ryan also released new sketches in partnership with Funny or Die with his sketch group Dead Kevin in 2019.
Ryan has performed at festivals around the world including JFL Montreal, Blue Whale Comedy Fest, Bridgetown, SF Sketchfest, RIOT LA, KAABOO, Live is Beautiful, and Vodafone Comedy Fest in Dublin.
Ryan's Comedy Central half hour stand-up special was released in 2018.
Stay tuned to QuadCities.com, your site for fun, free, local entertainment for upcoming events in our weekly column, FUN10, every Sunday!