10 Fun Things To Do Week of May 24th: Drive-Ins, Golfing, Music and MORE!
QuadCities.com proudly presents Fun10, a list of the top 10 things to do in the Quad Cities this week, and every week! Every Sunday, we'll drop a new FUN10, to give you a head start on your week and a heads up on what's going on over the coming seven days. Check out FUN10 every Sunday for the details on ten awesome events happening around town. It's a cool read, and a great way to get started planning your entertainment for the week.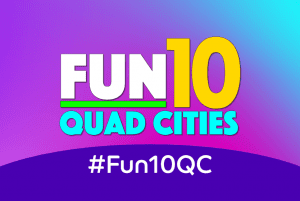 As the current health situation in our country continues to force the cancellation of so many regularly scheduled events in the Quad Cities, we are once again focusing this week's edition of Fun10QC on fun entertainment you can enjoy in the safety of your own home or while practicing safe 'social distancing'.
FUN10 — ten ways for you to have fun in the Quad-Cities, this week and every week, running every Sunday, only on your site for fun, free, local entertainment, QuadCities.com!
So what's on the FUN10 for this week? Read on …
Blue Grass Drive-In
Are you more than ready for a fun-filled evening out, while still staying safely socially distanced? Then what a better place to do just that than the Blue Grass Drive-In!
Blue Grass Drive-In (774 W Mayne St. Blue Grass), which opened for movie goers on Mother's Day Weekend, is a great way to spend an evening with friends or family members while staying safe!
In accordance with state guidelines, they are currently enforcing a 6' distancing between cars. Their employees will be wearing protective equipment, in addition to a variety of other noticeable measures in order to ensure a safe but enjoyable movie experience.
One big change that you will notice is their limited menu. They will be offering movie staples like popcorn, soda, nachos, and boxed candy. They are also currently allowing outside food and beverage to be brought in. Don't forget to shop local and support Quad Cities area businesses by ordering food from one of the many fantastic restaurants providing carryout service! One reminder is that alcohol is prohibited at the drive-in.
The Drive-In will be showing two movies on all three screens so there will be plenty of space to properly distance vehicles. The gate opens at 6 pm and the movies will start at dusk or around 8:30 pm.
For a current listing of movie showing, visit https://bgdrive.in/ or follow Blue Grass Drive-In on Facebook at https://www.facebook.com/reeltoreel/.
61 Drive-In Theatre
The 61 Drive-In Theatre (1228 Highway 61 Delmar) has been practicing social distancing for 70 years and is the perfect place to safely venture out and have some fun!
Proud to announce that they are the Midwest's first drive-in to feature state of the art digital projection and FM stereo sound, 61 Drive-In Theatre is open and ready for the 2020 season!
A few extra safety precautions have also been established, in order to allow you and your loved ones an enjoyable night out while keeping safe and healthy. Here are the Required Social Distancing Measures, found on the 61 Drive-In Theatre's Facebook page:
* Vehicles MUST park 6 feet distance apart
* Patrons MUST stay in their vehicles or sit directly in front of their vehicles during showtime
* One customer will be allowed in the concession stand at a time. We will provide spacing markers to keep the line to concession stand distanced. Only popcorn, soda & candy will be available.
* There will be a four person limit for the ladies room, one person at a time in the mens room. (Not accounting for children that need accompanied by an adult). Adequate distancing will be set up for any line that is needed as well
* All pre-movie activities will be CLOSED!!! (Swingset, Sandbox, Tether Balls, Basketball, Baseball, Train & Volleyball)
* PLEASE, no visiting away from your own vehicle with other patrons or friends
* We encourage you to wear a mask whenever the mask will be a health benefit to you or our staff member
To check out what movies are playing this week, please visit https://www.61-driveintheatre.com/.
Saukie Spring Kick Off League
Kick off the golf season this Monday night at Highland Springs & Saukie Golf Courses (3101 38th Street Rock Island)!
The Saukie Spring Kick Off League is a fun league for golfers of all abilities. Team of two will compete at Saukie Monday nights, with Shotgun start at 5 p.m. The league, which began on May 4, will take place over 6 weeks. Golfers' scores will be handicapped to allow for the enjoyment and competitiveness of all participants. Each week will consist of 9 holes.
For more information, call Todd Winter at (309) 732-2277.
Mata Traders Trunk Show at The Ruby Slipper
Many local businesses have had to make adjustments in order to keep their customers safe these past couple of months. And there is no exception for The Ruby Slipper, in Bettendorf.
The Ruby Slipper (2507 53rd Avenue Bettendorf) will be continuing with their annual Mata Traders Trunk Show, both in-store and virtually, this Thursday May 28 from 11 a.m. – 5 p.m.
Whimsical day dresses have become a way of life, and this spring/summer will be no different. So make plans to check out the latest styles at The Ruby Slipper!
Virtual showings will take place on Facebook at 11 a.m. and 3 p.m. Shoppers can also sign up for an hourly time in-store showing via the Facebook post on Monday May 25. Only 6 people will be allowed to sign up per hour. Complimentary masks will be given to each attendee.
For more information, follow The Ruby Slipper on Facebook today!
The Festival: At Home
The Festival Show is bringing THE FESTIVAL to your homes!
Join host CrunkChocolate this Friday May 29 from 8 – 10:30 p.m. on Zoom for The Festival: At Home.
Enjoy live entertainment from House DJ FVNTVNV, and four musical acts of differing genres: Ahzia, Hadiza, Giallows, and Ariel & Jacob.
Love for music and community is what unites all of us. We need as much culture and community as possible at the moment. This is a free event, but donations are accepted for the performers.
Show will be hosted on Zoom. Link the event here: https://us02web.zoom.us/j/8977801287
Sundae + Mr Goessl Virtual Performance at The Grape Life
Are you missing live music at The Grape Life? Well here is a little something to fulfill that void.
Tune in for a Live Streaming performance at The Grape Life Wine Store & Lounge, by Sundae + Mr. Goessl, a husband and wife vintage jazz duo based out of Seattle, WA, this Friday May 29 at 7 p.m.
Sundae (Kate Voss) fronts the duo with her wit, charm, and impeccable vocal technique. Her voice is evocative of Billie Holiday and Anita O'Day. Sundae also masterfully holds down the whistling and percussion duties in the duo. Her two decades of piano studies shines through on her melodica, performing solos reminiscent of Toots Theilman.
Mr. Goessl (Jason Goessl) mastered the guitar at a young age, developing a technique akin to the likes of Joe Pass and Chet Atkins. Goessl covers the baselines, chords, and melodies with his virtuosic finger-style approach.
Together they create the sound of a full ensemble, and have been compared to great duos such as Les Paul and Mary Ford, Joe Pass and Ella Fitzgerald, and Tuck and Patti. With their matching vintage outfits and custom instruments – they're dressed to impress. Sundae + Mr. Goessl mostly perform tunes from the Great American Songbook, along with contemporary hits and original compositions. Learn more about Sunday + Mr. Goessl here: http://sundaeandmrgoessl.com/
For more information on this live-stream, please visit https://www.facebook.com/TheGrapeLife/.
Couples Golf at Oakwood Country Club
Looking for a fun date-night outing?
Oakwood Country Club is hosting Couples Golf – Glow Ball, this Friday May 29 from 6:30 – 11 p.m.
Let's light up the night, as couples compete in a fun filled night of glow ball! Teams of 4 – 5 couples will play 9 holes of alternate shot scramble
Who can play: Couples Event – Guest are Welcome
Cost: $60 per couples (Glow ball supplies $15, cart $15, dinner $30)
Sign Up Deadline: May 25th
Dinner @ 6:30p / Shotgun Start @ 8:30p
For more information, please visit https://www.facebook.com/events/3499916526748215/.
Solitary Sessions with David Zollo
Spend your Saturday night with some amazing live music AT HOME!
Join River Music Experience for a Solitary Session with David Zollo this Saturday May 30 at 7 p.m. on RME's Facebook page.
David Zollo Bio:
If you're a follower of the midwestern indie music world (or of American roots music generally) you might be forgiven for thinking David Zollo has been around forever. The truth is, it just seems that way. Since bursting on the scene as a baby-faced 21-year-old with Iowa City's white-hot, road-chewing pub-rockers, High and Lonesome in 1992, Zollo has done just about everything you can do in the rock and roll business.
Whether as a singer/songwriter/keyboardist with his own bands; as a sideman for an incredible array of roots music talent (Todd Snider, William Elliott Whitmore, Greg Brown, Bo Ramsey, The Pines); as founder/owner/ operator of legendary underground label,Trailer Records; or producer to up-and comers (The Pines, Brother Trucker) Zollo always maintained a ridiculously frenetic schedule, logging thousands of miles and 200+ gigs a year, doing all of these things at an incredibly high level.
He has paid dues that any bluesman or honkey-tonker (both titles apply to Zollo) would envy. High and Lonesome's meteoric rise was halted in late-1994 by the discovery of pre-cancerous tumors in his vocal cords; reconstructive surgery followed. While waiting impatiently for his singing voice to recover, Zollo started and established Trailer Records, then joined the band of critically acclaimed country-folk rocker Todd Snider in 1996, moving to Nashville.
After Snider downsized his band in 1997, Zollo followed his heart back to the midwest and his hometown of Iowa City. There he rejoined mentors Bo Ramsey and Greg Brown, further growing Trailer Records and creating an atmosphere of music-as-family, that saw the entire label roster playing on stage together; on record; and, judging by the sounds of things, in each other's living rooms. It was around this time that demand started growing for Zollo's services as a producer. Throughout it all, Zollo continued to write music that consistently won critical and popular support for its power, honesty, and intelligence.
By 2002 he had produced six records of his own material; Alackaday (1992); Livefromgabes (1994); and For Sale or Rent with High and Lonesome, and The Morning is a Long Way From Home (1995); Uneasy Street (1999); and The Big Night (2002) under his own name.
Of the many things that David Zollo does and does well, it is on stage that he seems most comfortable and happy. Long known as an exuberant, passionate performer, it is clear that at present, Zollo is relishing the opportunity to do what he does best: make music. If you haven't had the pleasure, try to catch him while you can; solo, or with his band The Body Electric. Either way, you'll get a chance to experience the timeless power of a voice that seems to have been with us forever.
The White Rose
Join the German American Heritage Center & Museum on Sunday May 31 at 2 p.m. for a virtual program presented by Olivia Covert, Development, Volunteer, and Education Coordinator at the GAHC.
The White Rose was a non-violent student resistance group in the Third Reich. These University of Munich students stood up to the Nazis, writing and distributing pamphlets that encouraged resistance and rejected Nazi ideals. In this presentation we will discuss the White Rose and their legacy.
This presentation will be recorded and emailed no later than 2pm on Sunday, May 31st to those who purchase tickets.
Tickets are $5 and can be purchased here.
2020 All Around Drive In Car Show/Cruise
Looking for an excuse to get out of the house and show off your slick ride?
Head to the Muscatine Mall (1903 Park Avenue Muscatine) this Sunday May 31 from 2 – 5 p.m. for the 2020 All Around Drive in Car Show/Cruise.
Here is some more info from the Facebook event page:
100% Free event
Let's kick off 2020 Car season with a bang, We will offer food (possible taco truck), music (Possible Dj), a cruise after the meet to get dinner somewhere (to be determined), and best of all our Rev Battle, Best of Show and Cash Prizes!
Any cars are allowed to come in participate in the show, all cars upon arrival will be asked to park backwards in a parking spot, we do this so we can get them "angles" of all the cars!
Car photographer: Saifah
•$10 for solo shoot
•$20 for Rollers
(There will still be pictures posted from the event after the show free of charge)
Stay tuned to QuadCities.com, your site for fun, free, local entertainment for upcoming events in our weekly column, FUN10, every Sunday!
#Fun10QC