10 Fun Things To Do Week of May 10th: Drive-Bys, Derbies, Dancing and MORE!
QuadCities.com proudly presents Fun10, a list of the top 10 things to do in the Quad Cities this week, and every week! Every Sunday, we'll drop a new FUN10, to give you a head start on your week and a heads up on what's going on over the coming seven days. Check out FUN10 every Sunday for the details on ten awesome events happening around town. It's a cool read, and a great way to get started planning your entertainment for the week.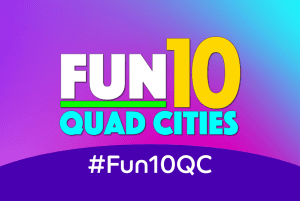 As the current health situation in our country continues to force the cancellation of so many regularly scheduled events in the Quad Cities, we are once again focusing this week's edition of Fun10QC on fun entertainment you can enjoy in the safety of your own home or while practicing safe 'social distancing'.
FUN10 — ten ways for you to have fun in the Quad-Cities, this week and every week, running every Sunday, only on your site for fun, free, local entertainment, QuadCities.com!
So what's on the FUN10 for this week? Read on …
Storytime Live! with the Davenport Public Library
Join the Davenport Public Library every Tuesday and Thursday mornings at 10 a.m. on Facebook Live for Storytime Live!
The Youth Services Department will be reading some stories, singing some song and will hopefully brighten your day!
Visit the Davenport Public Library on Facebook for more information!
Virtual D&D – Dragon of Icespire Peak
Do you love D&D but are social distancing? Join the Davenport Public Library for a virtual game in a closed online environment! All participants will need an invitation and password to enter and play and Library staff will be present at each meeting. More details will be provided via email after registration. For teens and tweens who have played D&D before, or who want to learn.
Virtual D&D – Dragon of Icespire Peak
Wednesdays in April & May
12:00 pm – 3:00 pm
Register here: bit.ly/dpl-icespire
Center Stage Performing Arts Online Classes
Although the Center Stage for Performing Arts studio is currently closed due to COVID-19, they have taken their classes online!
A wide array of classes are currently being offered online and can be found on their Facebook page at https://www.facebook.com/centerstageperforming. These classes are 'pay as you can' ($8 suggested) and will stream live on Zoom.
Grab those dancing shoes and connect with the Center Stage for Performing Arts online!
Sunny Cove Anniversary Party Drive By
Join in on the fun with Sunny Cove – A Maker's Marketplace (903 1st Avenue Silvis) for an Anniversary Party Drive By this Friday May 15 from 6 – 6:30 p.m.
From Sunny Cove's Facebook page:
"Come celebrate our first anniversary of owning the store with us! Nooooo we can't have a big ole party in the store like we wanted BUT we can do a social distancing drive by one! Oh yea!
We still REALLY want to see everyone and say THANK YOU in person (social distancing of course!) for supporting us all year long and specifically these last several weeks during this crazy time.
Soooooo, drive by the store and give us a honk and a wave! We'll be on the front steps on Friday, May 15th from 6 – 6:30 pm. We'll have the store front decorated and want you to join in that fun too! How so?? Make a sign and show us as you're driving by! Bonus points if your car is decorated too! We'll be picking our favorite and giving away a $25 gift certificate! Wooooot!!
So join us for the fun and THANK YOU again for alllll the love and support we've received. Big ole virtual hugs!!"
#Graduation2020: Facebook and Instagram Celebrate the Class of 2020
When schools were shut down recently, many students found themselves saying goodbye to the idea of in-person gatherings, extracurricular activities and what they knew as a 'normal' end to their school year, all together. But some of those students were saying goodbye to graduation ceremonies, diploma handoffs and parties they've waited their entire lives for. For the past four years, these young adults have worked towards one special day. Graduation.
The Class of 2020 will go down in history as one of the most adaptable graduating classes of our time. They are experiencing one of life's most exciting accomplishments. And it is most definitely a time for pause, reflection and celebration.
Facebook and Instagram are doing their part to help celebrate these graduating seniors, with #Graduation2020: Facebook and Instagram Celebrate the Class of 2020. Facebook Executive Marne Levine shared the following information regarding, #Graduation2020:
"On May 15 at 11AM PT/2PM ET, we'll broadcast #Graduation2020: Facebook and Instagram Celebrate the Class of 2020. Your commencement address will be given by Oprah Winfrey. Awkwafina, Jennifer Garner, Lil Nas X, Simone Biles, and more, will share words of wisdom for the class of 2020. Miley Cyrus will do a special performance of her hit song, "The Climb."
The ceremony will acknowledge high schools and colleges in the US by name, state by state, including photos and videos of the class of 2020 and messages from deans and principals across the country. The video will be shared on Facebook Watch and available at facebook.com/facebookapp. Highlights and more will be posted to the @instagram account on Instagram, and on contributors' social media accounts.
Graduates can also host their own virtual graduation ceremony and party via Facebook, with special features including a virtual graduation hub, custom filters, family and friends celebrations enabled by Messenger Rooms, and more.
On Monday, May 11, @instagram will kick off daily programming that spotlights iconic senior experiences — from "most likely" votes to portrait showcases to senior skip day. Instagram will also roll out new creative tools and features including a graduation countdown sticker, celebratory sticker pack, new AR effects, and a custom hashtag page for #Graduation2020.
And what's graduation without the music? Facebook and Instagram Stories will also launch a graduation theme for Music Stickers — a list of grad-related songs making it easy to find the perfect soundtrack for the graduation moments people share to their stories.
This year's graduation will be different than other years, and no doubt memorable because of it. We're proud of our graduates for all they have achieved — congratulations to the Class of 2020!"
Virtual Tunes at the Tulip with Freddy Allen
Join Freddy Allen for some Virtual Tunes At The Tulip this Saturday May 16 from 6 – 7:15 p.m.
Freddy is in the Mansion, all by himself for a special Virtual Concert to help support efforts in preserving Hauberg Estate.
100% of the tips go towards Hauberg. You can donate through PayPal.
Iowa Masonic Home Drive-by
Quad Cities Cruisers will be participating in a Masonic Home Drive-By Cruise this Saturday May 16 at 10:30 a.m.
Cars will meet at the Masonic Lodge parking lot just off Grant St between 28th and 23rd St at 10:30 a.m. Then drive through the masonic village starting on 1st St and go to 2nd and 3rd St, then go up the hill to the nursing home and drive through the circle court and through the rest of the parking lot. Make sure to honk and wave! All drivers will be staying inside of their vehicles.
The rain date will be Saturday May 23rd at the same time.
For more information, visit https://www.facebook.com/events/182030289549749/.
Virtual Pinewood Derby
Get those cars ready to race! Pinewood Derby cars, that is!
Support Cub Scout Pack 199 Lourdes, as they host their first Virtual Pinewood Derby this Saturday May 16 from 1 – 3 p.m.
A limited number of adults and NO Scouts will be setting up and running the cars down the track. All while LIVE streaming from multiple camera angles on Zoom! You can cheer, chant and scream for your favorite car all while in the comfort of your home.
Visit https://www.facebook.com/events/4032122166827806 for more information.
Power-Frauen: German Women Who Changed the World
Join the German American Heritage Center and Museum on Sunday May 17 at 2 p.m. for the virtual presentation, Power-Frauen: German Women Who Changed the World!
From suffragists, reformers, and revolutionaries to war heroes, inventors, and educators, German and German American women have made contributions that have changed the world. In this presentation we will remember some of these "Power-Frauen" and the ways they helped shape the world we know today.
This presentation will be recorded and emailed on Sunday May 17 to those who purchase tickets no later than 2 p.m.
Tickets are $5 and can be purchased online.
For more information, visit https://gahc.org/exhibits/coming-soon-power-frauen/.
Bends and Brews with SHINE yoga & bodyworks
Join SHINE yoga & bodyworks for Bends & Brews on Zoom, this Sunday May 17 at 12 p.m.
Bends & Brews is led by Sarah Wendland and is the perfect class for a Sunday afternoon. This class is for any level and has super chill vibes, laughs and community! So, roll out your mat, grab your favorite cocktail and get ready for a good time!
To purchase tickets, click here.
Stay tuned to QuadCities.com, your site for fun, free, local entertainment for upcoming events in our weekly column, FUN10, every Sunday!
#Fun10QC