You Need A Hot Potato On A Cold Day
Can you believe this crap?
Snow, record cold, and it's barely October?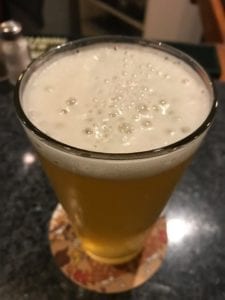 Man, I need a vacation, already.
Unfortunately, I also need money for that vacation, and so that trip to warmer climes will have to wait.
However, there is a way we can get some warmth on these frigid days.
(No, I'm not coming over to spoon you.)
(Well, ok, I'll consider it. Message me.)
Aside from that though, you can get a hot potato!
No, not the kind of Idaho spud type, but the type that will warm you in a different way. A more alcohol-based way.
You see, folks, Bent River has this little drink they call the Hot Potato. And no, before you ask, it has nothing to do with vodka or any other type of traditional potato-based beverage. Instead, it's an amazing concoction mixing Bent's Sweet Potato Ale (which does have sweet potato in it, so, I guess I'm a goddamn dirty liar in saying it had nothing to do with any type of potato-based beverage… forgive me? Oh, thank you. That makes me feel a lot better…) and their popular Jalapeno Ale.
You bring those two together, and it's magic.
Sounds strange, maybe, but it's magic.
What does it taste like?
Not like a baked potato. Sorry, baked potato fans.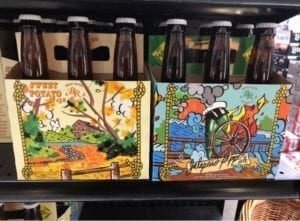 Instead, it's got a really good intermingling of the two spice notes, the kind of earthy spice of the sweet potato, and the hotter bite of the jalapeno. So you get a little bit of the sweet, but not too sweet, and then that cool kick of heat. Personally, I love it.
They don't have it on the menu, per se, so you'll have to special order it, like you're a member of a cool little club. Because you are. Now. Now that you know about this. Don't you feel special? Good. You should.
Anyway, you just maneuver your caboose up to that bar, look that attractive bartender right in the face, and say, "I'd like a hot potato, please." Don't forget the please part, and don't forget to tip your waitstaff. They appreciate both.
Then you will be surprised and delighted by this wonderful concoction of sweet and spicy and hot and refreshing and boozy.
It might not be a trip to California, but it'll bring you at least a little respite from this horrible ogre of winter. It'll give you a moment to stop, relax, enjoy, and reflect… that Epstein didn't kill himself.
And maybe, just maybe, it'll make the world a better place. One drink at a time.
I'm not promising anything though. I said MAYBE.
And that's also my answer to the spooning question.