Book It: Big River Bindery Will Fix You Up
Gingerly, delicately, with the utmost care and precision, Andrew Huot is running a surgical scalpel over ancient pages that smell of dust and adhesive and are stained brown as gingerbread. He is dismantling connections made decades prior, which have succumbed to the rigors of time, in order to save the precious materials within.
"Sometimes you need to tear something apart to put it back together," Huot says. "In order to make it stronger and reinforce it, so that it can last a lot longer than it ever would have."
Huot's careful hand is reinvigorating a cook book from 1946, its pages golden and brittle from use, which his client is hoping to pass down to her daughter, and on to future generations.
"This is really what it's all about," he said. "Preserving people's memories and the things that are important to them."
Huot, the owner and creative force behind Big River Bindery, has been an artist in the realm of reconstruction and renewal for over a decade, working for libraries, corporate and private clients to use the latest in modern technology to save their ties to the past. He graduated with an undergraduate in printmaking from Portland State in Oregon and "just kind of fell into" book art, creating clever and elaborate tomes.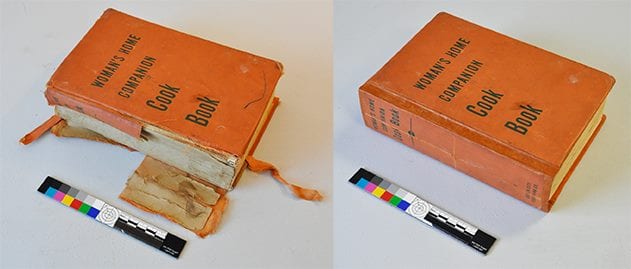 "Once people saw the books I was making, all of the sudden people who needed help started bringing me books to fix," he said. "And I got into conservation from there."
He went on to get a Masters in Book Arts and Printmaking from the University of the Arts in Philadelphia, worked for universities and as a freelancer, and when his wife accepted a position at St. Ambrose earlier this year, they moved to the Quad-Cities.
He continued to work as a freelancer, repairing and restoring works for private and business clients, until deciding to take the plunge into taking out an office on Nov. 1.
Huot's business repairs ancient texts, from manuscripts to novels, from research tomes to scrapbooks, to cookbooks being shared between grandmothers and granddaughters, to family Bibles being handed down proudly to the next generation.
"It's an interesting mix, the science of preservation and the aesthetics of art," Huot said. "You have to investigate the chemistry and science of why things are falling apart, why the paper is falling apart, and how we can get things looking great again."
In addition to preserving and repairing books, Huot's shop offers a variety of other services, making boxes and enclosures to protect books and present them as gifts, printing posters and letter press prints, and holding workshops to show people how to create one-of-a-kind gifts and preserve their own treasures.
"It's always interesting to me," Huot said. "I love the process. There are a lot of steps, a lot of problem solving trying to put projects together. There's a lot of mechanics and engineering that goes into it, along with the art. And it's wonderful to be a part of so much history, whether it's an ancient book from a library or someone's personal history and scrap book. It's always exciting."
---
Big River Bindery
Hours: Tues-Thurs 10 a.m. to 3 p.m; also by appointment
230 W. 15th St., Davenport
(309) 660-5583