Were The Three Wise Men Ninja Wizards?
The three wise men are a staple of Nativity scenes and Christmas stories worldwide, but along with gold, frankincense and myrrh, did they also carry samurai swords?
That's the concept behind the new book, The Arimathean, which claims the trio of Magi were ninja wizards sent to protect Jesus, Mary and Joseph on the road to Bethlehem. The three warriors are joined by another Biblical figure, Joseph of Arimathea (hence the title), as they battle against Satan, King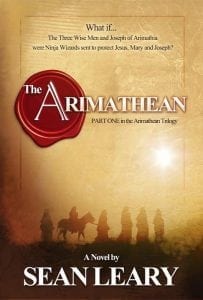 Herod and various other forces of evil.
"It's the greatest story never before told," said author Sean Leary, who didn't divulge how much time he may have spent in Colorado or Washington while writing The Arimathean.  Leary will be signing copies of his book and others from 1 to 3 p.m. Saturday at Caribou Coffee, HyVee, 7th Street and John Deere Road, Moline.
But is it entirely a pipe dream? Is there any truth to the claim? Should people begin dressing their Nativity characters like Snake Eyes?
"There are different historical accounts as to who the three Magi were, and some of them claim that they were warriors and some claim they were wizards," Leary said. "After all, the terms magic and magician are from the same roots as the word Magi. I'm not saying they're ninja wizards, but they might be ninja wizards."
The Arimathean is available at online bookstores worldwide and at www.seanleary.com,  and www.thearimathean.com.