United Way Quad Cities Challenges Community to Create Equity
Most every American civil rights struggle throughout history has sought a simple solution – equality. For one segment of the population to earn and enjoy the same rights and opportunities as everyone else. It's not been easy, to say the least.

In addition to this year's devastating coronavirus epidemic, catastrophic unemployment, social isolation and extreme weather events, the nation has been convulsed for months over the Black Lives Matter movement and related protests.
United Way Quad Cities has capitalized on this unique time to offer a 21-Day Equity Challenge. In one of two remaining sessions (the next begins Thursday, Sept. 17), those who register get an email every day with suggestions for readings, podcasts, videos, observations and ways to form and deepen community connections and understanding.
Participants will be invited to the first Quad Cities Equity Summit in October.
The Equity Challenge was originally developed by a University of Iowa alum, Dr. Eddie Moore Jr., along with Marguerite Penick-Parks and Debby Irving, and was adapted in 2014 by Food Solutions New England in Durham, N.H.
United Way of Washtenaw County in Ann Arbor, Mich., introduced the challenge into the United Way network, and United Way of Central Iowa, as well as our Q-C United Way have picked up the torch. It's partnered with Quad Cities Community Foundation, Quad Cities Chamber and Visit Quad Cities to focus on Rock Island and Scott counties.
The 21-Day Equity Challenge ranges from themes such as personal racial identity, to reflecting on biases and defining what "privilege" means. In the first week, participants explore why it's hard to talk about race and the impact of racial trauma on Black, Brown and Indigenous people.
"Already, we're encouraged by the outpouring of commitment by our partners, donors, volunteers and advocates," United Way president/CEO Rene Gellerman said, noting 1,000 people have signed up so far.
"2020 has been a difficult year with unimaginable uncertainty, but it's also a once-in-a-lifetime opportunity to fold in solutions to problems we've put off for too long. We invite all residents and businesses to join us in making this challenge a true community-wide effort that will help remove barriers and reimagine a more equitable and stronger Quad Cities."
"I'm really proud of the response of our community, the interest people have in really wanting to talk about equity, about race and the challenges that are affecting our black, brown, and people-of-color neighbors," Gellerman said. "It really demonstrates a community that wants to strengthen their equity muscle and they want to be part of a region that's inclusive."
Very few United Way chapters around the nation have taken part in the challenge, she said, though it's so timely with the social unrest roiling the country now.
"Certainly the increased focus on social justice and racial tensions has really elevated our interest in getting involved," Gellerman said.

"But for 40 or 50 years, United Way has been investing in overcoming or dismantling systems that keep people back from being able to have a successful and thriving life," she said. "We need to improve looking at those disparities through an equity lens and do more to make sure there's equal opportunity."
"We're really committed to this in every part of our organization," she said. "The demonstration of support for the 21-Day Equity Challenge really tells a story that this community is ready to do more as well."
On Aug. 28, Gellerman posted on Facebook:
"Today, 57 years after the Dr. Martin Luther King Jr. spoke of his dream, inequities and structural racism — discrimination of marginalizing people of color is more evident than ever. And, the work United Way Quad Cities is doing to put opportunity in the hands of every person in our community is more important than ever.
"We stand strong in our continued call for true equity where every child receives quality care and education, every adult finds a job worthy of their talents and that provides for their family and every resident has the supports needed to live healthy and safe lives," she said.
In every area – of income, housing, health, poverty, jobs – "the disparities are so evident, and Covid has really increased that gap," Gellerman said. "It's caused it to be more clear that we can no longer stand back and wait for someone else, or something to happen."
Covid provides an "opportunity to look at issues that our community has put off for too long," she said. "Equity, we're going to make an impact in this area. We can credit Covid for giving us the opportunity and pushing us toward that."
Dr. Eddie Moore, Jr. is director of the Privilege Institute in Green Bay, Wis.
He received his Ph.D. in Educational Policy and Leadership Studies at the University of Iowa. Under his direction, his White Privilege Conference has become one of the top national and international conferences for participants who want to move beyond dialogue and into action around issues of diversity, power, privilege, and leadership.
Dr. Moore designed the challenge to not only help people better understand the issues surrounding equity and inclusion, but to do so in a way that would build a long-lasting habit of learning by stretching it over 21 days.
"It's a newer concept for United Way," Gellerman said. "It's just becoming aware. I imagine more and more United Way organizations will be using this tool."

For the Q-C United Way, it's a natural outgrowth of the new African American Leadership Society (AALS) which began in July 2019, mobilizing volunteers, mentors and money to focus on improving third-grade reading among Black students.

Now, 43 percent of African-American kids in the Q-C read proficiently by the end of the third grade, compared to 73 percent of white students, Gellerman said.
"Third-grade reading is the key indicator whether somebody is going to graduate from high school," she said. The AALS is focusing resources on improving that rate, partnering mainly with Madison Elementary in Davenport (providing books, volunteers and mentors), though Covid has complicated that.
There is an AALS committee of over 20 people determining of how resources are invested in the community. The United Way manager for that is Kayla Babers (a 2011 Rock Island High alum), who's the sister of Jasmine Babers. Kayla started this past April.
Disparities in the Q-C
According to a letter Gellerman wrote on unitedewayqc.org, George Floyd's senseless death Memorial Day in Minneapolis has sparked a movement. "We find ourselves in the midst of people's protest. The core of the outrage: the absence of equity across any number of fronts," the site says. "If we examine our local and regional balance sheet, where would we find equity?
"In most conversations about positioning the Quad-Cities for growth we typically default to our many assets. We tout our unique riverfront, cultural, academic and health care prowess," she wrote. "But these assets don't match the scale of our liabilities.
Check out a few Quad-Cities realities that fuel United Way and its African American Leadership Society work:
Income
African-American Quad Citizens are four times more likely to live below the federal poverty line than white residents.
More than half (56%) of local African-American preschoolers live in poverty compared to only 15% of white preschoolers.
Average annual income for an African-American household is $37,335; $57,440 for white Quad-Cities households.
Quality of Life
67% of African-American Quad Citizens rent vs. own a home, compared to 27% of white residents who rent.
48% of the Quad Cities' African-American family households are led by a single mother, compared to only 9.5% of white families.
Education
71% of African-American kindergarten students entered school prepared, compared to 84% of white students.
43% of African-American third graders are reading at grade level, compared to 73% white students.
17% of African-Americans do not complete high school within four years, compared to 10% of white students.
Health
African-American Quad Citizens are more likely to develop heart disease, diabetes, asthma and to be living without health insurance.
"These disparities and divides that we've created — between Black and White — are bad for all of us, not just some of us," Gellerman wrote. "Persistent and underlying racism, prejudice and privilege prevent too many people from having the opportunity and access to develop their full potential. We have to do more to prioritize equity in our schools, jobs and health care; we need to ensure that the basic rights and freedoms of everyone are protected.
"I believe in this region. But I am frustrated by the lack of a regional, bold commitment to a shared vision like Q2030," she said. "I'm frustrated that we keep doing and saying the same things and expecting different outcomes.

"We have failed to address in any serious way the systems that continue to produce economic deserts and the means for upward mobility," Gellerman said. "We must be intentional about giving all people a shot at winning by strengthening education, income and health outcomes – the building blocks of opportunity.
"If you are wondering what you can do right now, choose not to be silent. Let your voice be heard. Engage in conversation, choose to be counted in the U.S. census, vote for candidates who support reform, volunteer, donate to organizations that prioritize equity, do something. It is time to act."
Challenge and summit seek answers 
The 21-Day Equity Challenge started last month. The second session is Sept. 17 – Oct. 7; Register by Sept. 15. The last session is Oct. 26 – Nov. 15; Register by Oct. 22.
Participants will be invited to a free, virtual Equity Summit on Oct. 15 (Internet access and Zoom required), focused on bringing people together to talk about what we can do individually and together to reduce and prevent racial inequities across systems that impact education, income and health in the Q-CV.
The summit will bring together a cross-section of Quad Citizens to show up, speak up and stand up for our minority communities that have long been impacted by persistent and underlying racism, prejudice and inequities.
Here's what you can expect: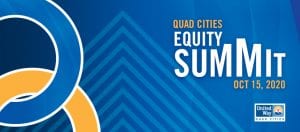 The summit will consist of multiple virtual 60- to 90-minute sessions that you can access from your laptop, tablet or phone.
The sessions are facilitated and give groups of up to 15 people the opportunity to come together around a common purpose to listen and learn from each other.
Each group will also work together to come up with ideas and solutions to tackle the challenges at hand.
Your conversations will be turned into a report that is shared with our community, outlining your suggestions, programs and ideas for equity and racism in the Quad Cities.
We will then create a memo to our elected officials to provide suggested policy changes needed based on the community's input.
You can choose your preferred discussion topic and register for a session that fits your schedule.
DIVERSITY, EQUITY & INCLUSION IN THE WORKPLACE
What can we do to advance and accelerate DEI competencies in our workplaces?
Register: 8 a.m. | 4 p.m.
CULTURAL TRAUMA AND ITS IMPACT ON THE HEALTH AND WELL-BEING OF BLACK, HISPANIC, LGBTQ QUAD CITIZENS
What can we do to change policies and practices so that all Quad Citizens can lead happy, healthy lives where they feel safe, accepted and free of oppression?
Register: 8 a.m. | 6 p.m.
TRUE EQUITY / POWER SHARING
How do we develop a pipeline of leaders and promote their involvement as candidates / officeholders, on corporate boards, not-for-profit boards, city / county / state boards and commissions and other groups that decide allocation of resources, power and opportunity in the Quad Cities?
Register: 8 a.m. | 6 p.m.
ECONOMIC OPPORTUNITY / MOBILITY
How do we build wealth and ensure prosperity in the Black / Latino / minority communities?
Register: Noon | 4 p.m.
YOUTH DEVELOPMENT
What can we do to ensure all kids have a great start, succeed in school and have a pathway to success after high school?
Register: Noon | 4 p.m.
Participants should save the date for a follow-up, virtual Equity Breakfast on Nov. 19 at 8 a.m. For more information, details on the Equity Summit, or to become an investor, contact Vice President of Development Gwen Tombergs at gtombergs@unitedwayqc.org or 563-344-0335.

The summit speakers are still being scheduled, for small-group conversations, facilitated by the AALS. You don't need to have done the Equity Challenge to be part of the Equity Summit.
"What we're trying to achieve with that is not only to inspire the conversation, and individual action, but we're looking for – how do we prioritize this" Gellerman asked. "Equity, overcoming the racial tensions we've experienced in our community, in the world, it's not going to happen overnight. It requires a long view."
"What are the solutions we're willing to commit to individually? What are we expecting from our elected officials?" she said. United Way will compile a report following the event, to find and fund solutions the public supports, by January.
"For United Way's part, we're focused on how do we improve education outcomes and health outcomes?" Gellerman said.
Equity includes addressing all populations, including LGBTQ. "It's equity across our society," she said.
Other ways to make a tangible difference here in your community are:
Join United Way Quad Cities in lifting up our community through a contribution to support this critical work.
Mentor or volunteer through United Way Quad Cities' African American Leadership Society. As a leader or ally, your support makes a major difference right here in the Quad Cities.
Volunteer to assist Black, Brown and other underserved communities through the Volunteer Hub.
Support Black-owned businesses locally.
United Way continues grant support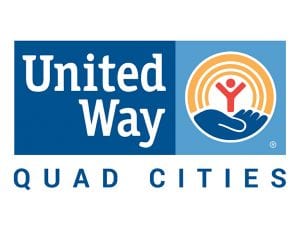 United Way Q-C recently issued $2.3 million in grants to 37 local agencies focused on ensuring all area residents, regardless of race or ZIP code, have the opportunity and access to achieve their full potential.
"We're able to make these investments thanks to the generosity of over 12,000 Quad Citizens," Gellerman said. "Because of their contributions, there will be more kids prepared to succeed in school, more adults with the skills needed for a quality job that enables them to be financially stable and more families who will have the supports and services they need to live healthy and safe lives."
The grants, approved by United Way's Board of Directors last month, gave more than usual for essential needs and are part of the organization's Community Impact Fund. The awards are for a 10-month funding cycle designed to advance United Way's priorities to strengthen education, income and health outcomes – "the building blocks of opportunity," noted Gellerman.
EDUCATION: $578,269 | quality early care and education, and youth development.
INCOME: $231,308 | workforce development and financial stability.
HEALTH: $693,922 | trauma care and mental health.
ESSENTIAL NEEDS: $809,576 | housing stability, food security and hygiene needs.
"Covid-19 has turned our world upside down. Our nonprofits have been significantly impacted and, like our business sector, have had to reimagine how they serve the people and our community," said United Way Quad Cities board chair Linda Bowers.
"The need is great, and we wish we could have provided more resources to help more individuals who have the odds stacked against them," she said. "The gap between the need and what United Way is able to grant was more than $5.1 million.
"I wish we could fund every worthy request," she said. "This is what motivates us to share the message that every dollar counts and that it's going to take all of us working together to make a difference."

They gave out funds later than a usual cycle, after modifying the qualifications due to Covid, Gellerman said. The changes included investing more in food, housing, child care and hygiene and refocused on getting kids back in school and skills and training for adults to find different jobs. The next cycle will be in July 2021.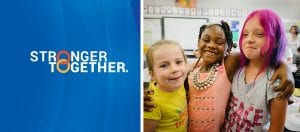 The annual United Way fundraising campaign started earlier than normal, in July. "These times call for bold action. We couldn't wait," Gellerman said. They got an anonymous grant to match every $1 raised up to $300,000; they've raised $220,000 so far. The initial goal is to raise $2.5 million by Oct. 1.
"I'm optimistic that we will meet that first goal and we have our $7.5-million goal to raise by the end of March," she said. "Our campaign looks different in that we can't go into workplaces; we can't have one-on-one conversations face to face, to talk with employees at our corporate partners' locations. That adds a lot of challenge to it. We're having to be innovative and creative, just like the business sector.
"Re-evaluate and re-imagine, how do we deliver on our commitment to the community?" Gellerman said. That means doing more virtual events, she noted.
United Way expects increased funding requests, due to Covid and the collapsed economy, like happened earlier this year.
"We saw a little over $5 million in requests this last funding cycle, and that was early in Covid," Gellerman said. "As we talk to the nonprofit sector, they're struggling. They're struggling because their events have been canceled, yet their services are in high demand. People are struggling in our community and they need our support.
"A lot of these individuals we're seeing at this point are people who have never had to ask for help before," she said. "That's putting extra tension on our nonprofit sector. They're doing what they can. United Way is in line with them and we're doing what we can to support their efforts."
Earlier this year, United Way awarded $100,000 in emergency grants to 13 agencies to assist with the response and recovery of the immediate impact of Covid.
Those grants supported United Way's primary goals while allowing immediate responses to evolving community needs. These funds, made up from gifts by individuals and corporate donors, were allocated to help our region recover from the long-term impacts of the pandemic.
"There has never been a more important time for us to come together to rebuild a stronger, more equitable Quad-Cities." Gellerman said. "For nearly 50 years, United Way has rallied and unified resources to put opportunity in the hands of people who need it most.  We don't do this work alone. It's the strength of our community partners like these grant recipients that drive real change."