Mississippi Valley Fair Keeping Things Hot!
The Mississippi Valley Fair is keeping summer hot this week with plenty of great music, food and fun!
The 2018 Fair takes place from through 
Sunday Aug 5
, at the fairgrounds located at 2815 West Locust Street
Davenport
. Horse shows, talent shows, kids karaoke contests, carnival rides, petting zoos and concerts only begin the list of the many activities you will find this year.
Do you already have your Fun Card? The Mississippi Valley Fair Fun Cards allow access to the fairgrounds every day and they are the only way you can enter the Grandstand for this year's amazing performances. Each card costs $60. Cards can be purchased online at 
http://mvfair.com/fun-cards/
, at any Hy-Vee store, select Great Southern Banks or at the Mississippi Valley Fairgrounds office between 
8 a.m. and 4 p.m.
 (
Monday
–
Friday
).
If you don't plan on attending any Grandstand Events and want to purchase a one-day fairgrounds ticket, you can do so. Adult tickets costs $10/day, children 4-12 tickets are $5/day and children three and under are free. For daily Fair Specials, check out 
http://mvfair.com/entertainment/fair-specials/
.
Here is the list for the 2018 Grandstand Entertainment: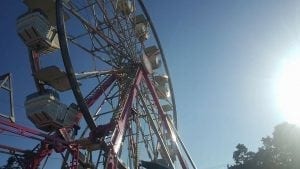 Thursday Aug 2                              Toby Keith
Friday Aug 3
      Theory of a Deadman
Saturday Aug 4
  Billy Currington
Sunday Aug 5
    Justin Moore
The Farmer's Tent and Pavilion also have a full set of amazing bands and musicians.
For a full schedule and map, make sure to visit the Mississippi Valley Fair website at 
http://mvfair.com/
.