Western Illinois University Quad-Cities to Host First Annual Anime Art Show
Moline, IL – Western Illinois University Quad Cities Student Services will host the first annual Anime Art Show. All WIU students, faculty and staff are invited to submit artwork by Thursday, Sept. 7.
The event welcomes paintings, drawings, sculptures and designs. Artwork or designs that are two dimensional must be a maximum of 36″X36″ in dimension, and sculptures must be moveable.
Artwork must be anime themed and is not limited to fan art or original characters. Participants will be notified by Friday, Sept. 8. Accepted pieces can be dropped off from 9 a.m.-4:30 p.m. Monday, Sept. 11 and Wednesday, Sept.13 at the reception desk in Riverfront Hall.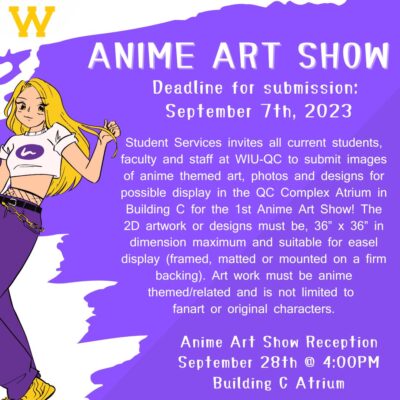 To apply, send up to two clearly focused images saved as .jpegs at 300-600 DPI to qcstudentaffairs@wiu.edu using a valid WIU email address. Name and title should be included in the image file names. In the body of the email, include name, email address, phone number, a brief description of the work and a list of the projects being submitted with their title, dimension, medium and price (if available).
A display reception will be held at 4 p.m. Thursday, Sept. 28 in Building C, Atrium.