Junior Theater Looking To Raise $10,000 By May
After 36 years, Davenport Junior Theatre's Mary Fluhrer-Nighswander Theatre is on course for key renovations this September. Over the last six weeks, the non-profit Junior Theatre Inc has been attempting to raise $40,000 by the end of April 30. The goal is now within site.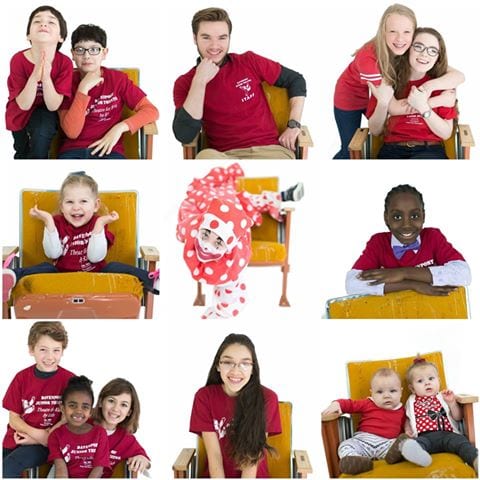 "We have 10 days left to raise $10,000," said DJT's Board President and alum, Kristin Meyer. "Our outreach to the public began in mid-March. With over 250 individual donations thus far, we believe we will reach that goal. People have believed in this program for over 60 years and we believe we will be around for another 60."
The donor base has varied widely. Some larger donations have come in from the likes of alumni Jim McCoy giving $2,000 and Broadway and Las Vegas director Phil McKinley giving $1,000. However, the majority have been smaller donations. One donation was from 6 year old Junior Theatre student Tanner Rieck, who donated $40 of his own birthday money.
"It was his idea," said Megan Rieck, Tanner's Mother and DJT alum. "He loves going to class at Junior Theatre and seeing the shows on the Mainstage. It meant a lot for him to help."
"No donation is too small," said DJT's Artistic Director and alum, Daniel Sheridan. "We are aiming to replace the theatre seats, install new carpet, repaint the interior, repair subflooring, improve ADA access and more. We've made great use of this space over the last few decades. We pride ourselves in making our resources last. The time has come to ensure the theatre is in good working order for future generations of students and community groups who use the space."
The City of Davenport Parks & Recreation Department approached Junior Theatre Inc. with a proposal. The City would pledge $70,000 to renovate the space if Junior Theatre Inc. could leverage the remaining $80,000-$90,000. However, enough of the funds must be raised for the project by the end of April in order to complete the renovation on time in September 2017.
"We couldn't say no," said Meyer. "We knew it would be a challenge, but we believed we could make this happen by seeking support from grant agencies, local businesses and DJT's long history of alumni."
To date, the organization has received a $30,000 grant from the Scott Country Regional Authority and about $30,000 in donations. They also received a Q2030 grant from the Community Foundation of the Great Riverbend.
"We may end up having to raise a bit more than $40,000," said Sheridan. "But reaching the current goal by the end of April ensures we can schedule the project with contractors now to stay on schedule."
ComedySportz Quad Cities will be teaming up with DJT for a special fundraiser on Thursday, April 27 at Junior Theatre. Starting at 7pm, a group of ComedySportz performers will square off against a team of Junior Theatre teachers. There is no admission cost. The audience is simply asked to make a donation to the program.
Daniel Sheridan is a former ComedySportz player from 1999-2005. He will perform in the upcoming show.
"It's been a longtime since I took the stage in much of anything," said Sheridan. "But when ComedySportz called to challenge our program to a head-to-head improvisation match to raise money for the theatre, how could I say now? Hopefully the rust falls off fast when we do the show."
Bonnie Guenther, former DJT program director from 1990-2005, began her involvement with DJT back in the 1960's. Mrs. Guenther was instrumental in the fundraising campaign to find a home for Junior Theatre.
"From 1951-1981, Junior Theater moved about 15 different times," said Guenther. "We were blessed to find a home at the Wittenmyer Complex thanks to the hard work of so many. The renovation today is needed as the usage of this public building has increased over the years – just as predicted when the original fund drive started."
In 2008, the program saw annual enrollment of about 400. In 2017, the program is on course to see over 1,700 enrolments with kids from over 25 different QC region cities and towns. Over 15 different organizations utilize the theatre for events today, including Ballet Quad Cities, Bucktown Revue, Sacred City Church, Miss Iowa Events, Hispanic Flamenco Ballet, among many others.
"Mary (Nighswander), our founder, would be very proud that DJT has not been content to stay the way she left it," said Meyer. "She would be excited to see more options for the kids to experience all aspects of theatre. She would applaud that DJT always seeks ways to serve more kids, ensuring they are challenged to grow in presenting ever more professional productions and building skills to last a lifetime."
"I am extremely proud of the students and the families that I worked so closely with when I was allowed to nurture the program over the decades," added Guenther. "The theatre continues with my former students as supervisors, mentors, teachers and technical staff. I am proud to see them not only at Junior Theatre, but spread across America serving their communities. In this rapidly changing world we live in – new methods, advanced technologies, and extreme world conditions – basic principles of speech and conversation needs to be nurtured in every child. Junior Theatre has always accomplished just that."
Junior Theatre Inc is reaching out to the community at large for support. Contributions may be mailed to Davenport Junior Theatre or made online at the DJT website. Junior Theatre Inc is a 501-c-3 non-profit organization.
Founded in 1951, Davenport Junior Theatre is the nation's second-oldest children's theatre. Classes and camps are offered year-round in theatre and dance for students ages three to eighteen. Classes are as varied as acting, improvisation, musical theatre, and theatrical design. In the quickly-growing dance division – which is only six years old – young dancers learn poise, confidence and healthy body image while having fun and making friends in a non-competitive dance environment. DJT also holds a Spectrum Theatre program, serving youth on the autism spectrum or any challenge that may inhibit communication. Through all these opportunities, DJT prepares kids for a lifetime of success, no matter what path their lives may take.
For more information see www.DavenportJuniorTheatre.org.