The Velies Highlight Davenport's Live At Five Tonight
Live At 5 – Free Summer Concert Series is back with some brand new additions!
Live music will happen every Friday from 5pm – 7pm in the Skybridge Courtyard at Common Chord! Sound is rocking, boots are stomping & tasty cold beverages are poured for a weekend kick-off celebration in Downtown Davenport, IA.
The party does not stop there… with the new "AFTERPARTY" addition at Zeke's Island Cafe, with each week's featured intermission artist performing from 7pm – 8pm!
Series Line Up:
Sept. 15th: The Velies | Sponsored by: The Planning Center
Sept. 22nd: Wicked Liz & The Bellyswirls | Sponsored by: Grace Technologies
Sept. 29th: Michael Moncada & Whiskey High | Sponsored by: Lobo's Salsa
Learn more: LIVE AT 5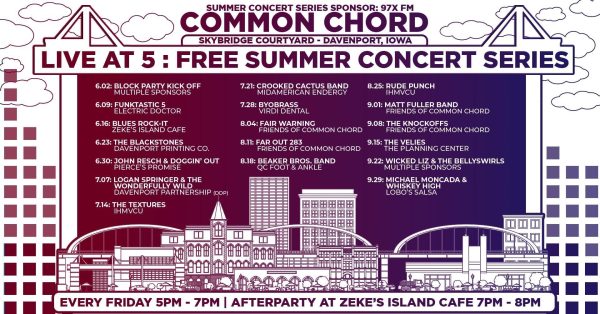 E