Rock Island's Circa '21 Presents 'Escape To Margaritaville'
With its delightful collection of songs including "Fins," "Volcano," "Cheeseburger in Paradise," and the unforgettable "Margaritaville," the legendary Jimmy Buffett's repertoire will be given dazzling stage treatment in the Circa '21 Dinner Playhouse debut of ESCAPE TO MARGARITAVILLE. Running through Sept. 9, this magically uplifting musical was lauded by the Hollywood Reporter as "the theatrical equivalent of sipping on a frozen drink while lying on a beach chair in the blazing sun," and is being brought to life in Rock Island by a tremendous team of professional talents.
ESCAPE TO MARGARITAVILLE will be presented at Circa '21 through Saturday, Sept. 9 with performances on Wednesday, Friday and Saturday evenings at 7:30 p.m., Sundays at 5:30 p.m. and Wednesday matinées at 1:15 p.m. Pre-show entertainment featuring the theatre's wait staff, the Bootleggers also will precede all performances. Ticket prices are $60.55 for the evening dinner-and-show productions and $53.73 for the matinées.
Reservations are available through the Circa '21 ticket office. For reservations, contact the theatre at 1828 Third Ave., Rock Island or by calling 309-786-7733 ext. 2.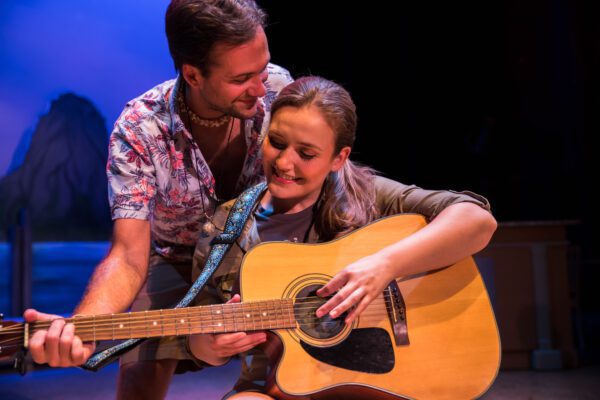 Singer / songwriter Buffett has become a popular culture icon. He has recorded more than 50 albums, most of which have gone gold, platinum or multi-platinum and his sold-out concert tours are annual rites of summer passage for his legions of fans affectionately known as Parrot Heads. Born in the Gulf Coast town of Pascagoula, MS, Buffett was raised in Mobile, AL, is a fourth-generation sailor and fisherman and is also a frequent traveler to remote and exotic places of the world. As a best-selling author, Buffett is one of only nine authors in the history of the New York Times Bestseller List to have reached number one on both the fiction and non-fiction charts and the artist has received two Grammy nominations, numerous Country Music Association Awards and induction into the Nashville Songwriters Hall of Fame.
The new musical ESCAPE TO MARGARITAVILLE celebrates the music and island-living lifestyle of Jimmy Buffett through his original story about the choices we make and the people we become, once we've had a change in "latitude." Revolving around a part-time bartender/singer who falls for a career-minded tourist, the show combines original songs with classic Buffett tunes, the most famous of them all, "Margaritaville," was inducted into the 2016 Grammy Hall of Fame for its cultural and historic significance.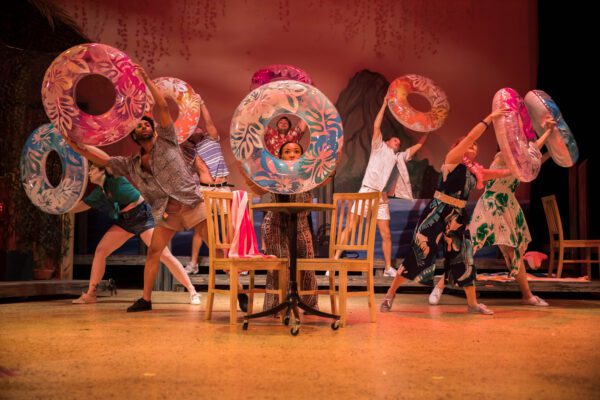 Returning to Circa '21 to direct ESCAPE TO MARGARITAVILLE is Amy McCleary, a theatre artist from Fort Myers, FL who also helmed the venue's 2023 presentation of the Queen musical "We Will Rock You." Local favorite Ron May again assumes music-director duties, having also done so for Circa '21's recent productions of "Mamma Mia!," "Grumpy Old Men: The Musical" and Irving Berlin's "White Christmas." The show's gifted ensemble includes such familiar Rock Island performers as Bobby Becher, Brad Hauskins, Taylor Lynn and Kiera Lynn.  The ESCAPE TO MARGARITAVILLE ensemble is completed by Matthew Brightball, Melissa Campbell, Kaleeha Clark, Samuel Colina, Joshua Crawford, Liam Fisher, Abigail Graham, Cameron Niles, Damaria Quick, Madison Stepnowski and Riley Vogel.
Circa '21's entire staff is thrilled to be continuing their sensational 46th season with this locally debuting musical spectacular and urges audience members to reserve tickets for what is certain to be a hot-selling summertime smash. Call the Circa '21 ticket office at 309-786-7733 ext. 2 for reservations and raise a frosted glass (with an umbrella in it) to the high-spirited fun of the Jimmy Buffett musical ESCAPE TO MARGARITAVILLE!