Muscatine Author Liegois Releases New Sports Novel, 'The Yank Striker: A Footballer's Beginning'
Biblio Publishing has released The Yank Striker: A Footballer's Beginning, a new sports drama and the first in a book series by author Jason Liegois. The book is currently available in paperback format through Amazon and Biblio's website, and will be released in ebook format within the next couple months.
The book tells the story of Daniel John "DJ" Ryan, a high school senior from the Dallas area making plans for life after graduation. As a high school all-American wide receiver, he sees that future as joining the Hamilton State University Copperheads, coached by his national championship-winning father, and playing alongside his star quarterback brother Trey. It's his shot at an NFL career.
 However, DJ is facing a few issues, even after he signs his letter of intent. For one, he is quietly hiding his status as a bisexual, well aware football is a sport that prefers its heroes to pursue women only. He's not on easy terms with his father, whose philandering and neglect left DJ's mother to leave the marriage for her best female friend.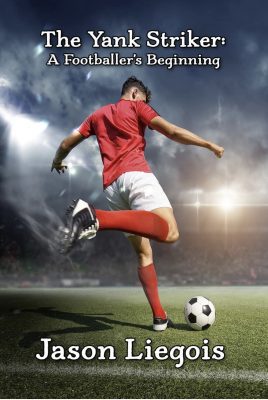 Finally, there is DJ's love for another kind of football – soccer. He's a talented striker for both his high school and semipro teams. By coincidence, a scout from the Premier League club Donford FC in London notices him and offers DJ a tryout.
He now has to decide between a familiar path to the gridiron of college football or the unknown one of English soccer, and whether he'll follow either path living openly as an LGBTQ person.
"I am thrilled to be releasing The Yank Striker after several years of writing and development," said Liegois. "It began with me asking myself, 'What would the American Lionel Messi look like?' I began to wonder what that process would be, the growth of a star player and the long, hard road they would have to travel. "This book is the result of that exploration."
Liegois was first exposed to the sport in YMCA youth soccer as a boy, but said his fandom of the sport began with the 1994 World Cup tournament hosted in the United States and has grown ever since then.
"This has been a passion project for me, and I can't wait for readers to experience it," he said.
Born just outside of Chicago, Jason Liegois has spent nearly all his life in Iowa. Growing up in Muscatine, Iowa, and a University of Iowa graduate, Liegois spent time as a full-time and freelance journalist with newspapers, including the
Muscatine Journal
,
Quad City Times
, and
Clinton Herald
. He currently works as a teacher, having taught language arts and special education at the secondary school level and composition at the junior college level.
He currently lives in south central Iowa with his wife, Laura. They have two children. The Yank Striker is Mr. Liegois' second published novel, after The Holy Fool: A Journalist's Revolt.
For more information, please contact Jason Liegois at jasonliegois@liegois.media.