REVIEW: 'Just Desserts' A Sweet Treat At Rock Island's Circa '21
I just love what Circa '21 has done this year in regard to its shows. Its last show, "The Play That Goes Wrong," was wonderfully absurd and hilarious, a terrific bit of humorous escapism. It's latest show, "Just Desserts," isn't quite as unhinged and wacky, it's far more conventional in terms of plotline and structure, but it's just a warm, funny, and comforting show that extends the same escapist mood that we really all need right now.
The last two years have been tough, and this year, even slogging out of covid, has been fraught with challenges from an economic and world perspective. People seem to be hungering for escapism and distraction, and Circa is doing its audience a terrific service in providing it.
I've got enough junk on my mind, enough crapola I see on the news and all over the drama pit of social media. Last thing I want from my Circa '21 show is to be preached at or hit with something sanctimonious. I just want to go there and have an oasis of humor and lightness, a respite from the world, for just a little while. I know I'm not alone in this feeling.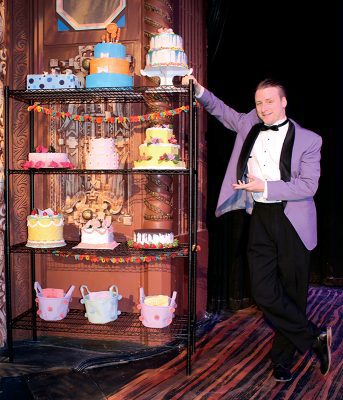 "Just Desserts" gives you that delicious time of lightness. It's a wonderfully sweet and simple concoction with a welcome warmth, the perfect theatrical comfort food for difficult times.
Is it a little schmaltzy? Yup.
Is it a little corny? Certainly.
Is it fairly predictable? Oh, sure, I picked out the winner of the competition seconds after they were introduced.
But did I enjoy it? Yes, I definitely did. And I think you will too. It's just so delightfully presented and produced that it's difficult not to like, it'd be like kicking a puppy.
"Just Desserts" is a musical bake-off show, in which a diverse group of competitors – Brandy (Elsa Besler), Emma (Lexi Rae Smith), Jean (Sarah Hayes), Lou (Marc Christopher) and Mildred (Shelley Walljasper) – are all vying for the gold in a dessert-themed bake-off. It's basically like the shows you see on Food Network, complete with backstories given on all the contestants, and a variety of reasons why each of them are competing and hoping to win.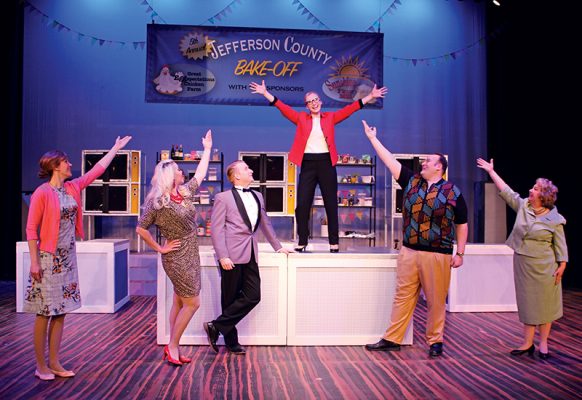 All of the actors playing the contestants are likeable in their own ways. Besler is brassy and fun as Brandy. Christopher is first looming as Lou but melts a bit to show some heart. Hayes blossoms as the dotty Jean who finds her moxie through the competition. Smith goes from icy competitor to someone with a better perspective on life as the fastidious Emma. And Walljasper transforms Mildred from the ostensible villain at the onset of the show into a much more sympathetic character by night's end. By the end of the show, the characters have all reached a new path, and regardless of the outcome, they seem the better for it in regard to their relations to one another and themselves. It's a pretty basic sense of discovery and uplifting character transformation plotline, but it works, and each of the actors deserves credit for making it work, for imbuing their personae with enough energy to engage the audience.
The two MVPs of the show though are a Quad-Cities theater scene power couple that's really been making a huge impression on me, and on Circa, over the last year.
Ashley and Bobby Becher are immensely talented, and that talent has been a key component in the success of so many Circa shows over the past several months, "Just Desserts" just being the latest. Bobby is so deft and clever as an actor, playing the roles of Zach and Donny with just the right amount of understatement in their humor and feeling. It would've been the more obvious, and most likely taken, path, for Becher to go HUGE in these parts, and amp them up for the back row with a lot of manic energy. But instead, he reins it in, and it's so much more effective, allowing each of the contestants to instead shine for themselves. It's a very subtle action, but one which made a huge difference to me in regard to the tone of the musical, and how it came off. "Just Desserts" is already a bit goofy and corny, and with someone ramping it up in the role of Zach especially it could've come off as being majorly hokey. Bobby's restraint keeps it from going completely off the rails, and it's such a smart choice.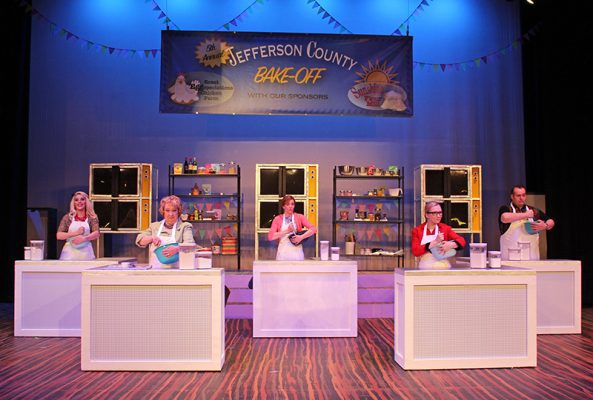 That's only one of the many smart choices Ashley Becher has her hand in as director and choreographer. She does such a terrific job with this material, which could've ended up being a total cheese fest, but instead has a perfectly deft touch of light humor and heart. Not to say the cheese fest wouldn't have been fun, but it's interesting to see how she took it in a different direction, with different energy, and it's such a charming result. I've long been impressed with the subtle details of her chorography and direction, and "Just Desserts" just continues to serve as a demonstration of her considerable talent behind-the-scenes.
As with "The Play," I very much recommend "Just Desserts," for what it is – a lighthearted musical comedy with heart and playfulness. If you're looking for escapism and whimsy, something to leave the weight of the world at the door while you just enjoy a couple of hours of theater, it's a perfect treat.
"Just Desserts" will be presented at Circa '21 through May 14, with performances on Wednesday, Friday, and Saturday evenings at 7:30 p.m., Sundays at 5:30 p.m. and Wednesday matinées at 1:30 p.m. Pre-show entertainment featuring the theatre's wait staff, the Bootleggers also will precede all performances. Ticket prices are $58.55 per person for the evening dinner-and-show productions and $51.73 for the matinées.
Reservations are available through the Circa '21 ticket office. For reservations, contact the theatre at 1828 Third Ave., Rock Island or by calling 309-786-7733 ext. 2.