Fleetwood Mac Fans Are Going To Want To Check Out This New Year's Eve Show At Davenport's Redstone Room
New Years Eve in the Redstone Room, All Sweat Productions performs the classic Fleetwood Mac album, Rumours, plus other Fleetwood Mac hits!
Doors: 8pm / Show: 9pm
Opening Act: Dj Buddha
Age Restriction: 19+ (minors must be accompanied by parent or guardian)
Genre: Classic Rock
All tickets are general admission. Purchasing a ticket does not guarantee a seat.
This show is going to be a Black Light/White Out party – wear as much white as you can and let's have some fun ringing in 2022!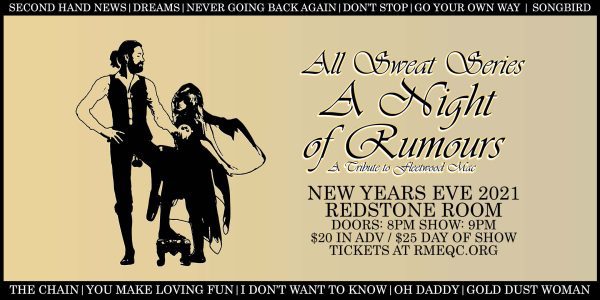 All Sweat Productions is an RME program that brings members of the
Quad City
music community together to celebrate some of the greatest moments in music history. Each show features a different cast of musicians from a wide variety of genres and bands around the area.
Some shows will include full-on tribute acts complete with costume changes and makeup. Other performance ideas will feature hit albums in their entirety. Some shows will just be an attempt to keep the musical integrity of the band so we can all enjoy.
RIVER MUSIC EXPERIENCE POLICES:
*Ticket Disclaimer*
All tickets for RME events are sold via Eventbrite and carry applicable transaction fees. Tickets can be purchased the day of event online and at the door (subject to availability). Ticket fees also still apply for admission at the door.
*Reserved Seating*
The Redstone Room at River Music Experience is a standing room only concert venue. All tickets are General Admission unless otherwise stated. For the comfort of our guests, a limited amount of seating is available on a first come first serve basis.
Reserved Tables: a limited number of tables are for sale in advance, sold through our ticketing service. You will need to add both your General Admission tickets AND your Reserved Tables to the cart for purchase. There are four seats to a table.
Physical Accommodations: If you require seating or a reserved space due to health or physical needs, you will need to purchase your General Admission ticket first, and then email feedback@rivermusicexperience.org to reserve up to 2 seats. Tables must be purchased separately.
*Age Restrictions*
Most shows in the Redstone Room are 19+, unless otherwise noted, but minors may attend if accompanied by a parent or guardian.
*Refund Policy*
Purchased tickets are nonrefundable, except in cases of rescheduled or cancelled shows.
*Further Questions?*
Please email feedback@rivermusicexperience.org