Imagination Station Brings PBS Kids to Life!
Join the fun at WQPT's Imagination Station this Saturday Mar 14! This family-friendly event will feature "PBS Program Stations" for the whole family. The event takes place on the beautiful campus of Western Illinois University-Quad Cities and is FREE to the public.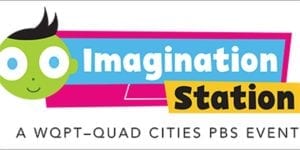 Imagination Station brings PBS KIDS characters to life—creating a bridge between our outstanding programs and active learning in a fun & exciting environment for kids.
There will be approximately 18 stations (classrooms) that may include:
• PBS Live Character
• Make and Take Art Activity
• Skill Building Activities based on STEAM (Science, Technology, Engineering, Arts & Math)
• Musical Entertainment
• Games
Come and visit your favorite characters like Daniel Tiger, Arthur, Curious George, Nature Cat, and many more!
This event is FREE but a ticket is required. There are two different times slots in which you can participate. They are 9 – 11 a.m. and 12 – 2 p.m. Register for your tickets today, at https://www.eventbrite.com/e/imagination-station-2020-tickets-94028950121.
---
For more fun things to do in the Quad Cities this week, check out the latest issue of FUN10QC.