Anthony Gomes Rocks Redstone Room TONIGHT!
"Gomes is a power player who is at his best when his gear is in the scorched earth between blues and rock. After all, it's the electric guitar; sometimes tickling it is not enough." – Guitar World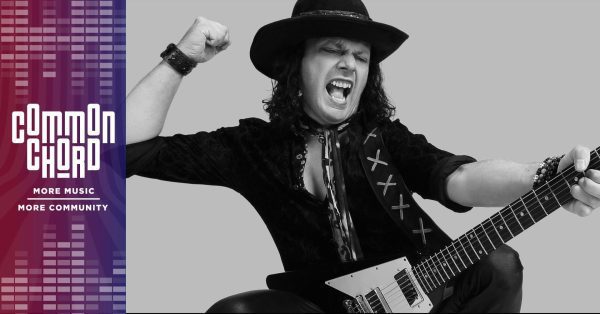 With a guitar slung over his shoulder and the amps turned up full tilt, Anthony Gomes electrifies blues and rock at a 21st century crossroads of his own. The Canadian vocalist, guitarist, songwriter and producer wails with all the force of a hurricane in the Mississippi Delta and enough fret-burning fireworks to leave his strings in flames.
Over the years, he's toppled the Billboard Blues Chart at #1, earned the endorsement of legends such as B.B. King, tallied tens of millions of streams, and packed shows on multiple continents. In 2022, he makes his Rat Pak Records debut with High Voltage Blues, amplifying his soul and spirit like never before.
Looking for an actual 21st Century guitar hero? Here he is!
And he is coming to Davenport TONIGHT!
Redstone Room – Common Chord
Showtime: 8pm
Tickets:REDSTONE ROOM
$25 in advance | $30 day of show
Doors: 7pm | Show: 8pm
Age Restriction: All Ages
(Under 19 must be accompanied by an adult)
———————–
COMMON CHORD POLICIES:
*Ticket Disclaimer*
All tickets for Common Chord events are sold via Eventbrite and carry applicable transaction fees. Tickets can be purchased the day of the event, online, and at the door (subject to availability). Ticket fees also still apply for admission at the door.
*Reserved Seating*
All tickets are General Admission unless otherwise stated. For the comfort of our guests, a limited amount of seating is available on a first-come, first-serve basis.
Reserved Tables: a limited number of tables are for sale in advance, sold through our ticketing service. You will need to add your General Admission tickets AND your Reserved Tables to the cart for purchase. There are four seats at a table.
Physical Accommodations: If you require seating or a reserved space due to health or physical needs, you will need to purchase your General Admission ticket first and then email feedback@commonchordqc.org to reserve up to 2 seats. Tables must be purchased separately.
*Age Restrictions*
Most shows in the Redstone Room are All Ages unless otherwise noted, but minors may attend if accompanied by a parent or guardian.
*Refund Policy*
Purchased tickets are nonrefundable, except in cases of rescheduled or canceled shows.
*Further Questions?*
Please email feedback@commonchordqc.org