'Do They Know It's Christmas?' Hits Extra Hard In These Trying Times
It was late 1984, and Boomtown Rats front man Bob Geldof was sitting down to watch a bit of telly as the calendar began to turn towards the holidays.
However, what he saw that evening was anything but festive.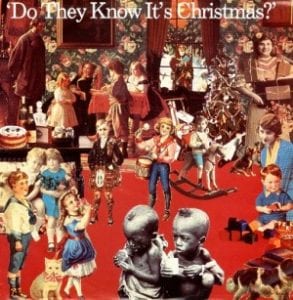 Geldof watched as a documentary news program detailed the horrible starving and suffering going on in Africa due to incredible droughts and oppression. And as he watched, he was moved to tears, sorrow, and finally, action.
He knew he had to do something to help, but just donating money himself seemed so small, so insignificant. How could he do something larger? Finally, he had the idea, and the structure for a song, and a movement, that would literally change the world.
Geldof called up his friend Midge Ure of Ultravox and the two set about to quickly penning one of the most stirring and beautiful Christmas songs of all time, "Do They Know It's Christmas?"
For the recording of the song, the duo hit the phones to call up every pop star they knew, and to tell those pop stars to call their friends, to hastily put together a massive group — Band Aid — to record the track and get it in stores before Christmas to raise as much money as possible for the starving people of Africa.
Remarkably, they got an incredible all-star lineup of talent, and the biggest rock and pop stars in Britain and worldwide at the time —
members of the bands Duran Duran, U2, Wham!, Culture Club, The Police, Kool and the Gang, Spandau Ballet, and dozens of others, joined together to record a song and video which would go on to become the biggest-selling single of all time in Britain and several other countries around the world. It would go on to spark a massive movement to help the people of Africa that would lead to the unforgettable Live Aid concert the next year, and would directly lead to various other movements, from USA For Africa to Farm Aid.
As Geldof put it at the time, "We made compassion fashionable."
His co-songwriter and partner in the project, Midge Ure, echoed those sentiments, saying, "It made caring cool again."
And as we live through our own difficult year, our own difficult time in this world, especially given the tumultuous circumstances of the past two years, perhaps nothing could be more important this holiday season than to once more, make compassion fashionable.
This year has been unbelievably difficult in so many ways. We've seen thousands of people killed by a pandemic, and our societies and lives disrupted in profound and meaningful ways by the pandemic and its symptoms in shutting down businesses and wide swaths of our lives. We've seen social upheaval, protests and riots and massive demonstrations, both peaceful and violent. There's been a horrible schism that's widened between people along various political, religious and social lines, grown larger and deeper by those who profit and prosper in
fomenting divisions among us.
And it's become fashionable to be a jerk, to not care, to be rude and unsympathetic, to be an asshole.
It's time for that to change.
To be certain, that plague of disdain and cold uncaring hasn't been all-encompassing. There are plenty of people who have been a light in the darkness, who have steadfastly been a source of positivity and compassion during this time. Healthcare workers and providers have been especially crucial. Teachers have been essential. And really, anyone who has recognized that almost all of us are in the same boat and shown some compassion and understanding to others has helped in some way, however small, to make things a little better during this time.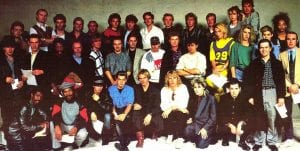 There have also been people who have stood up for, and fought for, the downtrodden, and those suffering. There are those who have stood on the side of truth, of positive evolution, of logic and common sense, and an escape from the cages of tribalism that only end up dividing, that only end up making it worse for the people who are suffering.
That courage, that caring, should be recognized.
That should be praised.
That should be highlighted.
That should be made fashionable, made cool.
It's time to make compassion fashionable again.
It's time to make caring cool.
Not just today, not just during the holiday season, but in all the days moving forward.
Merry Christmas, and happy holidays…