Davenport Junior Theatre Grows in 70th Year – With New Podcast, Zoom Show, Classes and Plans for New Museum
Saturday In The Arts is a comprehensive weekly feature looking at a trend, personality, or major subject involving the Quad-Cities arts and entertainment scene.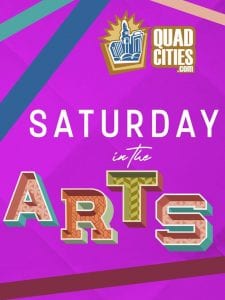 While other Quad-Cities theaters remain closed, Davenport Junior Theatre continues its mission by serving students virtually and in person.
Its new projects include a podcast, a second Zoom production in February, a new museum to open in May at the Annie Wittenmyer Complex, 2822 Eastern Ave., and plans for a big celebration following its 70th season, in summer of 2022.
As always, DJT offers a stunning variety of theater and dance classes for kids ages 3-18.
"I'm really proud of how fast we pivoted and moved to a virtual program," Daniel Sheridan, city of Davenport performing arts supervisor and longtime DJT artistic director (until last fall) said recently. "I'm really pleased with the fact that we're able to be here at Junior Theatre teaching and leading. Not only does every class have a teacher, but a navigator, managing the behind the scenes, technical stuff – which frees up the teacher to only teach, which is probably the biggest challenge for teachers in the school system."
This past fall, DJT had a total of 182 students in person and 166 for virtual classes (a total of 348), compared to a fall 2019 total of 498 students (all in person) – 221 in dance and 277 theater classes.
Their most popular virtual classes were ZOOM-Ba Kids (a dance aerobics class for kids age 3-6), Yoga, Acting with Accents, Voiceover, and Character Creation. The most popular in person were Ballet, Hip Hop, Professional Acting, Acting, Improv, and Musical Theatre.
For the eight-week winter session starting Monday, 200 students have signed up for virtual and in-person classes (the vast majority to be in person), Sheridan said. The absolute deadline for registration for this session is Jan. 25.
All Davenport residents receive 20% off all programming fees. As taxpayers, residents are helping to subsidize the programs. (To see a full listing and register for classes, visit www.davenportjuniortheatre.org/classes.)
"I'm really happy with the virtual programming we've offered. I understand now, a virtual interaction is limited," Sheridan said. "We're looking forward to bringing kids back, but we're constantly looking at how to do the virtual thing better. It's not something that's stagnant."
DJT's first virtual mainstage production was in November, of "Snow White 2.Zoom." It was "really throwing a lot at the wall and figuring how to make things work," Sheridan said. "I'm really looking forward to 'Alice in Wonderland,' since 'Snow White' was such a collaborative project with multiple directors and multiple kids and student playwrights."
"Snow White" featured the winner of the student play competition ("The Evil Queen Returns" by 12-year-old Julia Reagan of Davenport), scenes from Sheridan's adaptation of "Snow White" (produced at DJT in 2014), and original content created by students.
"I really wanted to focus on DJT's mission of producing for kids, by kids," new artistic director Ben Gougeon (since last fall) said. " 'Snow White 2.Zoom' involved 18 students from around the QCA. The kids, who range in age from 10-18, are the actors, directors, writers, and technicians."
Local professional theater artists work alongside the kids, creating a live performance that was livestreamed and available to watch for free on the DJT website, YouTube channel, and Facebook page. Most students got green screens (for virtual backgrounds), costumes and props.
"The thing I've tried to lean into, especially for this, our longtime mission statement is 'for kids, by kids,' and one thing I've tried to do is empower the kids to create work and at the end of the day, it's their theater," Gougeon said in the fall.
"It's not my theater; it's not Daniel's theater. It's the theater for the kids," he said. "I've really tried to let them in on the act of creation for this show at least."
His view on producing theater now is, he'd rather do virtual, rather than in person with a bunch of restrictions like masks and distancing.
The next one, a virtual "Alice in Wonderland," is being directed by Bobby Becher, who has taught and performed with Circa '21, and has worked with DJT since early 2019. "Alice" (adapted again by Sheridan) will be shown online Feb. 20 and 27 at 4 p.m., and Feb. 21 and 28 at 1 p.m. and 4 p.m.
"To have one professional director using one script to tell one story, I'm really excited to see what they do with what they learned the first
time," Sheridan said. "We've learned so much, and we could have just sat it out – said we're closing up, we're not doing another production. The kids at Junior Theatre needed it. What the heck, this is the challenge of our lifetime right now, so we're trying to show them how to be creative no matter the circumstance. We have an obligation to do it."
DJT did Sheridan's adaptation of the classic Lewis Carroll tale first in 2011, which he directed, and then again in 2017. "I know for Ben, 'Alice in Wonderland' and down the rabbit hole was so fitting of a concept with where we're at right now as a community," he said.
For Zoom, there were a few line changes and things to make logistics work, but very little was changed overall, Sheridan said.
Professional mentors for students
Becher served as a mentor director last fall for Davenport Central senior Cayla Odendahl, who was one of the student directors and has been part of DJT since she was 9.
"I thought it went really well," Cayla said recently of "Snow White 2.Zoom." "It was exciting to try something new. It was my first time as director. It was pretty interesting having it be over Zoom for the first time."
She is in the cast for the virtual "Alice," playing a Tweedle, after performing as the Mad Hatter in the 2017 production.
One positive of doing it on Zoom is if a student is sick, they wouldn't have to cancel a show like they might if it was in person, Cayla said.
"Everyone being at home, people can still hop on their computer and participate, so that's nice," she said. "The main challenge is just figuring out, when doing live theater you get a lot of energy from everyone on stage with you, and everyone in the audience. A big challenge is finding that energy at home, when by yourself, not being in person."
Having a Zoom show is better than nothing, Cayla said. "It's nice to be doing theater again, even if it is modified."
"Especially considering we were kind of learning to fly while the plane was off the ground, I think it went really well," Becher said of "Snow White" Thursday. "Again, even more amazingly with the fact everyone involved was like 17 and younger. They always do great stuff over there with very young talent, all those people being thrown into that situation.
"We had a few issues with people's internet connection being bad — they would freeze up," Becher said. "In reality, when the kids were there, they were pretty well-focused. It didn't ever feel like working for your peers can be sometimes a little dicey. All the kids really respected the student directors, as much as the adults."
"I think we have expanded our technological reach a little bit," he said, noting they can use Zoom now with "breakout rooms," for more than one conversation going at the same time, giving students more opportunities to socialize – "which is a huge part of what these mainstage productions are at Junior Theatre," Becher said.
Bobby and his wife Ashley (a Bettendorf native) have taught DJT classes since the summer.
"It's a new ball game obviously; they have a lot of loyal fans and families," he said, noting in the late summer, they had to switch to all online and the kids showed up for that. "With all the curveballs, they know how important it is, we can tell how much they love it," Bobby said.
He was impressed with how technologically advanced DJT was on campus, with the computer terminals, microphones and cameras for instructors to use.
"That was the possibility with the virtual platform, it was still able to feel like a Junior Theatre class," Bobby said. "It was nice for the kids to have that familiar setting, not just someone's living room."
He's taught things that translate well to a computer screen, including accents, voiceover, and acting for the camera.
"It just feels like your time is much more limited; it feels both like you have to have so much prepared," Bobby said. "Who knows how many kids are going to show up on a given day? People just forget; it's less of a commitment to make when you can still be in your house at the same time."
"You have to keep them as engaged as possible, give them as much information as you can, continue to inject that social element – which is very difficult with the virtual setting," he said.
"Alice in Wonderland" is interesting since some of the students were in the last production in 2017, and several have continued from "Snow White 2.Zoom," Bobby said.
"With the quasi-theater/movie platform we're in the middle of, I am making it a priority to be really letting these kids have an opportunity to create as big a character as they can in such a small space," he said. "Alice in Wonderland is a perfect show for that — focus on letting them have that creative outlet, be able to express that in a multi-layered performance. They don't have to worry about like playing to the back row.
"They can be as big or as small as they can be," Becher said. "It's a unique opportunity for them to really develop these characters on an enormous level to a microscopic level.
In the fall, Gougeon taught acting for the camera on the Junior Theatre stage, with just eight students, and they were filmed and saw their scenes projected on the back of the stage, Becher said.
"It was kind of perfect, when doing it in person, to get wide shots," he said. "When we had to switch to virtual, we switched to close-ups. You see a maskless mouth for the first time, and on Zoom they can see as they're acting."
"It's a good lesson for the kids for theater, actively listening, to know these things are noticeable," Becher said of seeing their own facial expressions.
For Zoom, the kids are literally acting for the screen. "It's a very unique opportunity for them to be able to create those multi-level characters that can be nuanced, as opposed to — I walk with a limp and have a crazy wig," he said. "That's a good character, compelling character for the stage, but we can go further now."
That so many kids from "Snow White" have returned for "Alice" is a "testament to the power and necessity of Junior Theatre, also for the opportunity for these kids to get to do what they enjoy doing, with the people they enjoy doing it with," Becher said. "They're ready to jump into any situation to work with this company and with their friends."
Ashley Becher (a 2003 Bettendorf High alumna) directed "Aesop's Falables: A Rock Musical" on the mainstage at DJT in February 2019, and Bobby was sound designer and music director.
The wife-and-husband duo are creators and owners of the New York-based production company WhatFun! Theatre, founded in 2014 to produce theater for youth that's smart, approachable, artistic and fun.
"Aesop's Falables" involved over 40 students, ages 9-18, from nine area cities and towns, and filling the roles of actors, crew members, tech-board operators and front-of-house team members. Professional theater artists like the Bechers worked alongside the kids, training them in theatrical production.
Students working in AmeriCorps and YouthCorps
Cayla Odendahl has spent more than half her life involved in DJT classes, camps and mainstage productions.
Her favorite roles include the Mad Hatter in Alice and Wonderland, the Ringleader in James and the Giant Peach, and one of the three pigs in Little Red Riding Hood.
"Theater is really important in my life. I have created a lot of friendships through theater; it's helped me open up," she said. "It's helped me find space to be comfortable being myself. Junior Theatre really opened me up. I've just really been happy there."
A veteran of 10-plus productions, including working as assistant stage manager, Cayla said theater has "a lot of real-life applications," including becoming more confident and in control. "And I just love performing; it's just a lot of fun."
She had a lead role in the 2018 production of "James and the Giant Peach."
"I like it a lot when we have a local playwright," Cayla said. "It's a lot of fun to be the first person performing that. Usually when we get a local playwright, they really take into account what things work for us as a theater, and they're well-suited for Junior Theatre."
President of the Junior Board (made up of DJT youth), she helps coordinate student registrations for Zoom classes, works with teachers, and answers any questions.
The Junior Board usually raises funds throughout the year through the sale of concessions at Mainstage productions. They use these funds to create special projects, like out-of-town trips (Minneapolis 2014, Chicago 2015, Spring Green 2016, Great River Shakes Festival (MN) 2018, Minneapolis 2019), special productions ("A Midsummer Night's Dream" 2011, "The Clown Who Ran Away" 2013, and student-directed one-acts 2017), and other special workshops and events, such as the annual Halloween Bash, started in 2011.
Last year, Cayla was a YouthCorps member for DJT – a program run through the city where she earned a stipend and a scholarship award at
the end. Last summer, she worked over 300 hours, including putting together theater packets for students, activities like making masks, and creating videos with DJT mascot and host Showtime Pal, and tips and tricks for kids to practice at home.
Junior Board is a volunteer position, where students recommend what they want to see for mainstage productions, and they've been meeting virtually, Cayla said.
Gougeon also set up virtual meetings over the summer with theater artists around the country to talk with the board members. Junior Board members also collected canned goods to donate to River Bend Foodbank over the holidays, Cayla said.
She loves DJT most for "just the excitement with putting on a production," she said. "I have a lot of memories being nervous about cast lists, getting the results, celebrating when we found who got parts. The process of putting on a production is super interesting and fun, to see show come to life. I have a lot of great friends I've made there."
Since September, DJT has been employing four AmeriCorps members, working on special projects like the new podcast, museum research and buildout, and Zoom productions. They are:
Michaela Holvoet, a Davenport native, who is currently studying business administration  at the University of Wisconsin – Platteville. After graduation, she wants to start her own business within the arts industry. Michaela recently started a small business that is centered around LGBT & female empowerment.
Melissa Maylum, of Princeton, Iowa, earned her bachelor's last May in theater and public relations from St. Ambrose University. Outside of Junior Theatre, she runs a small sewing business called Seams Legit, where she sews things like masks, scrunchies, and T-shirt quilts.
Elise Campbell, who grew up an hour north of Chicago, graduated from Augustana College in May 2020 with a bachelor's degree in theater and gender studies.
Emma Hydorn, another 2020 Augie grad (theater and psychology), grew up in San Diego, and moved to the Quad-Cities in 2016 to attend Augustana. Aside from DJT, she is active in the Q-C arts scene, painting for Circa '21 and acting as technical director for United Township High School, East Moline.
DJT has been part of the federal AmeriCorps program (through the city of Davenport) for 10 years.
AmeriCorps members (who are paid) work throughout the city, in various departments. At DJT, there's usually one member working in the community and on special projects, Sheridan said. "It's not a job replacement program; it's an enhancement to serve the community," he said. "Their primary focus is coming up with creative and innovative ways to impact the community."
In the summer, he had four YouthCorps members (age 16-18), averaging $11 an hour, doing special projects, Sheridan said.
"We need to be more creative so we actually formed our creative team," he said, noting the AmeriCorps members have continued that – in everything from the podcast to building the museum, and the new online DJT Learning Channel.
The free Learning Channel started last spring, the number-one priority for Sheridan, to keep providing at-home opportunities for kids during the pandemic.
Podcast connects with staff and alums
Hydorn – who's in charge of the DJT podcast, which has released 10 episodes so far — was active in high school theater and enjoyed connecting with her friends on stage. She picked Augustana because she knew she wanted a small liberal-arts school and had a great visit.
She acted on stage since her freshman year, including in "The Crucible" and "The Children's Hour," and got into backstage work her junior
year. That summer of 2019, Hydorn did a paid internship with the professional Mississippi Bend Players at Brunner Theatre Center, among seven interns working about 12 hours a day seven days a week.
She built sets, painted sets, made props and hung the lights. That summer's shows were the military-themed "Biloxi Blues," "A Green River" and "Dames at Sea." Her favorite was "Green River," which Daniel Sheridan had directed the premiere six years earlier.
"I did a lot of scenic painting, and that made me realize I wanted to do that as a career," Hydorn said. "Partially, because I painted everything camouflage for that show. I really enjoyed the process of doing that; the set came together so beautifully. We created an atmosphere never seen in Brunner Theatre."
In 2020, she worked painting sets at Circa '21 in Rock Island and has been tech director for United Township High School. Hydorn was referred to DJT by her Augie theater professor Shelley Cooper.
"I was looking for something else, so the timing was pretty perfect," she said, noting she started AmeriCorps in September, and it runs through mid-June.
By doing the podcast (which launched in December), Hydorn has learned how impactful DJT can be.
"With Junior Theatre, it seemed pretty universal with alumni, that it carved their path about who they became," she said. "It kind of surprised me for every alumni,  how influential being a kid with other kids, they get to learn so many aspects of theater from onstage to backstage — they get to be stage manager, they get to run the lights."
Hydorn said she wished she had more of that in high school.
"I didn't really know how things worked; I was thrown on stage, and knew lights would come on at a certain point," she said. "At college, I did learn a great deal about theater. With DJT, at 17 years old they're so prepared for the professional world of theater."
Working at MBP made her fall in love more with pursuing theater as a career.
"I met a lot of people like myself," Hydorn said, "Now I'm happy to do anything —  scout for props, hang the lights, anything involved in the process really. You work so hard on this set, feel like it'll never come together, but when you see the lights on it, costumes next to it, it all just works."
"It's really cool being part of Junior Theatre during this super different time," she said. "They've been able to expand these spaces, learn how to do online classes."
Sheridan suggested several DJT staff and alumni to interview for the podcast.
"I'm very interested in Junior Theatre history, and very interested in archiving the stories of people who have been involved over the decades," he said. "Even what's been going on currently, to connect people. So it's a mix of things."
Hydorn develops the questions, content and does the editing, recording from Zoom. Junior Theatre, Inc. (the nonprofit partner) paid to launch and host the podcast on different platforms, such as Apple and Spotify.
"One thing Emma provides – she didn't grow up doing Junior Theatre – she provides that objective curiosity, which I think is good," Sheridan said.
"In the long-term, 20, 30 years from now, they will be interesting historical pieces," he said. Over half of annual contributions to DJT comes from alumni, he noted.
"Moving out of the role of artistic director, I wanted to spend my time focusing on development – reconnecting with our alumni; developing our processes; be more adaptable and reach more people," Sheridan said. "We do stay in contact with alums, and frequently – not lately – but typically every month or so, an alum walks in the door and says, 'Hey, how's it going?'"
With the 70th season kicking off this fall, DJT hopes to have a gathering in the summer to celebrate. They've had some graduates come back to direct, though it's been a while.
The first podcast episode aired on Dec. 23, among four to start. There will be new episodes once a week, averaging between 20 and 40 minutes.
Perhaps the biggest name to be interviewed so far was Brett Batterson, a Davenport Central and DJT alum who's president & CEO of the Memphis-based Orpheum Theatre Group. He was on the producing team that won the 2018 Best Musical Tony for "The Band's Visit."
"It comes back to the mission – not every kid is going to go and win a Tony Award; that's really not the goal," Sheridan said. "And if you look at Brett's career, it's a career made from relationships and hard work – working his way up through theater," Sheridan said. "It really puts
people years ahead for whatever field they move into, and I hope that's what the program is still doing today – fostering that possibility and fostering all other possibilities."
The podcast reflects that, how some DJT alums went into non-theatrical careers – like a children's librarian, an author, a teacher. DJT isn't training kids to pursue theater as a career, but those skills do apply to non-theater careers.
"Absolutely," Sheridan said. "Creative problem-solving, under the pressure of a deadline because the show's gonna open. Having to do your part and relying on other people to do their part. Holding each other accountable; public speaking is an obvious one. Right now, it's the ability to have empathy and think what it's like to be in somebody else's shoes, will forever be such an important part of the learning experience here."
From Davenport to the Tonys
Brett Batterson was the first male Showtime Pal for DJT in 1975.
"I wasn't trying to be a gender buster, I just didn't see why a man couldn't do it," he says on the podcast. He started the summer after his junior year of high school and was on the Show Wagon crew.
Batterson said DJT (where he also worked on props and was crew chief) had a crucial impact on his life.
"There's no doubt I'm where I am today because of Junior Theatre," he said. "It impacted my whole life because it was the dominant aspect of my growing up, and I am where I am because of Junior Theatre."
He went to Augsburg College in Minneapolis, without really knowing what kind of theater he wanted to do. Batterson met a scenic design professor, and liked that, becoming a set designer. He went straight to grad school to earn a master's in set design from Tulane in New Orleans, and his first job was at a large community theater in west Texas.
When he was based in Chattanooga, Tenn., Batterson did a lot of designing for country music performers, and a lot of sets for The Nashville Network. He never limited himself to designing theater, since his college professor didn't limit himself.
Prior to heading Orpheum Theatre Group in 2016, Batterson spent 11 years as executive director of the national historic landmark Auditorium Theatre in Chicago. He spent 10 years (1994-2004) at Michigan Opera Theatre in Detroit, serving as that company's chief operating officer. While there, he spearheaded the construction of the Detroit Opera House and was integral in presenting The Three Tenors at Tiger Stadium, which was the highest-grossing concert in America in 1999 with sales exceeding $6 million.
In his first 15-year career as a scenic designer/technical director, he worked at The Guthrie Theatre, Minnesota Opera Company, Chattanooga Theatre Centre, Theatre Midland, Chattanooga Symphony and Opera Association, Chattanooga Ballet, Minnesota Jazz Dance Company, The Nashville Network, and Grand Ole Opry.
On its own and in partnerships with others, the Orpheum in Memphis has been recognized on four occasions with Tonys for co-producing Best Musicals, most recently for The Band's Visit in 2018.
"It was fun. For someone from Davenport, Iowa – because I still think of myself as a monkey boy from Davenport – it was pretty fun stuff to go to the Tonys," Batterson said for the DJT podcast.
He's part of the Independent Presenters Network, which helps produce Broadway shows, and was part of the team for "The Band's Visit."
"I got pictures at the Tony Awards, got to go to the biggest parties for 'The Band's Visit,'" Batterson recalled. Hydorn asked if everyone on the
team actually gets the physical award and he said that's a great question.
"There's a lead producer, lead producing team; they're the ones who get to talk at the microphone, thank their parents," he said. "IPN is a co-producer, and as a co-producer we get two Tony statues." Those go to that lead producer and whichever person invested the most money, Batterson said, noting he didn't get a statuette from "The Band's Visit."
He's also on the Tony voting committee (800 altogether nationwide), after having met certain criteria set by the presenters, the Broadway League and American Theatre Wing.
"The hard part of being a Tony voter and not living in the city is, you have to see everything," Batterson said. "Everybody would love to see every show on Broadway for free, which I get to do, but it's a lot of time and you've got to go to New York a lot and it can interfere with a lot of stuff. There's 400 voters not in New York, so there's a lot of people doing it."
Despite his accomplishments, he's not sure how talented he is at anything.
"I acted through high school and I was probably no better than anybody else at Junior Theatre," Batterson said. "I was a perfectly adequate set designer, but I wasn't going to win a Tony as a set designer. I think what I've learned in time is that my work in Junior Theatre started a very well-rounded knowledge of the performing arts.
"So I think my hidden talent is really not as an artist, even though I still have an artist's sensibility because of how I got into it," he said. "My
talent isn't about making art that way – it's more about helping others achieve their potential, and helping others with more talent than me do all they can do." That's as a facilitator or manager, he noted.
"I'm lucky that I get along with people, that I make friends easily," Batterson said. "I've got a good set of Iowa values and friendliness, and that's served me well. I'm better at this job than I ever was as a set designer. And I also make a lot more money than I would as a set designer."
Everyone in theater except for producers are hired guns, he said. Producers and administrators make money if the show makes money.
"That's my advice for young people – don't be stuck about wanting to be a star," Batterson said. "You can be in the theater and make a living and not be a star."
His favorite thing about DJT is the friendships he made.
"It was a different time," he said, noting he'd walk from Central down to the riverfront club where DJT was then, and walk back up at night to school for rehearsal. "It's stuff you couldn't do now, because you wouldn't want kids wandering around in the dark. We were lucky that way."
"It was about the people, about the fun," Batterson said. He remembers getting his driver's license at 16 and two weeks later, got keys to the truck with a 16-foot trailer to drive the DJT Show Wagon around. "It was craziness. We're all 15, 16, 17 years old."
"The fact that we all still have our fingers, I don't know how it happened, but we did. We had a lot of fun," he said.
When he speaks to students, Batterson says even if you don't pursue a theater-related career, the lessons learned at DJT are still invaluable.
"You're gonna be a better lawyer or a better salesperson – whatever it is, because you're learning to communicate; you're learning to express yourself and you're gaining self-confidence," he said. "And if you do decide to go into the performing arts as a career, you have to work really hard. You have to be dedicated and flexible in your career plans.
"Very few people become a star, and if that's your goal, you're probably setting yourself up for failure," Batterson said. "If you're willing to segue into what I do, or marketing the performing arts, or fundraising for the performing arts, or stage management – a lot of the backstage jobs, the supply and demand for talent is much better ratio for stage managers than for performers."
Another thing he learned at DJT was, "we do theater for our audience," he said. "It's for the people that are there. That means, if you're doing theater in Midland, Texas, you've still got to do the best job you can do, because that's the best work those people are gonna see. Most of those people are never going to see a Broadway show."
Sheridan started shy, at 12
A native of Davenport, Sheridan was a shy kid with a speech impediment. After getting a DJT flyer in the mail, he asked his parents to sign him up and later won a free class when he was 12.
"I found friends and like-minded people, who enjoyed doing and creating something together," he recalled. "We were constantly challenged and put in charge of probably more than we could handle in the theater. That's what I loved in reflection – I really had to learn everything, and finally getting to college and realizing not everybody had the experiences I had."
Sheridan enjoyed overcoming his shyness by performing as another character. "It gave me some freedom to explore the power of my voice and the power of my body," he said. "And eventually come around to using that as a tool as well. And honestly, too, this is why everything at
Junior Theatre ends with a performance in front of people, because that pressure of being in front of people is like the heat that's needed to refine your skills.
"We did plenty of shows that felt like they weren't ready to open," Sheridan said. "It makes you more adaptable."
He was active in speech, debate and theater at St. Ambrose, Davenport (where he was a theater major), doing designing and directing, as well as acting. He got his master's in acting at University of Connecticut, also working in the management office of a professional theater.
"I love being around the theater and the arts, and love seeing it flourish," Sheridan said. "The Junior Theatre thing was all at the right moment, in the progression to come home." He started part-time in August 2008, the year he graduated from UConn, but that ended up really working 80 hours a week.
"We had a small staff of six other part-timers," Sheridan said of that time. Now, he has four other DJT coordinators and in non-Covid times, they have a staff of 15-20 instructors. "It's a big team."
As the program grew and his personal family grew, the organization needed to hire a separate person to focus on the Mainstage, Sheridan said. Since the large $190,000 theater renovation was done in 2017, the Mainstage became an autopilot for him, "but I felt it's not going to keep growing with me right now," he said. "And 12 years leading the theater company, the company could use some fresh ideas. I found myself saying 'no' to a lot of things; that's too hard. A fresh person would say, 'Let's try it.'"
The city pledged $70,000 for the campaign, and the nonprofit had to raise the rest.
"Exceeding that, going up to $190,000 and being able to do even more restoration in the theater, guaranteeing this for longer, was really, really satisfying," Sheridan said. "That's also why I'm interested in continuing to help with development, how else I can continue to contribute. Because I have the unique perspective of having run the organization, having been an alumni, having that experience helps support people really well."
He and his wife Jessica (an outstanding photographer and theater teacher) have two boys, ages 2 (Elliot) and 4 (Charlie).
Jessica has been a DJT director and teacher for over 10 years, just leaving as an instructor last year. "I don't even know how many hundreds of classes she's taught," Daniel said. "Then also, she's directed on the Mainstage six or seven times, and the last production she directed was last year, with 'Wizard of Oz,' in 2020, in February – in the before times."
"We're really lucky that we work together so well," Sheridan said of his wife. "We're very different; I see the structure and organization of a thing, and I can't tell you what she sees – she sees something I don't. And that's great. She really challenges everyone she works with on her design teams. We know we're going to work hard when she's directing a production because she won't let herself be unsatisfied, and that's good and tough."
DJT has had many collaborations with Davenport playwright and composer Aaron Randolph III (another Ambrose alum) over the years, and Sheridan can't wait to work with him again.
"We have a podcast coming up with Aaron, but from 2008 to 2018, there wasn't a season here where Aaron wasn't music directing, sound designing, or composing original music, writing shows, directing productions," he said. "He's one of my favorite collaborative artists and he's so down to earth. You can say anything to him and he doesn't take it personally."
"He and I also have been able to collaborate on work at St. Ambrose University, doing a children's musical there," Sheridan said. "At QC Theatre Workshop, doing stuff like 'A Green River,' developing that. I'm really looking forward to working with him again and hopefully directing again at Junior Theatre. It's been about five years since I've directed."
"I think the happiest place for me is directing and making theater," he said.
Sheridan and Randolph overlapped just a year at SAU, acting in "Macbeth" together.
In 2013-14, for the first time in its history, DJT worked with all local playwrights to produce original adaptations for the season, starting with an adaptation of "Cinderella" by Roger Pavey, Sr. of LeClaire.
Other adaptations for DJT's 62nd season included Randolph's new musical adventure of "20,000 Leagues Under the Sea." Randolph's produced plays include  "Dakota Jones and the Search for Atlantis" (St. Ambrose and Beverly Arts Center, Chicago) and "The Plagiarist" (St. Ambrose).
The final show that season was "Pinocchio" in April 2014, adapted by Sheridan. As a playwright, he has adapted "Alice in Wonderland" (2011) and "Scrooge (2009), and written original work "The Adventures of Aesop" in May 2010″ for DJT.
Sheridan directed the QCTW world premiere of "A Green River" in July 2013, about how a soldier struggles with post-traumatic stress after returning from war. The five-year process of writing was strengthened by Randolph's collaboration with Sheridan and the show's five-person cast – with scenes shaped through improvisation.
"The depth brought to this production by the artists involved is what makes this one of the most dynamic theatrical pieces I've ever been involved with," Sheridan said in 2013. "There have been some heated discussions and disagreements, but they've only made us delve even deeper into this story."
"The script is incredibly engaging and really captures the scope of Erik's life," he said of the lead role. "And in any life, there are moments of great joy and sorrow. I really think the audience will have a full emotional experience, because this play is heartbreaking, funny, scary, honest, dangerous and thrilling."
Sheridan said recently that was best piece of theater he's ever worked on, and the original cast included his wife, Jess (married since 2009), with the protagonist played by Tom Taylor.
"Even that production, there were so many of my older students at that time, who worked on the set, helped me get the lights ready," Sheridan said of DJT kids then. "It was fun to get them into a new theater space."
Plans for new museum
Founded in 1951, DJT is the second oldest children's theatre in America maintaining the mission of "Theatre for Kids, by Kids," founded by Leone Bredbeck and Mary Fluhrer Nighswander.
DJT has given students "the opportunity to learn to speak clearly, confidently and creatively in any social setting," according to its history on davenportjuniortheatre.org.
Originally known as the "Gypsy camp," Junior Theatre first rehearsed and performed in various parks, theatres, and churches. The dream of a permanent home came true in 1976 when the city of Davenport bought the Annie Wittenmyer Complex and designated three cottages and the chapel for the program. Over the next four years, Junior Theatre, Inc. invested approximately $750,000 and countless volunteer hours toward its renovation.
The cottages became offices, technical and rehearsal spaces, while the chapel was converted to Junior Theatre's very own Nighswander Theatre, named for its founder. In this space, Junior Theatre is flourishing, and includes many acting, musical theatre and technical theatre classes, as well as Junior Theatre's Mainstage Acting Company.
The planned museum will be in Cottage 13, on the lower level. Sheridan and AmeriCorps staff have been going through boxes and boxes of photos, articles and memorabilia, as well as finding many articles online, creating a digital database.
The opening room will be a celebration of Showtime Pal, the DJT host and mascot, embodying the energy of Junior Theatre. The next section will be on the traveling Show Wagon, when DJT didn't have a permanent home, showing its ability to persevere. They will have rack of 20 panels, with 40 sides to tell the history of the organization.
There also will be items people can touch, including old scripts and rosters, and one chair each from the old and new theater. "It's been fun; it's not what I thought it was going to be, because of the creative input of the AmeriCorps group," Sheridan said. "The whole AmeriCorps team has been working on the museum as well."
They hope to open it by the end of May, including murals on the walls, with a planned celebration of DJT's 70th anniversary sometime in the summer of 2022.
Gougeon enjoys empowering students
Ben Gougeon first came to DJT in fall 2019 as an instructor, after working many years as a New York-based actor. Previously in Michigan, he was assistant artistic director at the Whole Art Theatre in Kalamazoo, and founder and executive producer of eXit Productions, producing theater around the Midwest and in New York City.
A veteran of stages and screens of all sizes, Gougeon performed all over the U.S. and has been seen and heard around the world in film, TV, commercials and voice-overs, including "The Marvelous Mrs. Maisel," "The Deuce," "Succession," "Law & Order: SVU," and "The Blacklist."
Among his acting highlights have been working with Maggie Gyllenhaal on "The Deuce," and Alex Borstein on "The Marvelous Mrs. Maisel" (season 2, episode 3).
"It was great to be on a show I really respected and enjoyed," Gougeon said of Amazon's "Maisel." "It was fun, then she won an Emmy for the season I worked on. It's like I was a little tiny part of that Emmy. That was really exciting."
Before becoming the new DJT artistic director, he was theater programs coordinator, which he continues to do. While in New York City, he
had the best year career-wise, but "just not finding myself fulfilled by it at all," he said on the new podcast.
Since being at DJT, "It's been great; I've loved it," Gougeon said. "It's such a weird time, where everything is centered around the pandemic – how you're responding to that."
He was on the job five months when it was entirely changed by Covid. "It's been a lot of making adjustments on the fly, and trying to accept – OK, these are the parameters we're working with now. How can we still create experiences for our students that are going to be viable in the world?"
"It's been great having Daniel around to ask, to bounce ideas off of," Gougeon said. "It's been great to be able to lean on his experience and also having Kris Meyer and Zach Meyer here." The Meyers are costume shop coordinator and facilities coordinator, respectively
He said it speaks to the growth of DJT under Sheridan's leadership, that necessitated the need for another person and the jobs of artistic director and performing arts supervisor to be split, held for the first time by different people.
"I feel very honored and humbled to step into those shoes," Gougeon said. "They're big shoes to fill and Daniel's done a great job."
This past year, two tenets he's used to guide DJT is – "Allowing ourselves to be adaptable and flexible and forgiving of ourselves," he said. "Just moving forward and playing the cards you're dealt. And also just trying to lean into what we have. It's very easy to say, we can't do
theater, we can't do the shows the way we want to do them and getting really down about that.
"Rather than trying to approach everything from – I came up with this saying — Zoom is a tool, not a roadblock," Gougeon said. "So leaning into that, and rather than seeing that as all the things we can't do, what are the things we can do? And embracing the medium and the technology, in trying to push the boundaries of what we do with that."
The "Snow White" Zoom show "really ended up being a great experience for everyone," he said. "Obviously, you're coming up with a whole new delivery method of your product. At the end of the day, we're still producing a product, some type of show. It's just on a different medium."
They relied a lot on their families, Gougeon said. For virtual shows, DJT provided kids with green screens, costumes and props, and it was up to families to set everything up correctly. "They had a lot more responsibility in that. We couldn't have done that without them," he said.
"On our end, DJT has been around for so long, there are systems in place and the way things are done, and a lot of those things weren't directly applicable to doing a virtual show," Gougeon said. Instead of measuring for costumes, they had to provide a video and have parents measure their kids at home.
"It's definitely been a learning process, but again just leaning into it and OK, what can we do with these tools?" he said. "I really tried to
impress on everyone – don't think of it like we're producing a play; think about it almost like we're producing a television show. Just everyone's shooting at home. Lots of being flexible and being adaptable."
Gougeon's film and TV experience certainly applied in the Zoom era.
"When a camera is three feet away from you, versus playing to a house of 400 people, it's just a different way to tell a story," he said.
DJT is growing its tech and performance programs, and Gougeon would love to get a secondary space to do smaller-scale productions, like a black-box with smaller cast shows. He also wants to have students create more of their own work.
"That was one thing I was really proud of with 'Snow White 2.Zoom,' we had a student-written play involved; our students were very active in creating a big chunk of the script of that," he said. "Really empowering our students to be creators, more so than just 'here's the play, you're gonna act in it.' But creating theater that is personal to them – whether it's as a writer, director, actor, creator, collaborator."
Gougeon said his favorite part of DJT has been getting to know the kids.
"We have a great team all around, who I really love working with, but getting to see the kids grow and getting to see them make choices that surprise them," he said. "You take a chance on giving a kid a role in a show, and watching them blossom into that role, getting to watch how that gives them confidence – whether that's in performance or socially. Seeing that blossoming of the kids is really exciting."
Alice in Wonderland will be performed in February via Zoom and available via livestream. Tickets for the livestream are $10, available at www.davenportjuniortheatre.org/onlinestore?category=Tickets. Ticket buyers will be sent a unique URL that they can watch from any device.