BREAKING: Omicron Covid Variant Invades Iowa; Iowa Covid Cases 'In Dangerous Zone'
BREAKING NEWS: Iowa covid cases have hit "in a dangerous zone" according to state health officials, as the first case of the omicron variant has been identified in the state, and infections, deaths and hospitalizations skyrocket.
The Iowa Department of Public Health tweeted out today that the first case of the omicron variant has been detected in a child under 18 who lives in Black Hawk County, which includes Cedar Rapids and surrounding areas. The person was unvaccinated and was exposed to the new variant through travel.
Black Hawk County health officials will continue to monitor the individual's health.
The omicron variant has already been identified in at least 22 other states, including neighboring Illinois, Missouri and Nebraska.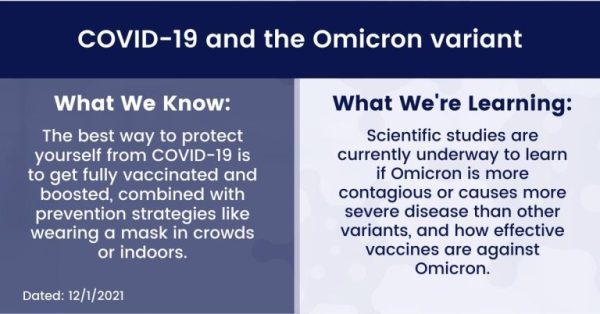 Iowa's covid-19 numbers for infections, hospitalizations and deaths are at their highest in over a year, as the omicron variant has broken out in surrounding states, prompting many officials in Iowa to call for a statewide mask mandate and other restrictions.
The latest data from the Iowa Department of Public Health shows COVID-19 case numbers and the death toll are accelerating, with 7,550 people dead from covid in Iowa since early 220, 777 people currently hospitalized, 185 people in intensive care, and a statewide average positivity rate of a whopping 12 percent over the last two weeks.
Those numbers are the highest in Iowa since mid-December 2020 — echoing Illinois' latest data showing that neighboring state is also hitting its highest numbers in a year.
Much like Illinois, the numbers are being driven by the unvaccinated.
Of the COVID-19 patients in the hospital, 84.3 percent are unvaccinated, according to the most recent data from the Iowa Department of Public Health. All patients ages 30-39 in the hospital are unvaccinated, and those under 50 93 percent in the hospital are unvaccinated.
The IDPH says 69.4% of Iowans 18 and older have been fully vaccinated.
Children under 18 make up over 20 percent of the positive case results of the past week, reflecting a growing trend in Iowa of some officials calling for a return to a statewide mask mandate, particularly in schools. However, many Iowans and government officials, as well as many school districts, are very much against any mask mandates returning.
Iowa City schools are debating whether or not to continue to implement a mask mandate, Ankeny school board voted to end the current mask mandate on Wednesday despite the soaring numbers, and the Waukee school board discussed mask mandates, remote learning and other options in lieu of the covid spread.
A case going through federal court now showcases the statewide battle, as lawyers from both sides of the mask issue presented their cases to federal judges over an Iowa law banning mask mandates in schools, championed by Gov. Kim Reynolds.
Gov. Reynolds signed the bill into law in May, and was promptly sued by the ACLU, beginning a battle that has been running since then, over whether or not state schools and other institutions can make their own decisions regarding mask usage and other covid mitigations, regardless of federal and state laws. The state appealed the temporary injunction of Iowa's mask mandate ban, and Gov. Reynolds filed an appeal. Federal judges are still considering the case.
Numbers from the Iowa Department of Public Health show a negative trend for the state, demonstrating that it's headed to higher numbers of COVID-19 positivity as the winter months begin, based upon numbers from last fall and winter.
In neighboring Illinois, there are likewise cases slamming the state, the new omicron variant spreading, and talk of more restrictions on the way including requiring proof of vaccinations to enter certain public spaces and workplaces.
The omicron covid variant has infected at least one person in Chicago, prompting fears of a wide spread in the third-largest city in the United States. The Chicagoan infected by the omicron variant was both fully vaccinated with two shots and had gotten their third booster dose. They were tested at the hospital and dinged positive but did not require hospitalization and are recovering at home. It's not known when they were infected or how many others they might have infected before they began showing symptoms and were tested. In addition, several other Chicagoans have been tested and some suspect that many others may pop positive for the omicron variant in the next few days. A doctor who discovered the variant in Chicago said it's an ominous sign.
"A sample that had been submitted to the Regional Innovative Public Health Lab was suspicious for Omicron," said Dr. Mary Hayden with Rush University Medical Center. "Omicron has many mutations that the other circulating variants don't have and because it's distinctive in that way, we could very quickly identify it as Omicron."
"We have moved into very high transmission," said Dr. Allison Arwady, Chicago Department of Public Health Commissioner. "While unsurprising, this news should remind Chicagoans of the ongoing threat from COVID-19, especially as families prepare to come together over the holidays."
For ongoing coverage of this situation, continue to follow QuadCities.com.