Alternating Currents Expands Beyond Downtown Davenport for Lots of Fun, Free Entertainment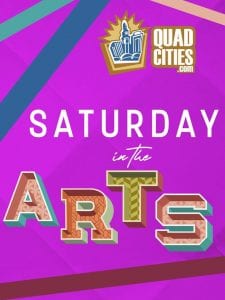 Saturday in the Arts is a weekly feature covering a trend, subject, event or personality of local interest. It runs every Saturday morning on your site for the best entertainment and arts coverage in the area, QuadCities.com!
After a relentlessly punishing pandemic of 17 months (and counting) that's attacked our bodies, souls and bank accounts, what could be better than four days and nights of free fun, on both sides of the mighty Mississippi?
For the first time since it launched in August 2017, Alternating Currents is expanding in a big way beyond its downtown Davenport roots for 100-plus events (music, film, comedy and more) Thursday, Aug. 19 through Sunday, Aug. 22, at 24 downtown Davenport venues, seven in downtown Rock Island, and one in
downtown Moline. Did I mention it's all freaking FREE??
The Downtown Davenport Partnership is hosting this festival for a variety of reasons – "it gives us a chance to highlight our incredible cultural scene while also building up the local businesses that make our downtown unique. We're big fans of the Quad Cities; we couldn't think of a better way showcase this amazing gem on the Mississippi River to the world," says the fest website, https://www.alternatingcurrentsqc.com/.
The downtown Davenport venues this year are:
EICC Urban Campus
Figge Art Museum John Deere Auditorium
Front Street Brewery Pub and Eatery (208 E. River Drive)
Front Street Brewery Taproom (421 W. River Dr.)
Kilkenny's Pub
Mac's Tavern
Crafty Cat Indie Fest at RiverCenter
River Music Experience Courtyard
Ruby's
UP Skybar at The Current Hotel
Lopiez
Raccoon Motel
Kaiserslautern Square
City Church
Stompbox Brewing
Downtown Davenport Library
Mockingbird on Main
Devon's Complaint Department
Ragged Records
​
Downtown Rock Island venues are: Rozz Tox, Holiday Inn Rock Island, Rock Island Brewing Company, The Circa '21 Speakeasy, Quad City Arts, The Spot, and the sole downtown Moline venue is Bass Street Landing.
"Basically, you're going to be bouncing around checking out cool stuff while grabbing food and drinks along the way," the AC site says. "Roam. Wander. Check out a show for 15 minutes, then check out one you love for an hour. It all makes sense once you experience it. So make it your own, and check out a little bit of everything on our artistic buffet."
The Alternating Currents App is the best tool to find out what is happening at the festival and will provide real-time notifications to changes in schedules and locations! You can find the full festival map on the App. Click here to download the App.
​The event is all-ages; HOWEVER, some venues are 21+, particularly in the evening.  Each venue's age restrictions are the same as their typical rules on any normal day. "We will have kids programming in the River Music Experience Courtyard. Some movies (and many concerts) are a good fit as well, but be sure to read up on our website before you bring your kiddo to a particular movie, or gig," the site says.
​
Downtown Davenport has three perfectly located parking ramps with cheap parking costs, and street parking is FREE!  The RiverCenter/MidAmerican ramp can be entered off 3rd or 2nd Street. The Redstone Ramp is just behind the River Music Experience off Main Street, and the Harrison St. ramp is (you guessed it) just off of Harrison Street. Parking in the ramps is pay before you play similar to a parking meter. All three ramps have kiosks on the main floor of the ramp. Click here for more parking info and ramp locations.
Alternating Currents has hosted occasional things outside Davenport before, but nothing at this level, Downtown Davenport Partnership events director (and AC guru) Jason Gilliland said recently. It also makes it easier this year, with new Quad Cities Chamber downtown Rock Island director, Jack Cullen, to grow in that downtown. In the future, AC hopes to expand to Bettendorf and Moline, which also have dedicated downtown staff.
"It comes down to funding," Gilliland said. "Trying to find the funds to do this is always a challenge, and where you apply them."
Making AC free for everyone requires strong sponsorships. In the past, the festival has had some big shows that required tickets (like at the Adler Theatre, Redstone Room and former Dayrotter). In 2020, the festival was going to be all free, and decided against doing an Adler show because there's already so much content, they didn't need it, Gilliland said.
"It's a lot bigger expense and risk to have a show at the Adler, and what we found was, we were kind of competing against ourselves," he said. "People were deciding – do I want to be at the Adler for two or three hours and spend this money, or do I want to out with my friends just walking around downtown?"
This year's fest is mostly funded through the major sponsors Regional Development Authority and Green State Credit Union. Other sponsors include KWQC-TV, MidAmerican Energy, Planet 93.9 FM, Bud Light, and Humanities Iowa.
"We're able to put most of our funding this event to the talent and marketing, and those kinds of things – whereas when we do a big outdoor event, some people say, bring back River Roots," Gilliland said of the old music fest (River Roots Live) that was held in LeClaire Park and other downtown locations over the years. "I have as much or more cost for my talent for that, plus I have to build a small city. We're putting up multiple stages, security, fencing, tents, all of those things. So this is easier for us financially to do, because we're using existing spaces.
"The other big thing too is, it helps our mission way more than River Roots did," he said. "River Roots Live would bring people to LeClaire Park, which was great. But Alternating Currents brings people to the downtown, multiple places." RRL ran for 12 years, through 2016 and AC began in 2017.
In addition to the new Raccoon Motel, another new downtown Davenport space for AC will be the empty lot east of Lopiez Pizza, for their second-anniversary party Aug. 20-21, as well as Stompbox Brewing and Kaiserslautern Square (across from the Adler Theatre). Since the Redstone Room at River Music Experience hasn't reopened yet, there will be concerts in the RME Courtyard.
The renovated Kaiserslautern Square, next to Duck City Bistro, is 99 percent completed, Gilliland said, noting it was planned ideally to be ready by Alternating Currents. "This project started before the pandemic, so I don't know what the original deadline was," he said. One of the music events there will be Lewis Knudsen on Aug. 21 at 6 p.m.
There are many outdoor venues for AC, more than ever before, Gilliland said. "That was by design, honestly before Covid," he said. "This is working in our favor for sure. What we found the first couple years, when Alternating Currents was going on, if you just happened to come downtown Saturday night, you might go into one of the venues by accident."
"It wasn't obvious there was a festival going on," he said. "We want people, when they're walking around downtown, to be looking at and hearing all these things. Just to get a little more of a festival feel."
Regarding Covid, DDP is following CDC guidelines as far as the festival – recommending people wear masks indoors (whether vaccinated or not).
"We don't control the venues," Gilliland said. "What we are doing, we are creating a list of the venues on the website, with their individual Covid protocols. So if you have a concern one way or the other about a venue, you can go to the website and see, these guys are requiring masks and these guys aren't at all. People can educate themselves before they attend."
The only indoor venues for AC requiring patrons wear masks are Mockingbird on Main (320 Main St., Davenport), the Holiday Inn Rock Island (226 17th St.), and The Spot (1611 2nd Ave., Rock Island).
Of the music performers, about a third are from the region, and comedians are more local, Gilliland said. "What I love about this event is, I get to celebrate local music. We get to celebrate original music, and I tell people this is a great event to find your next favorite band you didn't know existed. We don't have a lot of acts on here that are household names. I like that, because we have some great stuff.
"This is what Sean Moeller has been doing for years," he said of the prominent Q-C concert booker. This year, there are more nationally touring artists than AC has had in the past."
"Part of that is, a lot of these bands are just getting back on the road. They're hungry, they want to work," he said. "We announced we were having it and I had agents just hitting me up. It worked out really well for this." Touring-wise, it helps the Summer Camp music fest is the same weekend, in Chillicothe, Ill. (about 100 miles from the Q-C), Gilliland said.
Bands need to make money, after not touring for so long, he noted. "Everybody wants to get their name back out there and start working," he said.
DDP has expanded its partnership with Quad City Arts this year, leading the way for the colorful Squonk and Silent Disco events.
For the Silent Disco in the Davenport Skybridge (9 p.m. to 11 p.m. Friday and Saturday), there will be two live DJs and Planet 93.9 (the radio sponsor) playing music for the headsets, where each person can choose a channel. "It's kind of funny – you'll have people dancing to three different things," Gilliland said. "I just wanted to do a big rave in there and Quad City Arts came to us and said we've got this silent disco; do you have a place we could do it? The skybridge is perfect, with the lights."
One of the reasons he loves the festival is the return of the punk band Radkey (Saturday at 9:15 p.m.), which Lopiez brought in for the 2019 fest.
"They're currently on tour, opening for the Foo Fighters," Gilliland said. "They're moving up the ladder fast. This is one of those people will
say, 'I remember when I saw those guys at 'Alternating Currents.'"
"People are ready to be out; we've seen that at a lot of different shows that have been happening," he said. "Free is always good, we enjoy that. And I think, with some of the concerns people have with Covid, because we have so many outdoor spaces, people can still come and be part of this event and still feel comfortable, because we have options for them."
The Squonk "Hand to Hand" show (featuring giant purple hands) will be at Davenport's Main Street Landing Friday, Aug. 20 at 2 p.m. and 6 p.m. and Saturday, Aug. 21 at 10 a.m. and 2 p.m.
Quad City Arts wanted to do "something that's big and delightfully weird," executive director Kevin Maynard said recently. Squonk fits everything they wanted – "it's different, it involves music, involves the visual arts as well, it'll draw attention," he said. "When we were thinking about when and where do we do something like Squonk, Alternating Currents was a natural fit. They're designed to be outdoors."
"We wanted a spot visible from River Dive, also fit some space requirements we needed," Maynard said, noting he and Gilliland agreed on the Main Street Landing area, and the display will "make some cool visuals from the Skybridge," he said.
Squonk develops work "that attacks and celebrates the idiosyncrasies of our world," according to squonk.org, noting they've toured on three continents and 35 of the United States, for over 1 million people live. "We strive to create work that is accessible and transformative," their bio says.
"The Buffalo News hailed us as 'Rust Belt dada' and the Washington Post described us as 'Debussy meets Godzilla,' although we suspect that last one may have been an insult," their site says. "Often overblown, site-specific and participatory, our work was born from Middle America, places where people like their art boisterous and their food greasy. We created work too ambiguous for pop culture, and too easily appreciated for fashionistas to flaunt their sophistications."
Quad City Arts offered "silent disco" once before, at the 2019 Festival of Trees, during one of the RiverCenter special events. The headsets each light up, displaying colors depending on the audio channel chosen.
"It will create some really cool visuals from River Drive as well," Maynard said. "Dancing around in the skybridge, there will be three DJs, headsets with different colors. You can toggle between three DJs, decide what they want to listen to…If you see somebody in a red headset, the cool thing at this event, you see people really into one song, you can flip it over and check it out."
"Again, we felt that Silent Disco is a natural fit for Alternating Currents," he added.
Expanding in Rock Island
Growing the cool AC across the river to hot downtown Rock Island, made perfect sense to Jack Cullen, new Downtown Rock Island director (since April), through the Quad Cities Chamber.
"I'm really excited about the Alternating Currents programming, and getting it into downtown Rock Island for the first time," he said
recently. "The whole plan was eventually to expand beyond downtown Davenport, and it's happened organically, he said.
"We made an effort to make sure we have some programs in downtown Rock Island," Cullen said. "What I am most excited about, was putting together final details on the first event, to kick off the festival." That will be at 3:45 p.m. on Aug. 19, at a location to be announced, for the unveiling of an award-winning design by Rock Island High junior Riley Jones and her "Black Pride."
This past May, Riley (as a sophomore) won first place in the Congressional Art Competition for Illinois' 17th Congressional District, chosen by the public on behalf of U.S. Rep. Cheri Bustos (D-Moline), and her painting "Black Pride" will be displayed in the United States Capitol. The Congressional Art Competition is a nationwide high-school art contest sponsored by the U.S. House of Representatives.
One winning piece of artwork is selected from each House district and will be displayed in the Cannon Tunnel of the U.S. Capitol building in Washington for the next year.
"If it's good enough to be at the U.S. Capitol, it's good enough for a mural in downtown Rock Island," Cullen said, noting the new mural
unveiling is the first of eight events in Rock Island Thursday. The rest are:
𝐆𝐫𝐚𝐧𝐝 𝐎𝐩𝐞𝐧𝐢𝐧𝐠 𝐨𝐟 𝐓𝐡𝐞 𝐒𝐩𝐨𝐭 𝐟𝐞𝐚𝐭. 𝐀𝐌𝐈 𝐚𝐧𝐝 𝐦𝐨𝐫𝐞: 5-7 p.m. at The Spot, 1611 2nd Ave.
𝐌𝐞𝐞𝐭 𝐚𝐧𝐝 𝐆𝐫𝐞𝐞𝐭 𝐰𝐢𝐭𝐡 𝐈L 𝐅𝐢𝐥𝐦 𝐎𝐟𝐟𝐢𝐜𝐞/𝐂𝐡𝐢𝐜𝐚𝐠𝐨 𝐌𝐞𝐝𝐢𝐚 𝐀𝐧𝐠𝐞𝐥𝐬: 5-7 p.m. at Holiday Inn Rock Island – Quad Cities, 226 17th St.
𝐒𝐪𝐮𝐨𝐧𝐤 𝐌𝐞𝐞𝐭 𝐚𝐧𝐝 𝐆𝐫𝐞𝐞𝐭 | 𝐆𝐚𝐥𝐥𝐞𝐫𝐲 𝐎𝐩𝐞𝐧𝐢𝐧𝐠: 6:30-8:30 p.m. at Quad City Arts, 1715 2nd Ave.
𝐓𝐇𝐄 𝐀𝐓𝐋𝐀𝐒 𝐑𝐞𝐥𝐞𝐚𝐬𝐞 𝐏𝐚𝐫𝐭𝐲 + 𝐑𝐞𝐚𝐝𝐢𝐧𝐠𝐬 +𝐃𝐉 𝐬𝐞𝐭: 6:30-11:45 p.m. at Rozz-Tox, 2108 3rd Ave.
𝐒𝐮𝐛𝐚𝐭𝐥𝐚𝐧𝐭𝐢𝐜: 8-9 p.m. at Daiquiri Factory, 1809 2nd Ave.
𝐁𝐞𝐬𝐭 𝐨𝐟 𝐭𝐡𝐞 𝐒𝐩𝐞𝐚𝐤𝐞𝐚𝐬𝐲 𝐁𝐮𝐫𝐥𝐞𝐬𝐪𝐮𝐞 & 𝐂𝐨𝐦𝐞𝐝𝐲 𝐒𝐡𝐨𝐰: 8-10 p.m. at The Circa '21 Speakeasy, 1818 3rd Ave.
𝐂𝐨𝐧𝐝𝐨𝐫 & 𝐉𝐚𝐲𝐛𝐢𝐫𝐝: 8:30-10 p.m. at Rock Island Brewing Co. (RIBCO), 1815 2nd Ave.
"This is a great opportunity to celebrate a local young artist, to blow up this image that's going to be displayed at the Capitol," said Maynard of Q-C Arts, who coordinated the new mural. Two great artists from Des Moines and Iowa City have worked with Riley to create the spray-painted mural, unusual for the Q-C area. "It's cool to be able to learn that skill, with artists who have been creating murals," he said.
Cullen also loves the fact that the idea of Alternating Currents is freedom for people to pick and choose their own experiences, from a stunning smorgasbord of options.
"You have the opportunity to build your own schedule. What we're going to have Thursday night in downtown Rock Island, we're going to have pedicabs for the first time, free rides," he said of two pedicabs that can fit six people each. "They'll be out in the street, and they will give
complimentary rides to festivalgoers, take them from venue to venue. It's exciting we'll have that option for folks this year."
The vision is to continue to expand AC throughout the QC in future years, Cullen said.
"When I got into this position, there was the opportunity to program some Alternating Currents events in downtown Rock Island and I, I jumped on it," he said. "Each of the downtowns in our cities has a unique vibe, character. If we can provide different experiences in each of our communities, downtowns, it's great for the festival, for the Quad-Cities, from a tourism standpoint. It's providing experiences, and Alternating Currents is different from other festivals in the Quad-Cities."
Just as importantly, being a free fest encourages patrons to get to places they may not have visited before, and make them regulars in the future.
"Hopefully, as people go out, they're encouraged to support those businesses for helping host the event," Cullen said. "And then they'll come back and patronize those places."
 Collaborating with RME and other artists
Tyson Danner, executive director of River Music Experience, said most AC events in prior years have just been in the Redstone Room, but since the second-floor venue at 2nd and Main hasn't reopened yet (until early September), the courtyard makes most sense, featuring seven
shows over two days (including one inside on the first floor).
"Alternating Currents is so much about getting people out and about, and the courtyard is a more visible space, so we can draw people in a lot easier," Danner said. They'll feature local artists like Charlotte Boyer and QC Vinyl (students from the Kidstock program) and also regional bands, like Chicago Farmer, Joe Marcinek, who are local favorites.
"It's great – we try to do free or really low-cost shows all the time. We have that opportunity because we're a nonprofit. Downtown Davenport Partnership, with so many other locations, it's really unusual and it's fantastic," Danner said of the fest.
Aug. 20 is a regular Live@Five Friday, which has provided free music all summer on the courtyard each week, but this time it will be super-sized, Danner said. To start, at 5 p.m., local country star Angela Meyer will perform on stage inside the new Zeke's Island Café at RME, and
outside will be Chicago Farmer from 6 p.m. to 7:30 p.m., then Joe Marcinek from 9 p.m. to 10:30 p.m. Live@Five typically ends at 7.
Chef Stu, owner of Zeke's, wanted to open the RME location in part because he could host live music, Danner said. "Our stage gas a great history of having music there, back to Mojo's," he said. "He is really interested, the stage is still there, and we look forward to  collaborating on more music on that stage. It's a great stage for younger artists, younger bands, solo/duo. The Redstone Room is too big for that kind of thing."
Josh Graves, owner of The Underground Economy at RME, will offer a preview of his long-term QC Collabs project on Saturday, Aug. 21 at 7 p.m. in the RME courtyard. They are now finalizing the first steps of the pre-production stage of the project — creating, selecting, and refining the beats or instrumental production that will be the foundation of this project and that will provide the music to which to write the songs.
QC Collabs is pairing producers in the area with other artists and producers who don't often get the opportunity to collaborate.
"Part of the reason to have this project is to reach to more than people I am directly working with," Graves said recently. "The biggest thing for me on this project, is to out this artist with this producer, and this artist with another artist, who have never really worked together before."
He wanted to match people who he thought would sound great together and ask them to collaborate. "It's really exciting to work on this project," Graves said. "It's definitely become more than I anticipated."
He got a $1,500 grant from Quad City Arts for the project, which started this spring and for which many people are being paid and many have donated their time.
Participants in QC Collabs are:
Alicia Whitfield — Known as "BN WhoIAm," she is a singer, songwriter, and producer who lives in Davenport. She'll be performing at Alternating Currents and will be contributing her pre-production, songwriting, and her singer skills to this collaborative project. Whitfield and her partner, Crealot, have recently started their own production company, The Vibe Factory.
Crealot — a drummer, musician, hip-hop artist and producer who recently released a new EP entitled "The Human Experience." He will be playing drums at Alternating Currents with her & QC Collabs as well.
Devin Martel — also known as "Big Man G," is a lyricist and hip-hop artist out of East Moline. He recently has been receiving a good amount of attention for his video series, "Car Chronicles." Each video Big Man selects an iconic Quad-Cities location.
Alyx Rush — a songwriter and vocalist who will be providing vocals on this project. He has a very modern R&B and pop-influenced sound.
Caleb Hasselman – known as "Playhouse Beats," is a producer, musician, and audio engineer who has worked with Josh Graves of Underground Economy for over four years. He will be assisting with production, engineering, and will be playing guitar at Alternating Currents during our QC Collabs set.
Marque Williams — known as "Y.Keyce," is a QC producer and artist who will contribute to the QC Collabs project. Y.Keyce creates instrumentals and writes music, and will perform at AC as well.
Hunter Williams — known as "Young Scrimmage," is a producer out of East Moline who works at E$ Studios and will be creating instrumental production for the project.
Wes Julien — a Rock Island musician and producer who works with E$ Studios in East Moline when he isn't traveling and gigging as a drummer all around the Midwest and U.S.
Shawnta Gary — known as "Tay2k," is a hip-hop producer who has many production credits with upcoming artists and will be creating instrumentals and providing production assistance on the project.
Tone Da Boss — a DJ, artist/rapper, manager, and owner of T1 Entertainment, out of Cedar Rapids, who will be songwriting and featuring on the QC Collabs project.
Tevin Jones — a singer under T1 Entertainment, who will be a featured vocalist on the QC Collabs project and will be performing at Alternating Currents.
Nathan Hawley – known as "Nate Sol" is an artist, producer and engineer from Davenport, who has worked with Josh Graves of Underground Economy for over five years will be contributing to the project as an artist.
Brian Fanning — known as "FVNTVNV," is a producer from East Moline who works out of E$ Studios and will be providing production assistance by providing instrumentals.
Jorge Rangel — videographer and owner of "hunndredshotsfilms," will be providing video and photo assistance on the QC Collabs project for promotional content, behind the scenes and he will be capturing footage during Alternating Currents.
Cinematographer Juan Gomez & director Robert Miley Jr. – they own Young Creatives, a video production company out of Cedar Rapids, who will assist with music videos and video content. Miley is also an artist known as "Riley Mobz" and will be featured on the collaborative project as well.
They recently began working on songwriting the choruses to select instrumentals featuring artists Alyx Rush, Riley Mobz, and Tevin Jones with more artists to be added. Over the next couple of months, the QC Collabs goal is to finalize the songwriting portions of the project by scheduling studio sessions that pair specific artists and producers.
Then they move on to the editing/post-production stages, which will refine, mix and master and finalize the project, Graves said. Photo and video production, such as music videos and other marketing content, will be planned and scheduled as songs are created and finalized. The release for the project is planned for early next year.
"You're creating music with someone you've never created music with before is a whole new environment," Graves said. "It's been really fun to see everybody come together to create, to see that first moment – where, I like this song."
"Another part of this project is we want to show other aspiring artists and creatives and entrepreneurs in the area, what to do to put a project
together, what to do if they're searching for more tips on how to build their business," he said.
The finished product will be called "QC Collabs Crossover," reflecting the crossover of musical genres, as well as crossover in partnering across the river, with people from all over, Graves said.
"I just really wanted to show, we are local but we can compete and be as relevant as mainstream music," he said. "The QC Collabs project is a platform to promote local musicians. Obviously, we want to create good music and we're in the process of that, but I want to show who's on it first."
"Overall, my goal is to just promote more professionalism in some of the underserved genres in the community, so we can be taken more seriously professionally," Graves said. "I think there's a lot of need for professional services that'll directly improve the quality of life for our residents. I think part of bringing more people here is growing our arts scene here, and making our arts scene more into an art industry, and that's crucial to develop our city."
A sprawling festival is HUGE
AC is also perfectly timed, since the new Raccoon Motel (315 E. 2nd St., Davenport) has been open just two weeks so far, under the direction of concert booker Sean Moeller, a co-founder and longtime leader of Daytrotter.
"Having one of these roaming, sprawling downtown festivals is a big deal. The more people that can be included in it, the better," he said recently.
"The more places, artists, things we can do to showcase everything downtown Davenport has been working on the last 15 years is a big deal. The explosion of new businesses, new housing, the revitalizations after the flood, the resiliency of downtown Davenport is going to be on display with this festival. Everybody banding together — especially with the last year and a half we've had, everything we're constantly going through with this disease, this is a big deal. I hope a lot of people take advantage of it, come out and see it, get back to seeing live music. It really is the lifeblood of any vital city.
"Anyone will tell you the infrastructure of business, commerce and the liveliness of a liveliness of a town is based on music," Moeller said. "If a town doesn't have a music scene, then the town doesn't have a heartbeat. This town and the Quad-Cities has one of the best heartbeats in America.
For the first weeks the new Raccoon has been open, he's seen a lot of new faces, and he hopes AC continues that trend.
"I hope we see a ton more of new faces," Moeller said. "Great bands are coming into these doors. For any year I book for Alternating Currents, I do treat it like a South by Southwest situation. That's the core of what this festival is supposed to be about – discovering,  finding new voices coming in and exploring on their own. I put together a long list of people I think have a lot of potential, want to get in for the first time. Of the eight artists coming through over those three days, I couldn't be more excited to see all eight of them. There's only one I have worked with in the past, and they're all people that have
been on my radar for the last year, and I've been waiting for the chance to bring them to town."
He noted Joshua Speers – who's flying in from Los Angeles just to do this show Thursday night – "is going to be an absolute superstar. To see him in a 175-cap room is pretty exciting," Moeller said. Opening that night is 2010 "American Idol" winner Lee DeWyze, at 7 p.m.
Growing beyond Davenport is "obviously the next step" for AC, he said. "Once we kind of experience this the first time, you're just going to get lot more municipalities interested. What the beauty of what this festival is, it's not heavy-handed in what it's wanting to be portrayed. Everyone can put their own imprint on it. I think the Hispanic communities in the Quad-Cities need to launch in, just bring their different tones to it, ways that you can have your own neighborhood putting their own spin on what this is.
"That to me is going to make this most exciting, rather than a one-size-fits-all," Moeller said, noting Moline's Mercado on Fifth should get involved. "With Mercado, it would be cool to see what they can do, expand on what AC is, and The Spot in Rock Island. I'd love to have next year, maybe focus on bringing more R & B and hip-hop."
Lopiez Pizza also marks 2nd anniversary
In addition to the staggering variety of music (including a reunion of the great Q-C pop band Einstein's Sister Saturday night at Stompbox and Mac's), film and comedy throughout the weekend, AC also will include the second anniversary party of the beloved Lopiez Pizza, which started downtown at 429 E. 3rd St., Davenport, and has grown to 2832 Brady St., 1405 5th Ave., Moline, and a traveling food truck.
With live music starting 6 p.m. Friday and 5:15 p.m., you can come to the Lopiez downtown Davenport spot, and celebrate the festivities (with food and vendors), including entertainment:
20 — The Druids, Pit Lord, Road Soda, Matt Nicke (Side Show), and a drag show.
21 — Horse Burner, In The Whale, Radkey, and SCW Wrestling.
For a complete Alternating Currents schedule, visit https://www.alternatingcurrentsqc.com/.