BREAKING: Iowa Covid Numbers Skyrocket To Highest In A Year; Could Mask Mandates Return?
BREAKING NEWS: Iowa covid-19 cases are skyrocketing, hitting their highest numbers in over a year, prompting some to call for a return to restrictions including a statewide mask mandate.
According to the website coronavirus.iowa.gov, there were 9,362 new COVID-19 cases over the past week, an average of 1,337 new cases per day, bringing the state's total number of cases to 528,221.
Over the last 24 hours, there were 125 patients hospitalized in Iowa, for a statewide total of 721 (up from 623 last week), and 172 are in the ICU (up from 146 last week), and 67 are on ventilators (up from 57 last week).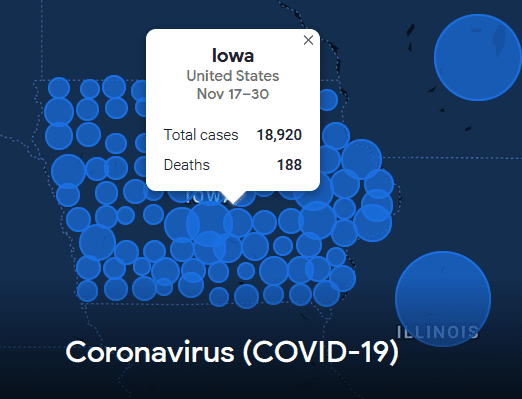 The state has confirmed 91 new deaths from COVID-19 over the past week, with a death toll of 7,445.
Those numbers are the highest in Iowa since mid-December 2020 — echoing Illinois' latest data showing that neighboring state is also hitting its highest numbers in a year.
On top of that, the first Midwest case of the omicron COVID variant has been confirmed in Minnesota, the state's health department confirmed Thursday. The first case in the United States, in San Francisco was just confirmed two days ago. Dr. Anthony Fauci told reporters at the White House on Wednesday. The person was a traveler who returned from South Africa on Nov. 22 and tested positive on Nov. 29.
Much like Illinois, the Iowa numbers are driven by the unvaccinated, as those who haven't had the vaccine account for 75.7% of COVID-19 hospitalizations in the state, and 77.9% of COVID-19 patients in the ICU.
Children under 18 make up over 20 percent of the positive case results of the past week, reflecting a growing trend in Iowa of some officials calling for a return to a statewide mask mandate, particularly in schools. However, many Iowans and government officials, as well as many school districts, are very much against any mask mandates returning.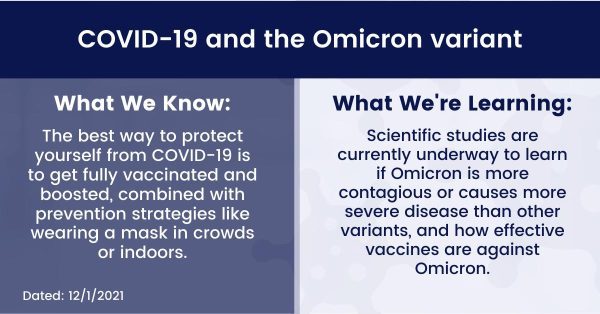 A case going through federal court now showcases the statewide battle, as last week, lawyers from both sides of the mask issue presented their cases to federal judges over an Iowa law banning mask mandates in schools, championed by Gov. Kim Reynolds.
Gov. Reynolds signed the bill into law in May, and was promptly sued by the ACLU, beginning a battle that has been running since then, over whether or not state schools and other institutions can make their own decisions regarding mask usage and other covid mitigations, regardless of federal and state laws. The state appealed the temporary injunction of Iowa's mask mandate ban, and Gov. Reynolds filed an appeal. Federal judges are still considering the case.
Numbers from the Iowa Department of Public Health show a negative trend for the state, demonstrating that it's headed to higher numbers of COVID-19 positivity as the winter months begin, based upon numbers from last fall and winter.
In November and December 2020, Iowa had a massive surge in covid cases, causing Gov. Kim Reynolds to shut down the state and implement mask mandates. However, she rescinded those mandates in spring of 2021, after covid numbers declined statewide.
The current legal battle over schools' mask mandates echos other legal battles around Gov. Reynolds' decisions surrounding covid restrictions.
Iowa Gov. Kim Reynolds recently signed a law protecting workers from having to comply with covid mandates at the office if they have religious or other exemptions to them.
Reynolds signed the bill that would allow employees to escape employer covid mandates, including vaccination mandates, and allow greater use of medical and religious exemptions for people to refuse covid restrictions. The governor's law is in defiance of some federal mitigations and contrary to laws in other states, such as Illinois, that say employers have the right to fire employees who are not compliant to their regulations regarding covid.
Illinois Gov. JB Pritzker signed into law an amendment to the Illinois Health Care Right of Conscience Act allowing employers to penalize employees if they refuse to follow workplace rules about covid, including mandatory vaccinations, testing, and other mandates.
For ongoing coverage of this situation, continue to follow QuadCities.com.