Tomfoolery At Tremont, Theater At Playcrafters, Virtual Concerts And More In This Week's FUN10
It's Sunday, and QuadCities.com proudly presents Fun10, a list of the top 10 things to do in the Quad Cities this week, and every week!
Every Sunday, we drop a new Fun10, to give you a head start on your week and a heads up on what's going on over the coming seven days. Check out Fun10 every Sunday for the details on ten awesome events happening around town. It's a cool read, and a great way to get started planning your entertainment for the week.
FUN10 — ten ways for you to have fun in the Quad-Cities, this week and every week, running every Sunday, only on your site for fun, free, local entertainment, QuadCities.com!
So what's on the Fun10 for this week? Read on …
Jeanie Doogan Coming To Tremont Tonight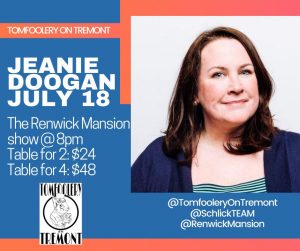 Tomfoolery On Tremont is presenting JEANIE DOOGAN at 8 p.m. TONIGHT, July 18!
A table for 2 is $24; a table for 4 is $48.
Jeanie Doogan has entertained audiences at colleges, casinos, and corporate events, and is a regular at venues such as Zanies Comedy Clubs, The Laugh Factory, and The Comedy Bar. She was highlighted in Chicago Parents' Magazine's Four of Chicago's Funniest: Stand Up Parents, and was featured on Nick Jr.'s Moms' Night Out debut stand up special.
Jeanie has set herself apart with her quick observations and no-apology take on teaching, parenthood, and American culture. Her sharp wit draws on her experiences growing up on the South side of Chicago and 20 years as a public school teacher to deliver comedy that reaches audiences of all walks of life
Genesius Guild Presents Euripides' "Hippolytus"
The Genesius Guild will close the 2021 season by going back to their roots with a Greek tragedy. Euripides' Hippolytus will be staged July 18, 24, and 25. All performances begin at 7:00 PM and will be held at the Don Wooten Stage in Lincoln Park, Rock Island. Admission is free.
This performance continues a longstanding tradition. The Genesius Guild's first performance in Lincoln Park was Antigone by Sophocles, and the group has continued to perform a Greek tragedy, in mask, each season. Genesius Guild is the only theater in the United States to make Greek tragedy in mask an annual occurrence.
Hippolytus tells the story of the show's namesake, the son of Theseus (the Athenian king of mythological fame) and Hippolyte, the queen of the Amazons. Hippolytus inadvertently angers Aphrodite, the Greek goddess of love, and Aphrodite's resulting wrath tears apart his family. The tragic story shows the dangers of jealousy and demonstrates how leaping to conclusions and giving into personal blind spots can have devastating results.
The Genesius Guild is a community theatre organization located in the Quad Cities specializing in free classical drama. Founded in 1956, the group performs Greek drama, Greek comedy, the works of Shakespeare, and other classical authors every weekend throughout the summer.
For more information, please visit www.genesius.org
Bettendorf Public Library Offers Virtual Concerts
Bettendorf
, IA – The
Bettendorf
Public Library's popular Brown Bag Lunch series is offering the community a month-long virtual opportunity to enjoy local music. Running through the entirety of July, a performance by Rebecca Casad and Alan Morrison will be available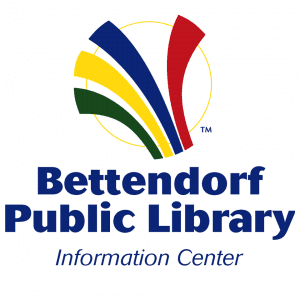 via the
Bettendorf
Public Library's YouTube channel. No registration is required to access this online concert and viewing is free thanks to the support of the Friends of the
Bettendorf
Public Library.
Brown Bag Lunch concerts are part of the
Bettendorf
Public Library's rich history in highlighting local musicians. Rebecca Casad's vocal styling blends well with the ukulele and Alan Morrison rounds out the sound with his guitar and U-Bass chops. They perform a unique arrangement of cover songs spanning five decades of music, as well as performing original songs with a focus on real-life experiences. More information about this event and other programs are available at the
Bettendorf
Public Library's website at
http://www.bettendorflibrary.com/adult-programs
or by calling 563-344-4179.
ABOUT the
Bettendorf
Public Library Information Center: Located at 2950 Learning Campus Drive,
Bettendorf
, Iowa 52722, the Library's mission is "Committed to providing access to information and ideas for all." For more information, visit www.bettendorflibrary.com or call 563-344-4175.
Playcrafters Presents "Piano Lesson"
An August playwright has a July drama opening this weekend at Playcrafters Barn Theatre, 4950 35th Ave., Moline.
While the Pulitzer-winning "The Piano Lesson" by August Wilson (1945-2005) is set in the 1930s of The Great Depression, its discordant,
clashing notes resolve in peaceful harmony that carry forceful lessons for our fractious times today.
Directed by Kermit Thomas of Moline, part of Wilson's epic "American Century Cycle," in "The Piano Lesson," it's 1936, and Boy Willie arrives in Pittsburgh from the South in a battered truck loaded with watermelons to sell. He has an opportunity to buy some land down home, but he has to come up with the money quick.
He wants to sell an old piano that has been in his family for generations, but he shares ownership with his sister and it sits in her living room. She has already rejected several offers because the antique piano is covered with incredible carvings detailing the family's rise from
slavery. Boy Willie tries to persuade his stubborn sister that the past is past, but she is more formidable than he anticipated.
"The Piano Lesson" (which won the 1990 Pulitzer Prize for Drama) follows the lives of the Charles family in the Doaker Charles household and the heirloom instrument is decorated with designs carved by an enslaved ancestor.
Performances dates are July 16 & 17 at 7:30 p.m. (plus July 23 and 24), and July 18 (plus July 25) at 3 p.m. General admission is $15, and senior/military admission is $13. For details and tickets, visit Playcrafters.com.
Black Box Unveils "I And You"
The Black Box Theatre in downtown Moline will open the dramedy "I and You" by Laura Gunderson on July 15. The plot: One afternoon, Anthony (Michael Alexander) arrives unexpectedly at classmate Caroline's (Adrienne Jane) door bearing a beat-up copy of Walt Whitman's Leaves of Grass, an urgent assignment from their English teacher. Homebound due to illness, Caroline hasn't been to school in months, but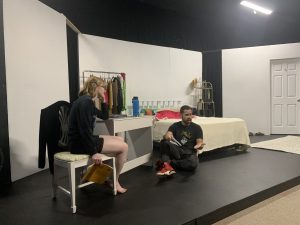 she is as quick and sardonic as Anthony is athletic, sensitive, and popular. As these two let down their guards and share their secrets, this seemingly mundane poetry project unlocks a much deeper mystery that has brought them together. I and You is an ode to youth, life, love, and the strange beauty of human connectedness.
Starring in the area premiere are Michael Alexander who had previously been in the Black Box production of "War of the World" and Adrienne Jane, who recently finished a run of "Princeton's Rage" at Playcrafters Barn Theatre.  Directing is Kayla Jo Pulliam who has starred in two Black Box productions (Turn of the Screw and Love, Loss and What I Wore.) Set design by Lora Adams, construction by Michael Kopriva, costuming by Jacqueline Isaacson and lighting design by David Miller.
"We produced Laura Gunderson's play "Silent Sky" several seasons ago and we are delighted to, once again, premiere one of her plays here at the Black Box," said Adams, The Black Box Theatre's co-founder.
"I and You" runs through July 24. Thursday, Friday and Saturday at 7:30 pm and Sunday at 2:00 pm. Tickets are $13 on Thursdays and $16 all other performances. Tickets are available online at theblackboxtheatre.com.
Registration For Stepping Stones Starts This Week
Davenport, IA – Registration for the upcoming school year for Stepping Stones, a Davenport-based after-school program, will open at 8 a.m., Monday, July 19. Registration will be conducted online only at http://www.davenportschools.org/steppingstones.
Stepping Stones serves preschool and elementary students in the Davenport Community School District and is open from 2:50 to 5:30 p.m.
on Mondays, Tuesdays, Thursdays and Fridays, and 1:50 to 5:30 p.m. on Wednesdays. Stepping Stones was founded in 2000 and is a collaborative program between Davenport Community Schools, the City of Davenport Parks and Recreation Department, and Iowa State University Extension.
"Stepping Stones offers high-quality after-school enrichment programs and a fun, safe learning environment for kids," said Shaney Ford, Stepping Stones Program Director. "We'll be opening registration soon and we look forward to a great school year."
Last Day To See 'Mamma Mia!' At Music Guild
In the mood for some ABBA tunes and a frothy musical?
Check out "Mamma Mia!" at Music Guild!
Today is the last day to see "Mamma Mia!" (at 1584 34th Ave., Moline) at 2 p.m. Tickets are $16 for adults, and $11 for children, available at 309-762-6610 or qcmusicguild.com.
Zoom Bingo Going Virtual At Davenport Public Library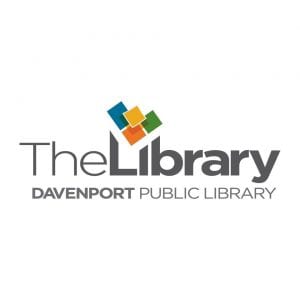 Calling all BINGO lovers! Join us for Zoom Bingo. Prizes will be awarded. Registration is required in order to get the login information. Your Bingo cards will be emailed to you on the day of the program. The event URL will be sent via a registration email. Households can use the same Zoom login.
Registration is required. Register here: https://bit.ly/dpl-zoombingojuly
Keep up with our virtual programming on our Virtual Branch Calendar of Events at https://davenportlibrary.libcal.com/calendar/virtual.
This event is FREE and open to the public. For more information visit www.davenportlibrary.com or call the library at (563) 326-7832.
All Sweat Productions Brings Reggae To Moline
All Sweat Productions is starting a new outdoor concert series – the All Sweat 3rd Thursday Reggae Party, at Len Brown's North Shore Inn, 700 N. Shore Drive, Moline, from 7 p.m. to 10 p.m.
Each free show — sponsored by Yabba Dabbas — will feature an original set along with a tribute set to one of the band's favorite reggae artists. This series lineup is:
July 19 : Joe Marcinek
16: Rude Punch
21: The Wontu Trees
RME Rocks With Live At Five On Fridays
The River Music Experience, 2nd and Main streets, Davenport, has brought back the free Live@Five on Fridays from 5 p.m. to 7 p.m.
The RME courtyard will host live music featuring a wide range of genres and styles.
This year's schedule of bands is: