10 Fun Things To Do Week of August 30th: Comedy, Fishing, Live Music and MORE!
QuadCities.com proudly presents Fun10, a list of the top 10 things to do in the Quad Cities this week, and every week! Every Sunday, we'll drop a new FUN10, to give you a head start on your week and a heads up on what's going on over the coming seven days. Check out FUN10 every Sunday for the details on ten awesome events happening around town. It's a cool read, and a great way to get started planning your entertainment for the week.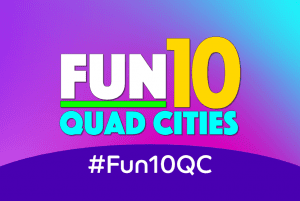 As the current health situation in our country continues to force the cancellation of so many regularly scheduled events in the Quad Cities, we are once again focusing this week's edition of Fun10QC on fun entertainment you can enjoy in the safety of your own home or while practicing safe 'social distancing,' as Iowa and Illinois begin to hold in-person events.
FUN10 — ten ways for you to have fun in the Quad-Cities, this week and every week, running every Sunday, only on your site for fun, free, local entertainment, QuadCities.com!
So what's on the FUN10 for this week? Read on …
Music in the Park
Kick off the week with some live outdoor music!
Join the Plus 60 Club this Monday Aug 31 from 11:30 a.m. – 1:30 p.m. for some live music at Veterans Memorial Park (1645 23rd Street Bettendorf).
Pack your favorite beverages, lunch and/or snack and head on over to the Bill Bowe Bandshell – where Dave Ellis will be gracing the stage with his classic rock and feel-good tunes.
Attendees can choose to use a picnic table under the nearby shelter, reserved by the Plus 60 Club. Or you can bring a blanket and/or lawn chairs to take advantage of the open lawn.
For more about this event, please visit https://qctplus60.com/event/live-music-at-veterans-memorial-park/.
The Plus 60 Club plans tours, dances, golf tournaments, picnics, bicycle outings, walks, baseball outings, entertainment events and seminars for members, who receive a variety of special offers and discounts on a variety of events.
A three-year membership is $10 for singles and $15 for couples. To register today, visit https://qctplus60.com/.
Fair Food Fix
Get your Fair Food Fix at the Rock Island County Fairgrounds (4200 Archer Drive East Moline) this week!
Westmoreland Concessions will be at the Fairgrounds between Tuesday Sep 1 and Monday Sep 7. Hours will be 10 a.m. – 7 p.m. daily, except for Sunday when the stand will close at 5 p.m.
Enjoy some Corndogs, Funnel Cakes, Nachos, Fried Cheese on a Stick, Deep Fried Oreos, Fresh Squeezed Lemonade, Soda and Tea. And the best part? Everything is only $5!
Fulfill that fair food craving you've been dealing with all summer!
For more information, please visit https://www.facebook.com/events/324947621886163/.
Virtual Artist Talk: George Rodriguez
Join the Figge Art Museum virtually for a conversation with renowned Los Angeles photographer George Rodriguez this Thursday Sep 3 from 6:30 – 7:30 p.m. on Zoom.
George Rodriguez will speak about his nearly six-decade career photographing the Los Angeles Chicano community and celebrities of film, TV, and music. This program is offered in conjunction with the exhibition Magnetic West: The Enduring Allure of the American West. This live online program is free but advanced registration is required.
After registering at https://sales.figgeartmuseum.org/performance.aspx?pid=1488, you will receive an e-mail two hours before the program begins, which will include a Zoom link to join the program at the scheduled time that evening.
A native of Los Angeles, George Rodriguez's interest in photography began while studying in high school. For his first job, Rodriguez's worked in the dark room at Columbia Pictures. Eventually, he was encouraged to cover movie premieres. In the 1960s, during breaks from his studio job, Rodriguez began documenting aspects of Chicano culture including the Chicano Moratorium against the war and the rise of the United Farm Workers movement. As his career evolved, Rodriguez established his own free-lance practice photographing for film studios, record labels, and magazines, meanwhile continuing to document life in the Latino and African American communities. Over his career, Rodriguez created an impressive portfolio of images which reflect his relaxed, candid style of photography. Rodriguez photographed many important events and countless legendary performers including Frank Sinatra and the gangsta rap group NWA. His photographs can be found in the collections of the Smithsonian National Portrait Gallery and the Museum of Latin American Art. Rodriguez is the 2018 recipient of the Mexican American Legal Defense and Education Fund (MALDEF) Lifetime Achievement Award for Leadership in the Arts in recognition of his work documenting the Mexican American experience. His work is featured in the 2018 book Double Vision the Photography of George Rodriguez from Hat & Beard Press.
Free admission and programs for Thursdays at the Figge sponsored by: Chris and Mary Rayburn
A Night of Disney!
Come and enjoy a night filled with Disney songs, performed by some amazing local performers!
The Spotlight Theatre (1800 7th Avenue Moline) will be hosting A Night of Disney! this Friday Sep 4 and Saturday Sep 5 at 6 p.m. Performances will take place outside in the parking lot, with The Spotlight Theatre acting as a beautiful backdrop, so you can enjoy some Disney under the stars!
Ticketing is limited to 50 people right now. If weather does not allow an outside performance, it will be moved inside to the 600-seat theater with a 50-person limit and social distancing measures implemented. Masks are also required. If the weather looks good, more tickets may be available to accommodate more seating outside.
Tickets: $20 online / $25 at the door It is highly recommended to purchase tickets ahead of time, as seating is very limited. PLEASE NOTE, THERE WILL NOT BE ANY REFUNDS GIVEN FOR THIS EVENT. In the event the state issues more restrictions, refunds will not be given, however you will receive a credit to use on a future show.
Tickets are available at https://www.thespotlighttheatreqc.com/cabarets or by calling (309) 912-7647.
For outdoor seating, be sure to bring a lawn chair. All ticket holders will be notified the week of the event as to whether the show will be performed indoors or outdoors.
For any questions please call (309) 912-7647 or email info@thespotlighttheatreqc.com
Live Music at Unimpaired
Unimpaired (246 W 3rd Street Davenport), Iowa's first and only non-alcoholic bar, will be kicking things off right with some live music this weekend.
Looking to enjoy some live music in a social bar-setting while staying Unimpaired and feeling great the next day? Then make plans to head to this newest addition to downtown Davenport Friday and Saturday night.
Live music will be provided by Lewis Knudsen on Friday Sep 4 from 6 – 9 p.m. North of 40 takes the stage on Saturday Sep 5 from 9 p.m. – 12 a.m.
Follow Unimpaired on Facebook for more upcoming events to enjoy, without all the headache.
Hog Days Stampede Goes Virtual
The 2020 Hog Day Stampede goes virtual this year!
As part of the run, participants will run/walk their own 4-mile course anytime during traditional Hog Day Festival (September 4-7). There will be no official course to run and no set time to start – you get to choose! You'll be able to submit your race results and pictures to us and we will post them on our Virtual Stampede site.
Stampede founder Nelson Lay and volunteer Jay Cone' marked the traditional Stampede course in mid-August to help local participants with their training. Also, perennial Hog Days fixture Matt Michalik will be at the starting line at 8:00 a.m. Saturday morning September 5th to lead any participants that would like to take on the traditional course. Please note that no traffic control or water stops will be available so please plan accordingly if you decide to do this.
While this is not the event pictured for the 2020 Festival, Hog Days Stampede organizers are excited to create a fun version that allows for everyone to remain safe and still get out and train. This race has always been focused on bringing people together and having fun – it will simply need to look a bit different this year. Where other events have had to cancel entirely, organizers wanted to create something enjoyable where we can all continue to support our local community by participating in our own way.
Your reduced entry fee will include a special Virtual tech shirt design and a matching participation medal. We will release a sneak peek soon!
To register for the 2020 Hog Days Stampede, please visit http://www.getmeregistered.com/hogdaystampede.
Please send any questions to: chamber@kewanee.com
Improv Double Feature Night at Village Theatre
The SUYPers are back at it and are excited to finally welcome back their audience to the Village Theatre (2113 E 11th Street Davenport) for a Double Feature Improv Night this Saturday Sep 5!
6 – 7 p.m. – SUYP BEFORE DARK – all-ages improv show that's perfect for the whole family! (Doors open at 5:30)
9 – 10:30 p.m. – TRUTH OR DARE – the longest-running R-rated format is back! Watch SUYPers play the classic Truth or Dare party game with plenty of twists, penalties, and hilarity! (Doors open at 8:30)
*COVID-19 GUIDELINES*
Village Theatre and SUYP Comedy Troupe is taking all necessary precautions to ensure they can have a safe and responsible show. Masks are required to be worn by all audience members and VT staff. Reservations must be made in groups of 4-8 as we will not be mixing parties at tables. Tables will also be spaced 6ft apart.
All tables, chairs, bar area, and bathrooms will be cleaned and sanitized between shows!
There will be NO at the door sales for either show – all reservations must be made in advance!
Tickets will be offered to watch the shows virtually in the event of all tables being sold prior to the show date!
Free Guided Hike at Nahant Marsh
Explore nature and enjoy the outdoors with a Free Guided Hike at Nahant Marsh (4220 Wapello Ave. Davenport) this Saturday Sep 5 at 9 a.m.
Join a Naturalist for an interpretive trail walk through the Marsh. Hikes are offered year-round on the first Saturday of the month and give visitors an opportunity to learn more about the diverse flora and fauna of this unique natural area. Goodwill Donations goes towards Nahant Marsh's public education programs.
For more information, please visit https://nahantmarsh.org/.
Stand Up Comedy Night
Come enjoy a night of laughter with your friends!
Experience Stand Up Comedy Night at The University Club (1518 5th Avenue Moline) this Saturday Sep 5 from 7 – 10:30 p.m. Doors open at 7 p.m. and laughing begins at 8 p.m.
▪️Round table seating
▪️Snacks are welcome
▪️Drinks available for purchase
This is a standup comedy for adults so leave the little ones at home and come enjoy a few cocktails. The University Club provides a beautiful atmosphere for a great time!
Line-Up :
Jeff Adamson
Scott White
Limited seating available!
Tickets –
$10 Per Ticket
$70 Table of 8 (reserved front row)
Available at:
https://www.eventbrite.com/e/stand-up-comedy-night-tickets-118055086943
Credit Island Bait Shop Catfish Tournament
Show off your skills at the Credit Island Bait Shop (2304 W River Drive Davenport) Catfish Tournament this Sunday Sep 6!
Check-in begins at 6:30 a.m. (with free donuts!). The tournament will get started at 7 a.m. and weigh-ins take place at 12 p.m. sharp.
Entry fee is just $50 per boat and $15 for the Big Fish Pot. This is a 100% tournament and one lucky winner will even receive $100 for the Biggest Junk Fish (no entry fee).
Up to 4 people per boat and 5 fish limit per boat. Participants may Bank Fish but must stay on Credit Island. Flathead doesn't count except for the Big Fish Contest. There is a 12" minimum length. Live fish OR fish on ice will be weighed.
For more information, please visit https://www.facebook.com/events/947867389060725/. Call (563) 326-3370 for further questions.
Stay tuned to QuadCities.com, your site for fun, free, local entertainment for upcoming events in our weekly column, FUN10, every Sunday!
#Fun10QC