RAW Brings Fresh Tastes To Downtown Davenport
Twice now I have had the pleasure of visiting RAW, a new cocktail lounge located at 136 East 3rd Street in Downtown Davenport. Upon my second visit I was lucky enough to ask one of the owners, Sid Rognoni, a few questions about the establishment.
Rognoni and the other owner, Chris Odendahl, co-own Bowls Urban Eats, the restaurant just up the block. They had their eye on the space for awhile, wanting to open a high-end bar. The place has been beautifully renovated, giving it a "big city" feel.
RAW is serving up seasonal, fresh food and drinks using some local, all interesting ingredients. So far I have had their Citrus Ginger, a bourbon-based beverage served with a bite of candied ginger one is to,  "enjoy before drinking," and their Blood Orange Margarita, rimmed with pink sea salt. My second visit I enjoyed the Hibiscus Cosmo and Blackberry Old Fashioned.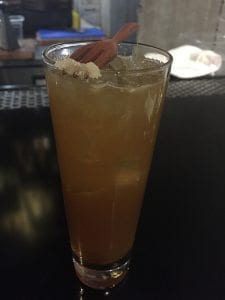 The food at RAW is also thought-out, clean, and fresh; it is one of the few places to get true sashimi in the Quad Cities. We were given a sample of the Big Eye Tuna, of the highest grade. Rognoni calls a fisherman in Honolulu everyday and asks him what's the best catch, he then has it flown in and prepares it each day. Because the fish served truly depends on the "catch of the day", the menu will constantly be changing. So far they have served oysters, salmon, and prawns.
The menu also has a wonderful charcuterie board, which will also be seasonally rotated. We had a sample of wild boar and apple wood duck, paired with hard Gouda and cave-aged Cheddar.
We were well taken care of on both of my visits. I asked a number of questions and they were answered with well-informed, thought-out answers and I received great customer service. RAW wants to take care of you by serving you things that are good for you. And you should let them.