Western Illinois University Graduate Students Chosen as Facilitators for Model UN Conference
A group of six Western Illinois University international graduate students were chosen to attend a Montessori Model United Nations conference in mid-February in New York City, NY.
Shola Elufisan, Judith Hassan, Oluwadamilola Abiodun-Adewusi and Chinedu Onyekatu, all of Nigeria and all Public Health graduate students, and College Student Personnel graduate student Nikisha Smith, of Antigua, and MBA student Ayobami Timothy, of Nigeria, attended the three-day conference to help youth from across the country to discuss worldwide issues.
"Through the conference, countries came together to discuss United Nations issues and different countries made presentations to help solve world problems," said Hassan.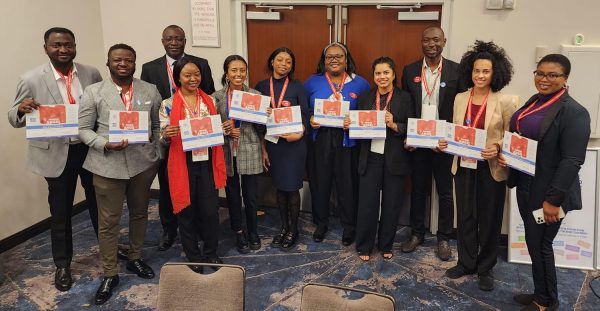 During the final day of the conference, Abiodun-Adewusi said attendees got to visit the United Nations' General Assembly and present their conclusions from the multi-day discussions.
The six WIU students were chosen for the project to help monitor and facilitate the youth discussions and solutions development, which included the topics of security, global warming, education, leadership skills and how to make an impact on the world.
To be chosen for the project, the WIU students had to be interviewed to make sure they had the skill set to be facilitators. The group said they saw an advertisement for the opportunity and applied.
"It was a great opportunity to work with others," said Onyekatu. "We were working with younger people who came from all over the world. There were 1,500 participants from 14 countries, but the majority were from the United States. Watching a 9-year-old boy talking about the war between Russia and Ukraine and how to find a peaceful solution; I couldn't have done that at his age."
All of the participants agreed the event was a great opportunity for children, who were each excited to be speaking on the floor of the U.N.'s General Assembly.
"It was wonderful seeing children come up with innovative ideas to solve the world's problems," said Abiodun-Adewusi. "I was impressed with the ideas that came out of the sessions and the respect they showed for each other's opinions."
Hassan added that it was commendable to watch the students taking responsibility for coming up with ideas on such large-scale issues.
"The program should be expanded because every kid needs this opportunity," Hassan said.
Elufisan said the event also included cultural nights to educate the youth about each country.