'Music Man' Marching Into Circa This Weekend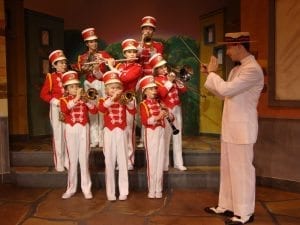 Those familiar with the iconic stage and screen show, THE MUSIC MAN, may remember that the very first song performed in the show is titled "Rock Island." It's consequently fitting that this Tony-winning classic can be found in Illinois' actual Rock Island when THE MUSIC MAN runs at the Circa '21 Dinner Playhouse now through May 13.  An endearing musical romance that has charmed generations of fans, this timeless hit boasts numerous songs that have become cherished favorites, and is being brought to life by a spectacular cast of returning talents and Circa '21 newcomers.
THE MUSIC MAN will be performed at Circa '21 on Wednesday, Friday, and Saturdays evenings at 7:45 p.m., Sundays at 5:45 p.m., and Wednesday matinées at 1:30 p.m. Ticket prices are $51.73 for the evening dinner-and-show productions and $44.94 for the plated-lunch matinées.
Reservations are available through the Circa '21 ticket office. For reservations, contact the theatre at 1828 Third Avenue, Rock Island or by calling (309) 786-7733 extension 2. Online reservations may also be made by visiting www.circa21.com.
Funny, warm, wicked, romantic, and touching, THE MUSIC MAN is family entertainment at its very best to be shared with every generation, and composer Meredith Willson's six-time Tony Award-winning musical comedy has been captivating audiences since its Broadway debut in 1957. The show follows fast-talking traveling salesman Harold Hill as he cons the people of River City, Iowa, into buying musical instruments and uniforms for a boys' band he vows to organize – this despite the fact that he doesn't know a trombone from a treble clef.
What follows is a madcap yet sweet-natured musical comedy in which our lead is transformed by his true love for the town librarian Marian, and audiences can't help but tap their toes and hum along to songs from THE MUSIC MAN that have gone on to become timeless standards: "Trouble," "Seventy-Six Trombones," "My White Knight," "Wells Fargo Wagon," "Gary, Indiana," and the heartfelt romantic ballad "Till There Was You."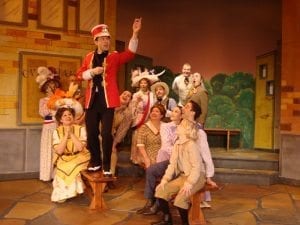 Directing and choreographing this 60th-anniversary production for Circa '21 is the venue's veteran director, Jim Hesselman, from Louisville, KY, whose previous musical classics for the Rock Island dinner theatre include Fiddler on the Roof, The Sound of Music, and Sister Act. For Meredith Willson's masterpiece, Hesselman has assembled a sensational lineup of professional actors, many of whom are making return appearances on the Circa '21 stage.
Portraying Harold Hill is longtime Circa '21 favorite Don Denton, who previously enjoyed leading roles in such musicals as Ghost, Joseph & the Amazing Technicolor Dreamcoat, Les Miserables, A Wonderful Life, and The Full Monty. Playing Marian to Denton's Harold is frequent Circa '21 performer Paige Salter, whose own musical credits include Million Dollar Quartet, Phantom, Route 66, and the theatre's recent Ghost: The Musical.
Joining them are others whose faces will be familiar to venue regulars: Joey Boos (Les Miserables), Marc Ciemiewicz (Fiddler on the Roof), Kay Francis (Sister Act), Brad Hauskins (Shear Madness), Doug Kutzli (A Wonderful Life), Andrea Moore (Cats), Tristan Tapscott (Empty Nest), Shelley Walljasper (Church Basement Ladies), and area youths Julian Anderson (Holly Jolly Christmas) and Kaitlyn Baker and Chloe Knobloch (both from The Sound of Music).
Rounding out THE MUSIC MAN's impressive cast of 22 are nine wonderful performers making their Circa '21 debuts: Croix Baker (A Christmas Carol), Andy Brown (Into the Woods), Brennan Hampton (Chitty Chitty Bang Bang), Brett Mutter (Forever Plaid), Erika Peckhardt (Beauty & the Beast), Sarah Philabaum (The Marvelous Wonderettes), Anna Segatti (Hair), Haley Teel (Children of Eden), and Todd Tucker (Hairspray).
Circa '21's entire team is thrilled to present the area return of this magical stage legend, and urges audience members to make reservations for what is certain to be a Springtime theatrical smash. Call the Circa '21 ticket office at (309)786-7733 extension 2 for tickets, and treat your family to the many laughs, sighs, swoons, and trombones – all 76 of them – of Meredith Willson's THE MUSIC MAN!