Kansas Date Rescheduled At Adler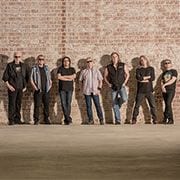 Due to scheduling concerns, the KANSAS: Leftoverture 40th Anniversary Tour date scheduled for Wednesday, November 8, 2017  in Davenport, Iowa, at the Adler Theatre is being rescheduled for Wednesday, April 4, 2018. This concert will still be the Leftoverture 40th Anniversary Tour set. Tickets purchased for the original show date will be honored for the new date. If patrons are unable to attend the new date, refunds will be available at the point of purchase. Please call the Adler Theatre Box Office at 563-326-8522 with questions. We apologize for any inconvenience.
Tickets ($40, $55, $75, $95) for the Wednesday, April 4, 2018 show are available at the Adler Theatre Box Office (136 E. 3rd St.), Ticketmaster.com, and charge by phone at 800-745-3000.
The Prelude Implicit, the new album from KANSAS, marks the band's biggest selling week in the Soundscan era, and the highest charting release since Power (1986). The Prelude Implicit landed at #14 on the Top 200 album chart, #41 on the Billboard 200, #5 for Rock Albums, #6 for Physical Albums, #17 on the Vinyl Albums chart and more. The Prelude Implicit is now available for purchase in stores and online.
The Prelude Implicit is the first new album release in 16 years for the band that has sold more than 30 million albums worldwide, and is famous for classic hits such as 'Carry On Wayward Son' and 'Dust In the Wind,' to progressive epics like 'Song for America' and 'Miracles Out of Nowhere.'
The Prelude Implicit features 10 all new tracks written by the band and co-produced by Zak Rizvi, Phil Ehart, and Richard Williams. KANSAS's signature sound is evident throughout the album. It showcases Ronnie Platt's soaring lead vocals, David Ragsdale's blistering violin, Williams and Rizvi's rocking guitar riffs, the unmistakable sound of David Manion's B3 organ and keyboards, Ehart's thundering drums, and Billy Greer's driving bass and vocals.
The result of the time in the studio was even more than the band imagined. "This is definitely a KANSAS album," remarks original guitarist Richard Williams. "Whether it is the trademark Prog epic like 'The Voyage of Eight Eighteen,' biting rocker such as 'Rhythm in the Spirit,' or mindful ballad like 'The Unsung Heroes,' there is something on this album for every kind of KANSAS fan. After years of pent-up creativity, the entire band is very proud of The Prelude Implicit."
Lead Vocalist Ronnie Platt adds, "Recording The Prelude Implicit was an incredible experience, and I couldn't be happier with the results. It is my hope that, knowing the intense listeners that KANSAS fans are, the continuity yet diversity of this album will be pleasing to them."
For more information see www.kansasband.com and www.facebook.com/kansasband.