Lasting Legacy of Jenny McNeal from East Moline
Obituary for Jennifer (Jenny) McNeal of East Moline, IL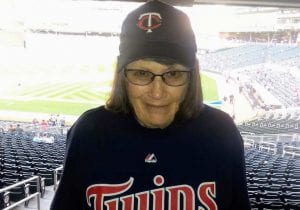 QuadCities.com does not usually publish obituaries, but makes occasional exceptions in special cases where we have a close relationship and feel a strong desire to share a story of someone who touched our lives in a profound way.
Today, I mourn the loss of my beloved sister, Jenny McNeal, who passed away this past Friday evening.
I'll begin by including the family's officially released obituary to facilitate you quickly learning the general details about her and her upcoming service.
Jennifer Joy McNeal, 74, of East Moline, IL, passed away peacefully Friday, February 12, 2021, at Select Specialty Hospital, Davenport, IA.

Visitation will be Wednesday, February 17, 2021 from 5:00 pm to 7:00 pm at Wendt Funeral Home in Moline, IL.
The Funeral Service will be Thursday, February 18, 2021 at 11 am, Wildwood Church, 18717 Hubbard Rd, East Moline, IL.
Burial will be in the Aledo Cemetery, Aledo, IL.

Memorials may be made to the Wildwood Church.

Jenny was born May 24, 1946, in Moline, IL, daughter of James and Betty (Samuelson) Holmes. She married Larry McNeal on September 16, 1967 in East Moline, IL.

Jenny was a graduate of the Rock Island School of Nursing. She went on to be a nurse at the former Lutheran Hospital, Moline, IL, serving first in the obstetrics unit and then in the surgical unit. After leaving Lutheran Hospital, she took a position as the Director of Child Evangelism Fellowship from 1997 through 2010. Jenny, along with her husband, then served two years at Camp Good News in Washington, IL. She spent many years as a Sunday school teacher as well as a youth group leader for Wildwood Church, always inspiring the lives of so many children and young adults. She loved traveling around the world with the youth groups, serving in outreach ministry programs and helping those in need. Jenny's other enjoyments included camping, knitting, crafting, reading and sewing. Jenny's inspiration and compassion for others will truly be missed by all that knew her.

Survivors include her husband, Larry McNeal; brothers Jim (Linda) Holmes, Irvine, CA, Steve (Anne) Holmes, Galena, IL; sister-in-law RuthAnn (Orval) Farrier, Moline, IL; nieces Cindy Mendoza Moline, IL, Audra Bern, Rio, IL, Chris Chuich, Moline, IL, Becky Thompson, East Moline, IL, Tracey Daniels, Moline, IL, Tracy Flores, East Moline, IL, Jennifer Steele, Milwaukee, WI, Lisa Lambert, Newport Beach, CA; nephews Kelly Farrier, Clinton, IA, Mark Farrier, Moline, IL, Zach Boyden-Holmes, Des Moines, IA, Eric Holmes, Irvine, CA, as well as many great and great-great nieces and nephews.

She was preceded in death by her parents, and a sister, Diana Witt.

Family and friends are invited to express condolences online at: www.wendtfuneralhome.com
To me, Jenny was a one-of-a-kind individual who was always on the lookout for anyone around her who was in need of a smile, a warm greeting or an assist in some way. If she saw someone who was new in town, they suddenly had a new friend to welcome them and ease their transition. When she focused on you, you felt special. Her attention might include teasing with an accompanied wide smile, and she loved to challenge each of us to be our best, but her attention was always based on her underlying love for you and her goal of making life fun. Our family get-togethers usually involved me receiving some of her homemade rice pudding which she knew I loved.
Jenny loved children and youth of all ages. I can't remember a child she didn't reach out to among family, friends, church or her neighborhood. Even without a family connection, she was just as much their new aunt to them as she was to our family's children. The same is true for her husband, Larry, who is also one of my favorite people of all time. And, these two loving people were devoted to each other in marriage for more than 53 years.
For as long as I can remember, Jenny liked to decorate for and celebrate every holiday, be it Valentines Day, St. Patrick's Day, Easter, Memorial Day, Independence Day, Labor Day, Halloween, Thanksgiving , Christmas and New Year's. Often, she'd show up with decorations for you, so you could celebrate also.
Through sewing, knitting, crafts or food, she usually had a project she was focused on which she gave to others who were less fortunate. I remember one time when she continually made and donated hats for patients at cancer centers who were experiencing hair loss during chemotherapy treatments.
When she was in nursing school and I was in grade school, she used to take me out of school at lunchtime to have a picnic. At this same young age, she taught me to drive her car, but she only gave me the opportunity to either steer or work the accelerator at any one time. This meant she was really always in control, but she showed me that she trusted my abilities.
A few years later, she was a nurse working at Lutheran Hospital's Obstetrics Department. A baby girl was born with the same Arthrogryposis birth defect as I have, but her parents were overwhelmed by this, and intended to abandon her to the system. Jenny repeatedly begged our parents to adopt this little girl and raise her as they did me. Unfortunately, we were a working class family of six living in a three bedroom home and just didn't have the space or resources to take on another child. But Jenny's compassion and desire to help others was just so strong.
With so much love and support from my family, I was able to get an education, a professional job, marry a wonderful woman and raise our own family. Had I not, Jenny and Larry were both willing to take me in if that had been needed. Regardless, we had many camping trips together, and went on several trips to watch major league baseball games in the Twin Cities and Milwaukee. These are all treasured memories in my life.
You hear about people who lived a well spent life, and I think that is a perfect example of my sister, Jenny. I tell my own children that being a good person is the highest praise one can get. Jenny was a certainly that. I miss her already, but know she is forever inside my heart and that I am who I am because of her love, encouragement and compassion – both for me and everyone else.
Jenny, we will remember your unselfish goodness and constant help for others. Perhaps we can all look around to find those who need a smile or helping hand as a way to pay her goodness forward? In such challenging times, wouldn't it be wonderful if we were all to agree to be nice to one another?
As we get closer to the day when all of our citizens are safe again to be out and about living our lives, and gathering closely among those we love, let's remember that we've come so far towards the vaccinations needed to resume our lives together. But, we are not there yet. Please join my family as we wear masks in public and socially distance where appropriate. Our family has sustained a huge loss this week from this terrible pandemic, and this threat is REAL. Please do the right thing to prevent others from being needlessly lost. You may never know who you save, but if we all stay diligent just a few months longer, we have the opportunity to prevent many more families from suffering such a loss as our family has endured. R.I.P., Jenny!
Thank you for reading.