Jefferson Starship Rocks Rhythm City Casino October 20
Iconic 70's Rockers Jefferson Starship will rock
Rhythm City Casino Friday, October 20 at 8pm!
Jefferson Starship is one of the most successful arena rock groups of the 1970s and 80s, earning 3 platinum and 8 gold records, as well as numerous Top 40 singles including "Runaway," "Count On Me," "Find Your Way Back," "No Way Out," and more. While Jefferson Starship continues to tour today, the band has experienced numerous lineup and personnel changes, and each of those members have contributed to the magic and alchemy that make Jefferson Starship iconic.
Currently, the Jefferson Starship lineup features founding member David Freiberg (a world class singer, producer, composer and multi-instrumentalist), along with Donny Baldwin, Jude Gold, Cathy Richardson, and Chris Smith. True to its legacy, the members have changed over time, but the heart and the magic of all those hits remain.
The members of Jefferson Starship past and present have been exploring the mysteries of music for more than 1000 collective years. Give or take. But who's counting? Music has the power to transport us to other places, other times and sometimes even to other worlds. Let's go together, right now.
Tickets will be available online at rhythmcitycasino.com or at The Market at Rhythm City for $25, $30, $35, $45 and $50 plus applicable online/phone ticketing fee (this fee is waived when tickets are purchased at The Market Gift Shop inside Rhythm City Casino Resort).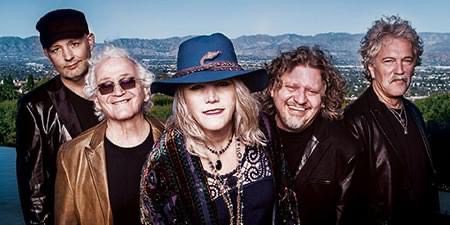 𝘗𝘭𝘦𝘢𝘴𝘦 𝘯𝘰𝘵𝘦, 𝘸𝘩𝘦𝘯 𝘱𝘶𝘳𝘤𝘩𝘢𝘴𝘪𝘯𝘨 𝘵𝘪𝘤𝘬𝘦𝘵𝘴 𝘵𝘰 𝘰𝘶𝘳 𝘦𝘷𝘦𝘯𝘵𝘴, 𝘸𝘦 𝘥𝘰 𝘯𝘰𝘵 𝘳𝘦𝘤𝘰𝘮𝘮𝘦𝘯𝘥 𝘶𝘴𝘪𝘯𝘨 𝘢 𝘵𝘩𝘪𝘳𝘥 𝘱𝘢𝘳𝘵𝘺 𝘳𝘦𝘴𝘢𝘭𝘦 𝘴𝘪𝘵𝘦. 𝘉𝘦 𝘴𝘶𝘳𝘦 𝘵𝘰 𝘱𝘶𝘳𝘤𝘩𝘢𝘴𝘦 𝘥𝘪𝘳𝘦𝘤𝘵𝘭𝘺 𝘧𝘳𝘰𝘮 𝘰𝘶𝘳 𝘸𝘦𝘣𝘴𝘪𝘵𝘦 𝘰𝘳 𝘱𝘶𝘳𝘤𝘩𝘢𝘴𝘦 𝘪𝘯 𝘱𝘦𝘳𝘴𝘰𝘯 𝘢𝘵 𝘛𝘩𝘦 𝘔𝘢𝘳𝘬𝘦𝘵.