Explore Outer Space, Get Shots And Giggles, Enjoy Ice Cream For A Good Cause And More In Your FUN10
It's Sunday, and QuadCities.com proudly presents Fun10, a list of the top 10 things to do in the Quad Cities this week, and every week!
Every Sunday, we drop a new Fun10, to give you a head start on your week and a heads up on what's going on over the coming seven days. Check out Fun10 every Sunday for the details on ten awesome events happening around town. It's a cool read, and a great way to get started planning your entertainment for the week.
FUN10 — ten ways for you to have fun in the Quad-Cities, this week and every week, running every Sunday, only on your site for fun, free, local entertainment, QuadCities.com!
So what's on the Fun10 for this week? Read on …
Last Chance To See 'Charlie Brown' At Spotlight
The last remaining performance of "You're a Good Man, Charlie Brown" will be 2 p.m. Sunday, June 13!
Tickets are $20 in advance ($25 at the door), available at 309-912-7647 or www.thespotlighttheatreqc.com.
Last Call For 'Spamalot'
It's last call also for Music Guild's "Spamalot!"
Quad-City Music Guild's first complete musical in a year and a half, "Monty Python's Spamalot," is available to be streamed online today,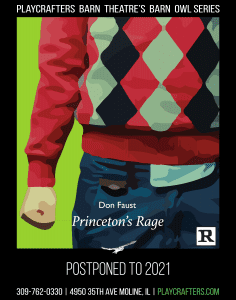 June 13 at 2 p.m.
Playcrafters' 'Princeton' Ending Today
Playcrafters' latest, "Princeton's Rage" is also ending its run today.
Performance will be at 3 p.m. today, June 13. Playcrafters tickets are $12 for the general public, and $10 for military and seniors (62+), available at playcrafters.com, or by calling 309-762-0330.
Chalk The Lot At Davenport Library
Kick off Summer Reading 2021: Reading Colors Your World by helping us color our world outside the library! We'll bring the chalk; you bring the creativity! Sign up for a 1-hour time slot on Saturday, June 19th between 9:00 am and 3:00 pm at either our Eastern Ave. or Fairmount St. branches to decorate your assigned parking spot with a recreation of a book cover, an inspirational quote, or a silly sketch. Register at http://bit.ly/chalkthelot.
We'll alternate available spots to keep things safe and socially distant. Sign up for one space and work as a family or with a friend or register individually. This event is perfect for the whole family! While you're here, get signed up for our Summer Reading Program for a chance to win some incredible prizes.
This event is FREE and open to the public. For more information visit www.davenportlibrary.com or call the library at (563) 326-7832.
Putnam Hosting 'Gateway To Space'
The Putnam Museum and Science Center, 1717 W. 12th St., Davenport, will host a "Gateway to Space Weekend" on June 13, from 10 a.m. to 5 p.m.
The event will feature the Iowa State University FLEx, a mobile learning program including virtual reality, 3D printing, augmented reality and more.
The weekend will include expert speakers including Dino Milani (Vice President of Popular Astronomy Club) and Dr. Paul Sipiera (Professor Emeritus of Geology and Astronomy from William Rainey Harper College).
Visitors outdoors will be able to explore the Popular Astronomy Club Mobile Observatory, while inside visitors will enjoy activities from the Popular Astronomy Club, Quad Cities Astronomical Society, ChalkBites VR, as well as the Putnam Education Team. With the purchase of movie tickets, space themed films will be available in the Putnam's Giant Screen Theater.
"The Putnam ignites human potential and inspires our diverse community to learn about and care for our world," Putnam president/CEO Rachael Mullins said. "This event does just that by sparking interest in STEM careers for youth and helping all visitors understand our place in the universe."
This event is made possible thanks to NASA and The Iowa Space Grant Consortium. Event admission is included in the price of general admission — which will be $5 that weekend in celebration of QC Museum Week.
Have Your Ice Cream And Help Your Friends And Neighbors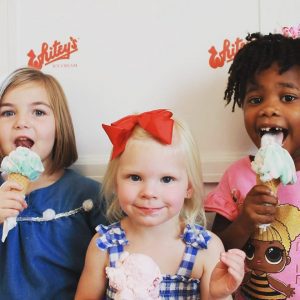 Treat your family, friends, and coworkers to a cone or dish at any
Quad City
Whitey's Ice Cream location on Monday, June 14th, and Whitey's will donate half of all ice cream cone/dip sales to support the programs and services of Bethany for Children & Families.
Bethany is a nonprofit child welfare and social services agency with offices in both the Illinois and Iowa Quad-Cities, serving over 10,000 children and families each year.
Support a great cause with a scoop of your favorite flavor!
Juneteenth Celebrated At Davenport Library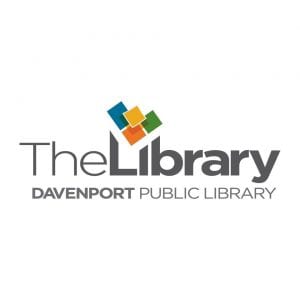 Juneteenth – short for "June Nineteenth" – marks the day in 1865 when enslaved people in Galveston, Texas were told by Union troops that they were free. Since then, the date has become a national celebration of emancipation. Join us
Tuesday, June 15th at 6:30 pm
for a virtual discussion led by Ryan Saddler, CEO of the Friends of MLK, Inc. as we talk about the history and celebration of Juneteenth.
Registration is required to receive Zoom meeting details. Register here: https://davenportlibrary.libcal.com/event/7647800
Keep up with our virtual programming on our Virtual Branch Calendar of Events at https://davenportlibrary.libcal.com/calendar/virtual.
This event is FREE and open to the public. For more information visit www.davenportlibrary.com or call the library at (563) 326-7832.
Shots And Giggles Returns Next Weekend
The most popular improv comedy show in Speakeasy history is back on June 19!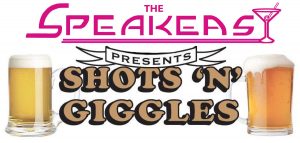 LEAVE THE KIDS AT HOME FOR THIS SHOW!! Shots 'n' Giggles mixes adult beverages and improv comedy into one wild and crazy spectacle! What can possible go wrong with that combination?
The talented improv performers are drinking along with the audience during the show. From toasts to shots to audience participation, there' something new and fun each show!
Reserve your tickets by calling 309-786-7733 ext 2 or online at
www.thecirca21speakeasy.com.
Tickets are $10 in advance, $12 the day of the show.
Because of the nature of the show only those 21 and older may attend and, due to COVID restrictions, we can only accept parties of 4 or 6 people.
Get your friends today and come out and party with us on June 19!
Add Color to Your Summer with Rock Island Library Events this week
Summer reading and events at the Rock Island Public Library begin the first week of June in full technicolor style with a summer reading "colorama" kickoff, a take-home pinwheel kit for kids, the start of Summer2Go events around the library bookmobile, a Friends and Family seminar with NAMI, and more.
From June 1 to July 31, Reading Colors Your World summer reading challenges and events at the Rock Island Public Library will encourage readers of all ages to be creative, try new things, explore art and color, and see the beauty of diversity.
Library summer reading programs help children and teens catch up on reading for fun, reduce summer learning loss, and connect to a lifelong pastime. The library's summer reading contests encourage children, teens, and adults to continue reading with pre-set goals and rewards. Participants may enter and track anytime through July 31 with the library's Beanstack site or app. A downloadable print log for all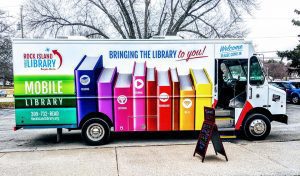 ages is also available via the Library's website.
Check Out Art At The Airport
The newest Quad City Arts' Art at the Airport exhibit is all in the family — paintings by Kristin Quinn of Davenport, with ceramic creations by
her sister, Megan Quinn, of Rock Island, on display through June 30.
Megan Quinn is a professor at Augustana College in Rock Island, while Kristin Quinn is a professor at St. Ambrose University in Davenport. Megan is a ceramic artist, and Kristin is a painter.
The two sisters grew up in a family of five children with parents who were educators, and their dad was a physicist who specialized in optics and provided access to visually stimulating apparatuses: prisms,
lenses, holograms, etc. Along with lessons on the natural world, they were encouraged to ask questions.
Growing up learning to really look at things and question how things work or what causes things to be the way they are, informs the way they look at art and how they approach their work, according to a Quad City Arts release. Although Megan and Kristin are different artistically, both enjoy experimentation and are inspired by nature and science.
These sister artists approach their very different art forms with a similar sensibility. In addition to the airport gallery, the artist's works can be seen and purchased online: https://www.quadcityarts.com/art-at-the-airport.html.
Art at the Airport in The Quad Cities International Airport gallery is easy to find. It is just across from the gift shop and restaurant and right before the security checkpoint. The gallery never closes, and you will pay just a dollar for parking.