Summer Jam Vol. 3 Returns to Downtown East Moline
James 'Lobo' Lopez and Colin Brandt have once again joined forces with Hey Bryans to bring this summer's ultimate party back to East Moline. That's right, it's time for Summer Jam Vol. 3!
Summer Jam Vol. 3 makes its way to Hey Bryans (1140 15th Ave East Moline) on Saturday Aug 19. The excitement starts at 2 p.m. and continues all day and night, until 3 a.m. Kids are welcome until 9 p.m. And the best part? Admission is FREE!
New this year, Summer Jam is teaming up with the East Moline Freedom Fest for the biggest 15th Ave Production ever! Check out the 6-block long car show and feel the energy in downtown East Moline with food, live music and fun. "We want to celebrate East Moline. We do this for the community because we love our community," event organizer James Lopez (of Lobo's Salsa) shares.
This jam-packed day gets started on the Main Stage with local Grateful Dead tribute band Dead and Gone from 2 – 4 p.m. Then you can enjoy some original, funky, fun, soulful tunes provided by The Textures from 5 – 6:30 p.m. Newly signed Winter Records Nashville artist Michael Moncada & Whiskey High keeps the energy elevated from 7 – 8:30 p.m. The outdoor live music continues to jam from 9 p.m. – 12 a.m. with Nashville's very own The Stolen Faces, who will deftly capture the spirit of the Grateful Dead for all to enjoy.
In between each live performance, the one and only Molly Durnin will be sharing her sultry singer/songwriter presence with the Quad Cities once again.
Melodic magic continues with the late-night show, inside. DJ JES, from Chicago IL will keep the party going from 12 – 1:30 p.m. Then DJ Buddha, DJ THC and DJ Soppe finish the night off from 1:30 – 3 a.m.
This day wouldn't be possible without the support from the vendors and sponsors. Make sure to stop by and check out the goods from the following vendors: Yabba Dabbas, Crafting 4 Kindness, Dirty Whore Garage Apparel, Kalvva Hats, Oxy Glass and grab a bite to eat from El Mariachi's food truck.
Event shirts will be available for purchase. There are only 40 shirts available (M, L and XL) and will be sold for $20 on a first-come first-serve basis.
For more information or questions about Summer Jam Vol. 3 you can check out the Facebook event page here.
Don't miss this one of kind end of summer party in downtown East Moline!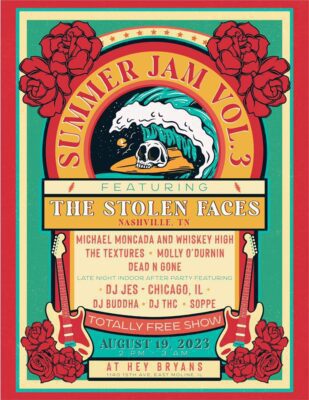 Main Stage
Sponsored by: Yabba Dabbas and Massage by Amber
Dead And Gone • 2 – 4 p.m.
The Textures • 5 – 6:30 p.m.
Michael Moncada & Whiskey High • 7 – 8:30 p.m.
The Stolen Faces • 9 p.m. – 12 a.m.
Side Stage
Sponsored by: Gibson Cues and Dam View
Molly Durnin • 4 – 5 p.m.
Molly Durnin • 6:30 – 7 p.m.
Molly Durnin • 8:30 – 9 p.m.
Late Night Show Inside
DJ JES, Chicago IL • 12 – 1:30 a.m.
DJ Buddha, DJ THC & DJ Soppe • 1:30 – 3 a.m.