Freedom Run Tradition Continues in East Moline
What started out as a dream and a desire to help the Quad Cities area's Veteran and active duty Military and their families became a reality in East Moline.
Trinity Freedom Run 5k is happening downtown East Moline (733 15th Avenue East Moline) this Thursday Aug 8 at 6:30 p.m. Whether you're a participant, running, walking, pushing a stroller, a sponsor, a spectator, a neighbor out on the course or a volunteer, come out to support and show appreciation for our men and women serving (or served) in our Armed Forces.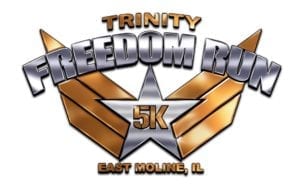 From the cannon used as a "starter's pistol" to the "dog-tag" medals the soldiers will place around the participants necks at the finish line, this unique event is "military" from start to finish. The WWII Army jeep as the pace car, the various military vehicles throughout the course, the 100+ American flags lining the course, the camo-netting over the refreshments area, the unique military style tee shirt each participant will receive, this event will be 100% military.
This one-of-a-kind event includes the following races:
Frontline Mile Run/Walk– Extremely flat, out-n-back
5K Run/Walk– 1 hill with gradual inclines, fast downhill
Double Time– 5.8 mile loop, if 5k is not enough
MIA Division– For those who can't attend, but want to support
Ground Pounder Fun Run– A kid-friendly obstacle course & run, all within view of the commanders (parents)
To register for any of the races listed above, go to https://secure.getmeregistered.com/get_information.php?event_id=130400.
For more information, visit Freedom Run 5K on Facebook at https://www.facebook.com/freedomrun5kqc/ or at http://www.freedomrun5k.org/.
Don't miss this opportunity to help support the brave men and women that protect our freedoms on a daily basis.