Hop Down To The Holiday Gallery Hop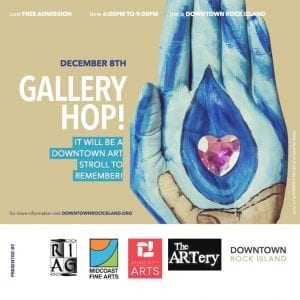 Are you ready for a one-of-a-kind winter festival in downtown Rock Island? How about one filled with visual artists and unique gift options?
It's time for the Gallery Hop! Downtown Rock Island will transform into a winter wonderland of talent this Friday Dec 8 from 6-9 p.m.
With the Downtown Rock Island Partnership, MidCoast Fine Arts has organized an amazing evening filled with Ice Sculpting, raku ceramic firing, make-your-own ornaments and much more!
Each Hopper will be presented with a map that will guide them to each participating venue. And don't worry about walking in the cold because you can ride the free heated trolley to each location!
Healthy Harvest Urban Farms, located at 1616 2nd Ave, will be featuring artists Johnnie Cluney, Jon Burns and Erica Parrott with illustrations, drawings and paintings. You can check out John VandeWalle and his metal sculptures at Skeleton Key Art & Antiques. Or you can stop down at the Great River Plaza (2nd Ave between 18-19th Streets) to see Robert Storm's ice sculpting demo! For a full-list of Gallery Hop! venues and artists, visit the event's Facebook page at https://www.facebook.com/events/127050868011791/.
While beholding the amazing and artistic presentations and demonstrations, you can also enjoy shopping for that special gift for the holiday season!
This event is sponsored by a grant from the Rock Island Art Guild, an Anonymous Donor and a gift from Dr. Kurt Christoffel.