Open Mics, Cousin Louie, Dance Lessons And More In This Week's FUN10!
It's Sunday, and QuadCities.com proudly presents Fun10, a list of the top 10 things to do in the Quad Cities this week, and every week!
Every Sunday, we drop a new Fun10, to give you a head start on your week and a heads up on what's going on over the coming seven days. Check out Fun10 every Sunday for the details on ten awesome events happening around town. It's a cool read, and a great way to get started planning your entertainment for the week.
FUN10 — ten ways for you to have fun in the Quad-Cities, this week and every week, running every Sunday, only on your site for fun, free, local entertainment, QuadCities.com!
So what's on the Fun10 for this week? Read on …
Playcrafters 'Six Dance Lessons' Ends TODAY
Playcrafters Barn Theatre is proud to present "Six Dance Lessons in Six Weeks" written by Richard Alfieri. The show runs through TODAY, October 10, with a last show today at 3 p.m.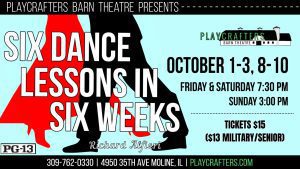 Tickets are available at
playcrafters.com/shows/lessons
or you can make a reservation by calling 309-762-0330.
The comedy is rated PG-13 for Adult Themes. It's directed by Jennifer Kingry, and stars Stephanie Naab and Adam Cerny.
Lily, an aging but formidable retiree, hires Michael, an acerbic dance instructor, to give her dance lessons in her condo in St. Petersburg Beach, Florida. Antagonism between a gay man and the wife of a Southern Baptist minister gives way to profound compatibility as they swing dance, tango, foxtrot, and cha-cha while sharing barbs and intimacies along with the dance steps. By the final lesson, Lily shares with Michael her most closely guarded secret, and he shares with her his greatest gifts – loyalty and compassion. A poignant comedy with music and dance, the play also address the serious issues of ageism and intolerance.
Since its Los Angeles premiere and Broadway opening, Six Dance Lesson in Six Weeks has been translated into 14 languages and has traversed the globe with productions in 24 countries. The play has established itself as an international hit and one of the most produced plays in the world.
Reservations can be made by calling the Playcrafters box office at 309-762-0330 or by visiting
www.playcrafters.com
. General admission is $15 and military/senior admission is $13. All audience members will be required to wear a mask, regardless of vaccination status.
Cousin Louie From 'Cobra Kai' Coming To Tomfoolery TONIGHT
Tomfoolery On Tremont is presenting a show with kick this Sunday, as Bret Ernst, Cousin Louie on the Netflix series "Cobra Kai," will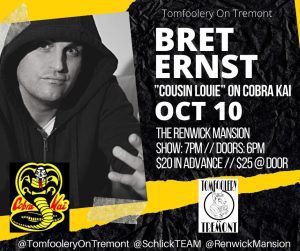 perform standup at 7 p.m. Oct. 10, at the Renwick Mansion, 901 Tremont Ave., Davenport. Admission is $20 in advance, $25 at the door.
Ernst has been written up in national magazines, and his "Comedy Central Presents" was voted one of the Top 5 specials of 2011 by Comedy Central viewers, and his comedy album "American Comic" broke the top 10 on iTunes the first week of its release in 2012.
He has made celebrity appearances on "Chelsea Lately," ABC's "Comics Unleashed," and "The Sports List" on FOX. Ernst first gained national notoriety starring in the feature film "Vince Vaughn's Wild West Comedy Show," which documented Ernst, Vaughn and three other comedians as they performed in a 30 night-30 venue tour across America.
More recent credits include a series regular on Tru TV's "How to be a Grown Up," and in March 2016, Ernst appeared on Ari Shaffer's "This is Not Happening" on Comedy Central. He also is the co-host of the highly successful podcast "You're on the List," which has moved to the Top 10 on Stitcher. Previous acting credits include a recurring role on the hit Showtime series "Weeds," was seen on "CSI: NY," "Legacy" with Haylie Duff, and also appeared in Artie Lange's movie, "Beer League."
For more information, visit bretcomedy.com. For tickets and more on Tomfoolery on Tremont, visit their Facebook page.
Augustana Theater Presents 'Miss Nelson' Today
The Augustana College Department of Theatre presents Miss Nelson is Missing! the Musical on October 10, 2021 at 1:30 PM.
The uncontrollable children of Room 207 are in for a surprise when Miss Nelson goes missing and is replaced by Viola Swamp, a no-
nonsense substitute who assigns piles of homework! The students learn lessons of appreciation and respect, but will they ever get their beloved Miss Nelson back?
Based on the well-loved children's books by Harry Allard and James Marshall.
Book, music and lyrics by Joan Cushing, and directed by Jackie McCall.
"We're so excited that in person shows are returning to the Brunner Stage this year." says director Jackie McCall. "Our youngest audience members will be able to come and enjoy this delightful musical based on a children's book that so many people grew up reading."
Tickets are $5 each and can be purchased at Augustana.edu/tickets.
For additional information, please contact the Ticket Office at 309-794-7306.
Masks will be required until further notice.
Coffee House Pouring In Next Weekend
Chris Dunn would like to invite you to an afternoon St. Joe's Open Mic Coffeehouse to benefit the St. Joe's evening meal that happens at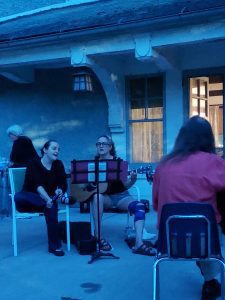 Rock Island Township Hall. Because we ended up playing in the dark on September 10th, it was suggested to move the coffeehouse to a weekend afternoon. Mark your calendars for Sunday, October 17th, from 3 – 5 p.m..
The September 10th St. Joe's coffeehouse was well-attended by two-leggeds, four-leggeds, and feathered creatures. We were blessed to have new faces and voices, as well as "the regulars" in attendance. So many expressed the joy at being able to make music together again.
We will gather in the back patio and backyard area. There will be a fire in the fire pit and skewers available for roasting marshmallows, sausages, etc. Some seating will be available, but you are welcome to bring your own seating and blankets. Regular and decaf coffee will be provided; if you bring snacks to share, please individually wrap them. The Parish House will be open for bathroom use, but please follow CDC guidelines for mask wearing and physical distancing in and out of the building. The State of Illinois currently requires wearing a mask indoors for both vaccinated and unvaccinated individuals.
Some parking is available near the First Lutheran Parish House and additional parking is available in the First Lutheran Church parking lot.
When: Sunday, October 17, from 3 p.m. to 5 p.m.
Where: The First Lutheran Parish House (outdoors near the fire pit/ the back patio area of the Parish House)
1600 – 20th Street, Rock Island, IL, at "the point" of 17th and 20th Streets.
Michigander Playing Raccoon Motel Tuesday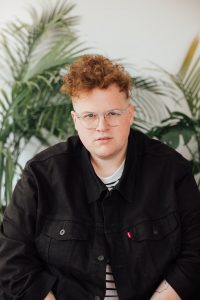 MICHIGANDER will perform at 7 p.m. Tuesday, Oct. 12 at the Raccoon Motel in
Davenport
.
To
LISTEN
to Michigander, click on the link.
'Disenchanted' Enchanting Audiences At Circa '21
Reservations are available through the Circa '21 ticket office. Contact the theater at 1828 3rd Ave., Rock Island or by calling 309-786-7733 ext. 2. Due to state requirements, masks must be worn by all Circa guests, regardless of vaccination status.
Black Box Bringing 'Company' to the Quad-Cities
Company is a 1970 musical comedy with music and lyrics by Stephen Sondheim (Assasins, Into the Woods, Sweeney Todd) and book by George Furth. The original production was nominated for a record-setting 14 Tony Awards, and won six.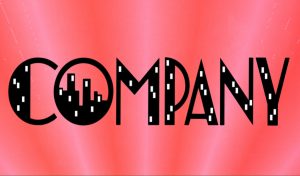 Originally titled Threes, its story revolves around Robert (a single man unable to commit fully to a steady relationship, let alone marriage), the five married couples who are his best friends, and his three girlfriends. Unlike most book musicals, which follow a clearly delineated plot, Company is a concept musical composed of short vignettes, presented in no particular chronological order, linked by a celebration for Robert's 35th birthday.
Company was among the first musicals to deal with adult themes and relationships.
Directing "Company" is co-owner of The Black Box Theatre,
David M Miller
who was seen as Sam in this summer's Mamma Mia at
Quad City Music Guild
. Choreographing the production is area theater veteran, Beth Marsoun who choreographed Mamma Mia at
Quad City Music Guild
this summer as well, with the pit lead by Music professional, Randin Letendre.
The triple threat cast is lead by Black Box Theatre veteran,
Tommy Ratkiewicz-Stierwalt
as Bobby, featuring
Emmalee Hilburn
& Joe Urbaitis as Sarah & Harry,
Jacqueline Isaacson
&
Daniel Williams
as Susan & Peter,
Jennifer Cook Gregory
&
Brant Peitersen
as Jenny & David,
Jenny Winn
&
Michael Alexander
as Amy & Paul, Wendy Czekalski &
Mark Ruebling
as Joanne & Larry rounded out with the trio of
Abbey Donohoe
, Noel Jean Huntley &
Abby Bastian
as April, Marta & Kathy! The Company cast is sure to tug at your heartstrings, keep you laughing with their comedic delivery, wow you with their perfected choreography and leave you in awe of their stunning vocals & harmonization!
The production of "Company" is supported in part by a grant from The
Moline
Foundation.
Performances are October 14th-16th at 7:30 PM, and October 10th at 2 pm.
Tickets are $13 on October  14th and $16 October 10th & 15th -16th available for purchase at the door, and at
www.theblackboxtheatre.com
Live On Tuesday Night, It's Trivia Night Live!
Trivia Night Live is rolling into The Tangled Wood in Bettendorf every Tuesday at 7 p.m.!
It's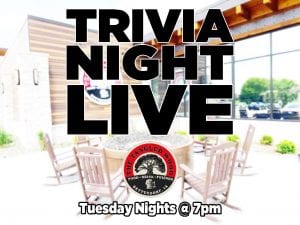 Free To Play, with up to eight people per team playing in various categories.
What is Trivia Night Live?
Trivia Night Live is a live interactive team trivia game played at your favorite restaurants and bars. The game consists of four rounds of questions of increasing difficulty and point values. Categories range from current events, history, geography, science, sports, and more….
Trivia Night Live is free to play, and you can have up to 8 members on a team.
Prizes are awarded for the winner of the 1st half and the overall winners win a $25 gift card for 1st Place, $10 for 2nd Place (cannot be used the same night).
We ask a question, and then play a song. Your team has the duration of that song to turn in your answer. No cell phones. web devices or smart watches can be used, just the useless trivial knowledge contained between your ears.
#LiveFromDavenportItsTriviaNight
presented by Think & Drink Entertainment.
Bootleg Hill Open Mic Every Thursday
Looking for a spot to showcase your talents?
How about the Bootleg Hill open mic night?
The musical open mic night is back. Happening weekly at Bootleg Hill Honey Meads in downtown Davenport. All are welcome. Hosted by Dan Fennesy and starts at 8 p.m.
Quad Cities Teens Hit With Reading Challenge
Teen readers (ages 11-19) are invited to take part in this annual teen challenge to see which QC Libraries' teens can read the most during the month of October! Every QC teen reader who reads for at least 1,000 minutes will be entered into a grand prize drawing to win a $100 Visa gift card! Keep track of your minutes spent reading on www.davenportlibrary.beanstack.com, the Beanstack app, or a paper log that will be available in the Teen Area of participating libraries.
As a bonus, Davenport teens will get a ticket to enter in exclusive prize drawings for every 250 minutes they log reading! Prizes include a moody octopus plushie, a set of Posca paint markers, color-changing LED lights, a watercolor paint set, a galaxy lamp, and more. Participants will also be invited to the Teen Reading Challenge Party which will be held in conjunction with the Teen Video Contest Awards.
This event is FREE and open to the public. For more information visit www.davenportlibrary.com or call the library at (563) 326-7832.