Riverssance Festival of Fine Art Comes to Davenport September 17-18
Riverssance  Festival of Fine Art is celebrating its 34th year as the premier fine arts festival of the Quad Cities, showcasing over 70 of the top artists throughout the greater Midwest.
Organized and run by art enthusiasts, Riverssance continues to be recognized for its careful attention to artists' success, community partnerships, great buyers, beautiful location, and a fun weekend.
As one of the premier arts festivals in Iowa, Riverssance is designed to showcase and support visual artists in our region while enhancing the cultural vibrancy of our community. This event is fun for the whole family, enjoy the outdoors and listen to live music, sample wines from Fireside Winery, find the perfect art piece from over 70 artist vendors, and kids can engage in the children's activity tent.
EVENT DETAILS:
Saturday, Sept. 17, 2022, 10 a.m. – 5 p.m.
Sunday, Sept. 18, 2022, 10 a.m. – 4 p.m.
Lindsay Park, Village of East Davenport, Iowa
TICKETS
$5 per adult / per day
$8 for a weekend pass
Free entry for individuals under 18 (with a paid adult)
Learn more: RIVERSSANCE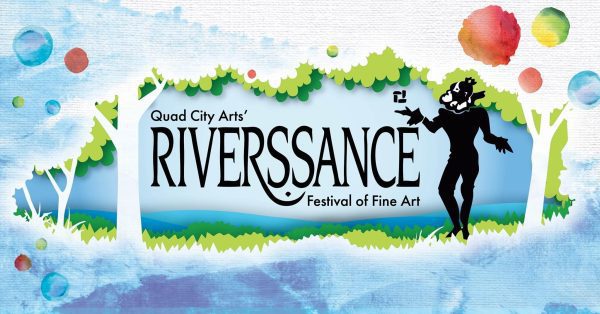 Quad City Arts is a non-profit arts organization serving a six-county area in eastern Iowa and northwestern Illinois. We are dedicated to the growth and vitality of the Quad City region through the presentation, development, and celebration of the arts by offering the community arts opportunities, programming, and community events. For more information visit www.quadcityarts.com, contact info@quadcityarts.com or call 309-793-1213.