Powerful Women, Poets, Pipers And More In This Week's FUN10!
It's Sunday, and QuadCities.com proudly presents FUN10, a list of the top 10 things to do in the Quad Cities this week, and every week!
Every Sunday, we drop a new Fun10, to give you a head start on your week and a heads up on what's going on over the coming seven days. Check out FUN10 every Sunday for the details on ten awesome events happening around town. It's a cool read, and a great way to get started planning your entertainment for the week.
FUN10 — ten ways for you to have fun in the Quad-Cities, this week and every week, running every Sunday, only on your site for fun, free, local entertainment, QuadCities.com!
So what's on the FUN10 for this week? Read on …
Take A Hike! Through Nahant Marsh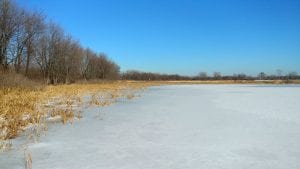 Join a Naturalist for an interpretive trail walk through the Marsh. Hikes are offered year-round on the first Saturday of the month and give visitors an opportunity to learn more about the diverse flora and fauna of this unique natural area. Goodwill Donation goes towards our public education programs.
February 6
9:00-10:00am
Need A New Bag? Get To Cowork QC For Argrows
Saturday, February 6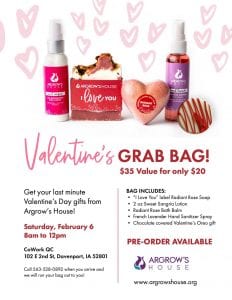 8am to 12pm
Call 563-528-0892 when you arrive and we will run your bag out to you!
Cash, card, or check accepted on-site.
BAG INCLUDES:
"I Love You" label Radiant Rose Soap
2 oz Sweet Sangria Lotion
Radiant Rose Bath Balm
French Lavender Hand Sanitizer Spray
Chocolate covered Valentine's Oreo gift
$35 value for only $20! Happy Valentine's Day!
Jump In To Elevate Trampoline Park!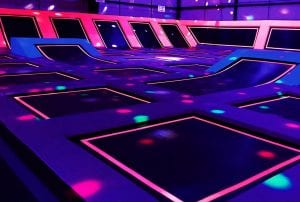 The first Friday of each month is Glow Night at the trampoline park and it's time to wear fluorescent garbs and come have some fun!
Pricing:
2 hour jump = $22.00
90 minute jump = $19.99
1 hour jump = $17.00
Find Out About Powerful Women In Medieval Times TODAY!
Join German American Heritage Center in Davenport for a new program Hildegard von Bingen: Power Woman of Medieval Times!
Join GAHC on Sunday, January 31, 2021, at 2 pm for "Hildegard von Bingen: Power Woman of Medieval Times" as we explore her life, work, and music.
This presentation will be presented live over Zoom.
This event is free to the public. Donations are greatly appreciated.
Reserve your tickets by clicking here
here
or by calling GAHC at 563.322.8844.
Meet Local Author Salvatore Marici And His Poems
Salvatore Marici and Davenport Public Library invite you to a bold and rising celebration of place, elements, smells, taste, a transformation of mundane into magic. Join us Monday, February 1st at 6:30 pm and board into an evening of intermingling fantasy, nightmares, science, good times, and the realities of our journeys through enhanced senses as Sal performs poems from his collections of three books along with newer works in his upcoming 2021 collection.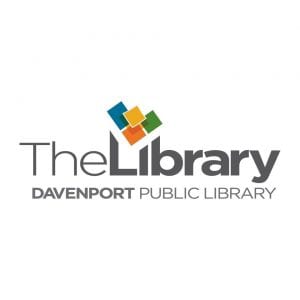 This program will be held virtually using GoToMeeting. Information about how to join is listed below.
Local Author: Salvatore Marici
Mon, Feb 1, 2021 6:30 PM – 7:30 PM (CST)
Join from your computer, tablet, or smartphone: https://global.gotomeeting.com/join/782283797
You can also dial in using your phone: +1 (646) 749-3122
Access Code: 782-283-797
Salvatore Marici's poetry has appeared in Toasted Cheese, Descant, Spillway, Prairie Gold: An Anthology of the American Heartland, Of Burgers & Barrooms, Brief Wildness, and other journals. In 2010, Marici was the Midwest Writing Center (MWC) Poet in Resident. He is the contest director for the MWC Great River Writers Retreat and a member of the MWC program committee.
Keep up with our virtual programming on our Virtual Branch Calendar of Events at https://davenportlibrary.libcal.com/calendar/virtual.
This event is FREE and open to the public. For more information visit www.davenportlibrary.com or call the library at (563) 326-7832.
Check Out Five Free Virtual Shows This Spring
The Bureau of Cultural Affairs (BCA) at Western Illinois University will offer a series of five free, virtual shows for the Spring 2021 semester as part of "On the Couch – Virtual Arts Series."
The production company, BiCoastal Productions, is offering free shows to presenters like BCA during the COVID-19 pandemic to continue to offer exposure to the arts to audiences. Each show begins at 7 p.m. on a series of Wednesdays.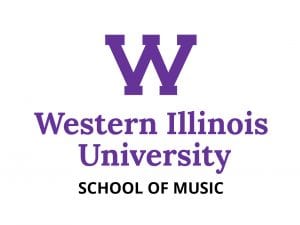 The schedule includes:
• Feb. 3 – "Naturally 7" will perform its audio pyrotechnics and vocal play by transforming their voices into human instruments and produce music of any genre. The group performed on "The World's Best" television show, which premiered on CBS immediately following Super Bowl LIII.
During the group's 20-year career, which has included three world tours and nearly 500 shows, they have shared the stage with world-class singers, such as Michael Bublé, Stevie Wonder, Diana Ross, Quincy Jones, Sarah Connor, Lionel Richie, Ludacris and "The Roots."
"Naturally 7" recently released its 11th studio album, "20/20."
• Feb. 10 – "The Red Hot Chilli Pipers" – Bagpipers who Rock – is the band AC/DC meets poet Robert Burns, with rock anthems sitting "comfortably alongside the great tunes from the glens and the mountains of Scotland."
The nine-piece ensemble consists of pipers, guitarists, keyboard and drummers who have played from New York to Beijing to Melbourne. The band has four music degrees from the Royal Scottish Academy of Music and Drama and all the pipers and drummers have played at the top level in bag piping.
"The Red Hot Chilli Pipers," formed in 2002, won the top prize on the United Kingdom television talent show, "When Will I Be Famous," in 2007, were awarded a gold record for over 100,000 sales in the UK of their first album, "Bagrock to the Masses," and triple platinum status for their third album, "Blast Live."
• Feb. 17 – "Married to Broadway," starring the Sharpe Family Singers – The real married stars of "Les Miserables," Ron and Barbara Sharpe, first met on stage on Broadway playing the romantic lead roles of Marius and Cosette.
Now, with two grown children; a pair of identical twin boys, and three "adopted" family members (the boyfriend, the best friend and the lovable uncle) this group has formed The Sharpe Family Singers to bring their love of Broadway to stages across America.
In "Married to Broadway," The Sharpe Family Singers share their love of Broadway musicals by performing the big, showstopping numbers that are audience favorites around the world. Their repertoire includes songs from new hit Broadway shows like "Hamilton" and "Dear Evan Hansen," blockbuster movies like "The Greatest Showman," hits from Disney On Broadway and Broadway's Rock & Roll musicals as well as classic show tunes from "Phantom," "Cats," "Evita," "Guys and Dolls," "West Side Story," "Carousel," "Fiddler," "Les Miserables" and more.
• Feb. 24 – The Silhouettes® – America's Got Talent: The Champions! was founded in 2009, and was the first runner-up on "America's Got Talent" season six in 2011, and Golden Buzzer winners on America's Got Talent – The Champions in 2020.
The premiere shadow-dance company was created and directed by Lynne Waggoner-Patton. The company trains, films and performs its live shows, including "LOVE Happens," "Heroes Tribute," "For the Child," "The Gift," "Behind the Curtain" and "Shadowspook" at its theatre in Westminster, CO.
The Silhouettes® have been featured in television commercials and various other television shows, as well as in customized corporate events for major Fortune 500 companies. They have traveled the world from Ireland to Poland to Mexico and Canada and recently completed a four-month tour of Germany in 73 theatres, receiving standing ovations and outstanding reviews.
For more information about the schedule, visit westernpresents.com.
Live On Tuesday Night, It's Trivia Night Live!
Trivia Night Live is rolling into The Tangled Wood in Bettendorf every Tuesday at 7 p.m.!
It's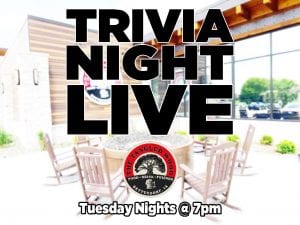 Free To Play, with up to eight people per team playing in various categories.
What is Trivia Night Live?
Trivia Night Live is a live interactive team trivia game played at your favorite restaurants and bars. The game consists of four rounds of questions of increasing difficulty and point values. Categories range from current events, history, geography, science, sports, and more….
Trivia Night Live is free to play, and you can have up to 8 members on a team.
Prizes are awarded for the winner of the 1st half and the overall winners win a $25 gift card for 1st Place, $10 for 2nd Place (cannot be used the same night).
We ask a question, and then play a song. Your team has the duration of that song to turn in your answer. No cell phones. web devices or smart watches can be used, just the useless trivial knowledge contained between your ears.
#LiveFromDavenportItsTriviaNight
presented by Think & Drink Entertainment.
Bootleg Hill Open Mic Every Thursday
Looking for a spot to showcase your talents?
How about the Bootleg Hill open mic night?
The musical open mic night is back. Happening weekly at Bootleg Hill Honey Meads in downtown Davenport. All are welcome. Hosted by Dan Fennesy and starts at 8 p.m.

Rock Out With Rock Star Bingo
It's time to rock out with rock star bingo!
Think you know your music trivia? Time to test your skills!
Think you know your music?
If you know what song contains these lyrics, you would probably love Rock Star Bingo!
"And she's watching him with those eyes,
And she's loving him with that body, I just know it,
Yeah 'n' he's holding her in his arms late, late at night."
What is Rock Star Bingo?
Just like "regular" bingo, but we replaced bingo numbers, like "B16", with parts of songs. If you know the song title (no phones, devices or apps – basically no cheating), then place a bingo chip on that square. Get 5 squares in a row and you're a winner!!
It's the most fun you will ever have playing bingo!
According to the folks involved, here are the deets:
**NEW Start Time of 7pm**
Rock Star Bingo
EVERY Wednesday @ 7pm
The Tangled Wood (Bettendorf, IA)
B-I-N-G-O +
Name That Tune +
Sing-a-longs
Rock Star Bingo
FREE To Play
Win FREE drinks!
Music changes EVERY week!
Music from the 50's through music that came out in the last month!
#ThisAintYourGrandmothersBingoNight
Library Hosting Color Our Collections
Join our annual coloring event by picking up your colored pencils, crayons, or markers to embellish images from the Richardson-Sloane Special Collections Center! During #ColorOurCollections week February 1st – February 5th (and after), the coloring sheet will be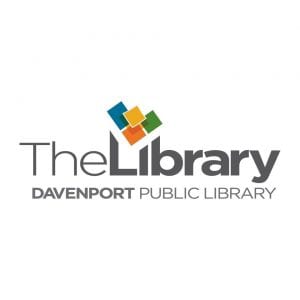 available to download from the Richardson-Sloane Special Collections Center's blog, Primary Selections from Special Collections at https://blogs.davenportlibrary.com/sc/
This year we will be our fourth volume! We have selected images depicting the unique architecture found in Davenport from texts such as Davenport Illustrated: Saengerfest Souvenir, July 1898, Come to Davenport: April Second, Third and Fourth, Nineteen Hundred and Eight, 1867 Root's Davenport City Directory, Davenport City Directory for 1863, and Davenport, the Eastern Gateway of Iowa.
We want to see your artwork!. Post pictures of your coloring skills on the Richardson-Sloane Special Collection Center's Instagram, @davenportspecialcollections, or our Facebook page.
Keep up with our virtual programming on our Virtual Branch Calendar of Events at https://davenportlibrary.libcal.com/calendar/virtual.
This event is FREE and open to the public. For more information visit www.davenportlibrary.com or call the library at (563) 326-7832.